Callaway, Lamborghini tout R&D pact at Paris expo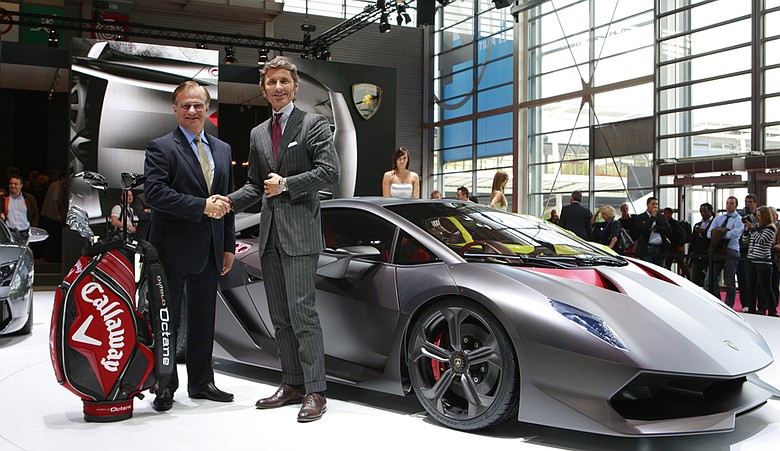 Monday, October 4, 2010
For golf club manufacturers and auto makers alike, finding – or creating – breakthrough materials for new products is their version of a search for the Holy Grail.
No wonder then that Callaway Golf announced it is teaming with super-sports car maker Automobili Lamborghini in an effort to accelerate that shared pursuit.
At the 2010 Paris Motor Show Sept. 30, the two companies stated they have entered into an agreement to collaborate on research and development initiatives.
According to the companies, the genesis of the partnership began several years ago. As each sought lighter and stronger materials to improve their products' performance, both gained expertise in the development of advanced composite structures comprising microscopic carbon fibers. Such innovations have been pursued in both industries as an alternative to metal alloys.
The two sides began working together and already have co-developed a material they're calling Forged Composite. Callaway maintains that using such carbon composites in place of steel and titanium leads to clubheads that generate greater transfer of power upon impact and more accurate trajectories. Callaway will introduce a line of equipment featuring Forged Composite later this year and throughout 2011.
"Forged Composite provides us with the ability to engineer performance enhancements like never before, and we've only just begun to tap the potential of this material," said Alan Hocknell, Callaway's senior vice president, research and development. "We're looking forward to collaborating on future applications that push our designs beyond any preconceptions." 
Lamborghini has other plans for such new materials.
"We see power-to-weight ratio and weight reduction as the keys for future super-sports cars and carbon fiber as the material to achieve these goals," said Stephan Winkelmann, Lamborghini's president and CEO. "Callaway's expertise in specific technologies is strategic for our research projects and therefore we welcome this partnership as a further, important milestone in our over 30 years long history of carbon fiber applications."
Golfweek.com readers: We value your input and welcome your comments, but please be respectful in this forum.
---
---
---
---
---
---
---
---
---
---
---
---
---
---
---
---
---
---
---
---
---