Fung is match-play champ at Masters Vietnam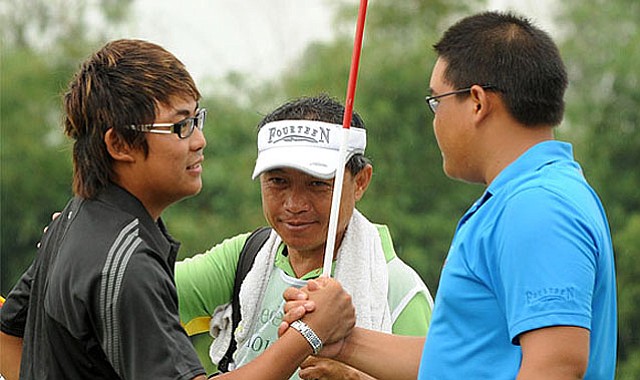 Sunday, October 3, 2010
HO CHI MINH, Vietnam – Nicholas Fung of Malaysia won the battle of the young rivals Saturday in the final match of the Mercedes-Benz Masters Vietnam.
The 20-year-old from Sabah beat 17-year-old Panuphol Pittayarat of Thailand, 4 and 3, at Song Be Golf Resort.
FINAL
Nicholas Fung (MAS) def. Panuphol Pittayarat (THA), 4 and 3
THIRD-PLACE PLAYOFF
Wisut Artjanawat (THA) def. Rey Pagunsan (PHI), 19th hole
SEMIFINALS
Panuphol Pittayarat (THA) def. Rey Pagunsan (PHI), 4 and 3
Nicholas Fung (MAS) def. Wisut Artjanawat (THA), 4 and 3
QUARTERFINALS
Rey Pagunsan (PHI) def. Ronnachai Jamnong (THA), 2 up
Panuphol Pittayarat (THA) def. Pornpong Phatlum (THA), 3 and 2
Wisut Artjanawat (THA) def. Tanatchan Puaktes (THA), 5 and 3
Nicholas Fung (MAS) def. Passamet Pogamnerd (THA), 2 and 1
The victory was a well-deserved reward for Fung, who has been enjoying a solid rookie season. He has not missed a cut in seven events on the Mercedes-Benz Tour – a circuit formed in 2007 to develop young professionals like Fung.
The victory was the second for Fung in Vietnam; he won the Vietnam Amateur at age 17 in 2007.
"I was a little nervous on the first nine but calmed down on the back," Fung said. "I kept my ball in play really well this week, which was key. I had two really tough matches on the first day so it's hard to believe I am standing here now as winner."
The US $14,000 paycheck moved Fung into third position on the Mercedes-Benz Tour Order of Merit, with $21,373. The top six on the money list by season's end qualify for November's $6 million Barclays Singapore Open at Sentosa Golf Club.
A total of 32 players teed off in Round 1 on Thursday for the tour's inaugural match-play event.
Fung was one down through six holes Saturday in Round 3 but claimed the next three holes to go 2 up at the turn. He won the 10th to go 3 up and claimed the 12th, which later proved enough to clinch the trophy. He made birdies to win Nos. 7, 9 and 10.
Fung is the third Malaysian to win on the Mercedes-Benz Tour, joining Danny Chia and Ben Leong.
Fung said he will play the OneAsia circuit during the next two weeks: the Korea Open and then the Midea China Classic.
Panuphol won $8,000 in his fifth second-place finish of the season. He was runner-up in the Mercedes-Benz Masters Singapore in August and also finished second in three non-tour events in Thailand.
"I think I tried a little bit too hard today," Panuphol said. "I am very disappointed, but I have learned a lot and at the start of the week was not even thinking of making the final."
In the 18-hole stroke-play playoff for third place, Wisut Artjanawat of Thailand beat Filipino Rey Pagunsan on the 19th hole.
The Mercedes-Benz Tour finishes Oct. 27-30 with the tour championship, the Mercedes-Benz Masters Indonesia.
Golfweek.com readers: We value your input and welcome your comments, but please be respectful in this forum.
---
---