Big names of USGA square off at Senior Am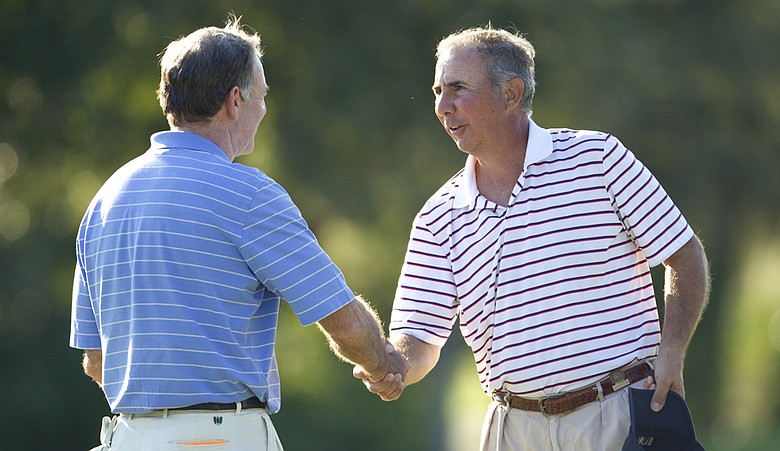 Monday, October 4, 2010
ORLANDO, Fla. – Jim Vernon, president of the U.S. Golf Association in 2008 and 2009, took one look at the first-round matchups for the 2010 USGA Senior Amateur and quickly composed an e-mail.
"The golf gods have a sense of humor," Vernon wrote.
The reason for Vernon's dispatch from his home in California: Two of the USGA's most loyal, high-profile volunteers were about to meet in the opening round of match play in the Senior Amateur.
One was George (Buddy) Marucci, who won the Senior Am in 2008 but was unable to defend his title in 2009 because of a scheduling conflict – a little event called the Walker Cup was being contested at the same time as the Senior Amateur, and Marucci was captain of the U.S. team.
The other was Steve Smyers, a golf-course designer and member of the USGA Executive Committee. Smyers is a close friend of Marucci and serves as chairman of the USGA's International Team Selection Committee, the group that picked the members of Marucci's Walker Cup squad.
Smyers won the match, although it is not known whether the golf gods informed Vernon of their desire to prolong this battle of USGA bluebloods. When the showdown finally ended late Monday afternoon at Lake Nona Golf & Country Club, Smyers emerged as a 19th-hole survivor.
The match went to extra holes after Marucci sank a do-or-die par putt from 12 feet on the 18th green.
"I knew he would make it," said Smyers, of Lakeland, Fla. "I told my caddie, 'Ninety-nine percent it's going in.' I wasn't surprised at all, so I was prepared to keep going."
On the 19th, Marucci, who lives in Villanova, Pa., failed to get up-and-down from 10 feet short of the putting surface, missing a 6-foot putt. Meanwhile, Smyers hit the green in regulation and two-putted from 25 feet.
Earlier Smyers trailed Marucci after 16 holes. After yanking his second shot into a hazard left of the 16th green, Smyers fell 1-down. He immediately bounced back with a winning birdie at 17, where he sank a 15-foot putt from the fringe.
On 18, Marucci pushed his tee shot into a bunker and was forced to lay up. Then he saved par from 80 yards, with Smyers announcing loudly, "You're the best."
In the end, though, Smyers was best. He expressed surprise at his success, because he was busy with his duties as chairman of the U.S. Mid-Amateur – an event that ended just two days before the start of the Senior Amateur.
The Senior Am includes male golfers who are at least 55 years old. Smyers is 57, Marucci 58.
In the final analysis, who says the USGA is all work and no play?
Smyers and Marucci are not the only USGA volunteers in the national championship spotlight. Christie Austin of Cherry Hills Village, Colo., another member of the USGA Executive Committee, played in the recent U.S. Women's Mid-Amateur and also has qualified for the U.S. Women's Senior Amateur (Oct. 9-14 at Fiddlesticks Country Club in Fort Myers, Fla.).
---
Results from the Round of 64 of the U.S. Senior Amateur, played Oct. 4 at Lake Nona Golf & Country Club:
ROUND OF 64
Pat Tallent def. Dave Bates, 2 up
David Szewczul def. Arthur Kania, 19 holes
Marvin Giles def. Robin McCool, 19 holes
Bev Hargraves def. Pete Willoughby, 5 and 3
Rick Woulfe def. Christopher Veitch, 25 holes
Frank Ford III def. Mike Booker, 4 and 3
Bruce Scamehorn def. John Lindholm, 20 holes
Dave Ryan def. Glenn Mullian, 2 and 1
Don Thames def. William T. Doughtie, 1 up
Jim Knoll def. Dick Satterfield, 1 up
David Williamson def. Rick Luzar, 2 and 1
Bill Zylstra def. Ted Pecora, 1 up
Chip Lutz def. Thomas Nesbitt, 1 up
George J. Zahringer III def. Raymon Thompson, 4 and 2
Douglas Pool def. Richard Pfeil, 5 and 4
Stewart Alexander def. Larry Clark, 4 and 3
Paul Simson def. Curt Knorr, 6 and 5
Logan Jackson def. Kim Mansfield, 4 and 3
Terry Werner def. James Lyons, 6 and 5
David Anthony def. Gary Palmer, 21 holes
Stanford Lee def. Bill Cavaness, 6 and 4
Dan Bieber def. Jim Henderson, 2 and 1
Michael Kelly def. Steven Whittaker, 3 and 2
Tim Miller def. Duke Delcher, 6 and 5
Randy Nichols def. Jon Groveman, 5 and 4
Chuck Palmer def. Don Erickson III, 4 and 3
Greg Reynolds def. David Pocknall, 2 and 1
Steve Smyers def. George "Buddy" Marucci Jr., 19 holes
Tom Knapp def. Charles Jones, 4 and 2
Sam Farlow def. Corliss J. Nelson, 4 and 2
Robert Allshouse def. Skip Runnels, 2 and 1
Jeff Burda def. Brad Larsen, 4 and 3
Golfweek.com readers: We value your input and welcome your comments, but please be respectful in this forum.
---
---
---
---
---
---
---
---
---
---
---
---
---
---
---
---
---
---
---
---
---