Ryder Cuppers back for McGladrey Classic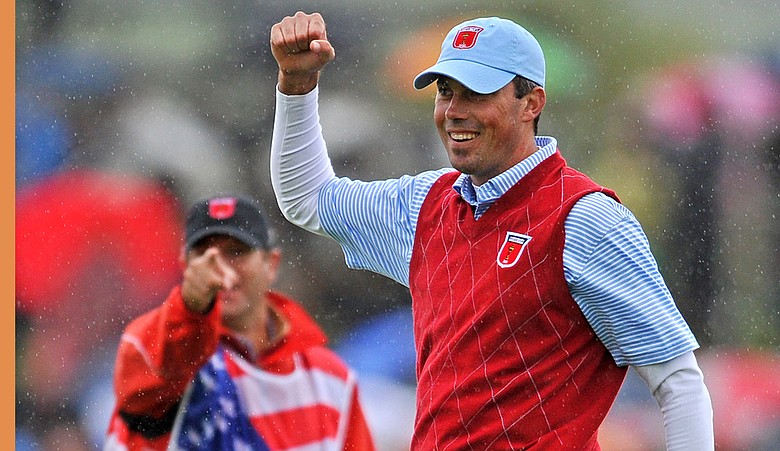 Wednesday, October 6, 2010
ST. SIMONS ISLAND, Ga. – After being on the losing side at the Ryder Cup, Matt Kuchar and Zach Johnson returned from Wales this week wanting more out of the match-play event.
They'll have to settle for a strong start to the PGA Tour Fall Series.
Kuchar and Johnson are the only two U.S. Ryder Cup players in the field for this week's McGladrey Classic at the Sea Island Club's Seaside Course. The two relative newcomers in the Ryder Cup went 3-2-2 for the U.S., which lost by one point to Europe at Celtic Manor.
The two are playing this week mainly because they are residents of St. Simons Island.
Rain pushed the singles matches in the Ryder Cup to Monday, so Kuchar and Johnson didn't arrive home until Tuesday night. The two were on the course Wednesday to play in the McGladrey pro-am, and were candid about their experiences in one of the most dramatic Ryder Cup finishes ever, the first since 1991 that came down to the final singles match.
"I knew it was a big stage," said Kuchar, a Ryder Cup rookie. "I knew there would be tons of people. I had no idea the intensity and the passion that came with the Ryder Cup."
Johnson, who was playing in his second Ryder Cup, won the 11th of the 12 singles matches against Padraig Harrington to give Hunter Mahan and the U.S. a fighting chance.
Mahan eventually lost to Graeme McDowell on the 17th hole.
"It was great sport," Johnson said. "We hung in there and fought hard and came up a half-point short (of tying and retaining the Ryder Cup). Unfortunately for us, the Europeans played just a little bit better."
Also in the McGladrey field is tournament host and nearby resident Davis Love III, who has played in six Ryder Cups and was one of four assistant captains to Corey Pavin in Wales. Love is considered the favorite to be the U.S. captain at Medinah, near Chicago, in 2012.
"I definitely want to be a captain, if they (PGA of America) talk to me about it," Love said. "I'll be excited about it. I'd love to do it."
Based on past practices, the PGA of America will pick the 2012 captain sometime this fall, possibly coinciding with its annual meeting in Boston during the first week of November.
Despite the loss, Johnson, Kuchar and Love were grateful to have been a part of the week.
"The drama coming down and the way it unfolded and seeing the board change so much during the day was unbelievable," Johnson said. "It was blue (for Europe), and then it was kind of red (for the U.S.), and really blue, then really, really red. We hung in there and fought hard."
Kuchar said making his first Ryder Cup team in Europe whetted his desire to make another team to play at Medinah in 2012.
"I really enjoyed playing overseas for my first one," said the Tour's current leading money-winner and the runner-up to Ryder Cup teammate Jim Furyk for the FedEx Cup. "All the chants and singing songs that they do was really a lot of fun. The first tee, every day, even if it was pouring rain ... the fans were really into it."
Love said watching Kuchar, Johnson and the other U.S. players left him torn with wanting to qualify for the team on his own and being the next captain.
He said the conflicting emotions were even stronger when mingling with past European Ryder Cup players like Darren Clarke, Jose Maria Olazabal and Sergio Garcia.
"We all talked about how much we want to play again and not on the sidelines," Love said. "Standing beside the players as they play makes us want to work hard and play again."
Love said he would have to work on his motivational speeches if he were to be named captain.
"Watching Bubba (Watson) and Hunter and several guys tearing up and getting emotional every night, I'm worried about the speeches," he said. "I'm good at crying when something's special. I think it would be hard for me to handle the standing up in front of people part."
Golfweek.com readers: We value your input and welcome your comments, but please be respectful in this forum.
---
---
---
---
---
---
---
---
---
---
---
---
---
---
---
---
---
---
---
---
---