Greens and Gridirons: University of Washington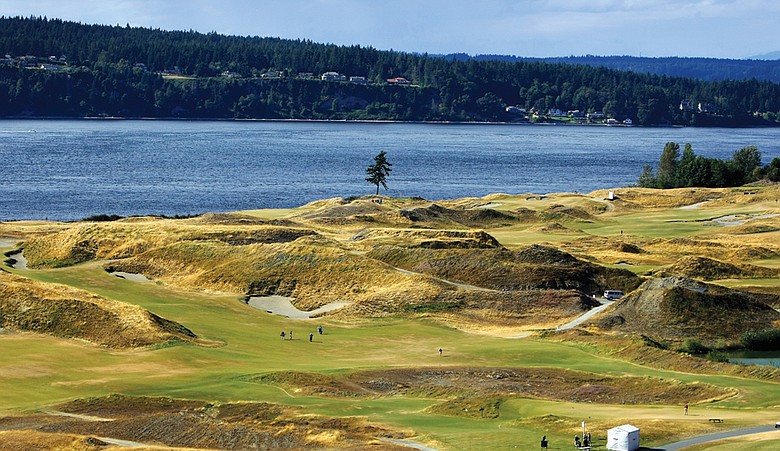 Monday, October 11, 2010
SEATTLE – Sometimes you compromise your commitments.
The four of us were Cal grads, the class of 1963, notable that we were not the anarchists you might have imagined, but instead the laughable legacy of the longest-suffering class in the school's history.
Cal went to the Rose Bowl when we were seniors in high school and Eisenhower was president. It hasn't been back since. We've committed to getting together when and if the Bears make it, but in the meantime won't let incompetence stand in the way of good golf. And haven't.
We've played golf together for 45 years, twice in Ireland, and all over the West, the Okanagan in Canada, the Oregon coast, the valley and foothills of California.
To my buddies, who still live in the Bay Area, it seemed natural to gather in Seattle last December for Cal's season-ending game at Washington. Cal, as usual, had high hopes.
My classmates, however, don't understand a Northwest winter of endless dripping days. I live there.
Abandon the Bears, I thought. They've abandoned us. Instead, I implored them to come on up the week of Washington's season opener against LSU, when the weather was glorious and the game surprisingly competitive.
Just as people think it rains all the time in Seattle, the truth is that summer and early fall can and usually do produce the best weather on the planet. It is the same, stereotypical thinking that assumes all of the golf courses in Washington and Oregon are lined with Space Needle-sized trees and have fairways of moss.
I had something else in mind.
The obvious choice to begin our rendezvous was Chambers Bay, just 45 minutes from Seattle-Tacoma International Airport, the upstart USGA darling, home of this summer's U.S. and the 2015 U.S. Open. It will be the first course built in America in the past 45 years to get an Open.
In the same south-of-Seattle area, there are other remarkable courses, including Gold Mountain
in Bremerton. Site of the 2006 U.S. Amateur Public Links Championship, Gold Mountain once was labeled the second-best value in the country, behind only Bethpage Black. We're talking $40 here.
• • •
The other two courses we decided to play – The Home Course in Dupont and Washington National in Auburn – were also un-Northwest – wide open, sand-based, could-be-in-North Carolina kinds of courses.
The Home Course, a former dynamite dump that has become one of those ecological makeovers, was used in the 36-hole stroke-play portion of the U.S. Amateur at Chambers Bay. Washington National played host to the 2002 NCAA Division I Women's Championship and is marketed as the "Home of the Huskies." The scorecard is a report card, the front nine a midterm, and so on. You can request a cart bearing the colors of any of the Pac-10 schools. All the other carts are named after former University of Washington coaches and athletes. I think they got rid of Rick Neuheisel's cart.
As far as football, for someone who reported on the college scene for 40 years, who covered games at the Big House in Michigan and the colossus that is Ohio State, I'd say the most scenic places in the country to watch games are Husky Stadium in Seattle and Memorial Stadium in Berkeley.
Now that covers it, doesn't it?
Sure I'm biased, but where else do you overlook a lake and snow-covered mountains from one stadium and the majesty of San Francisco Bay from the other? Sure, both stadiums were built in the '20s and are falling apart, but who cares?
The Seattle scene is special, boats gliding across Lake Washington to the foot of the stadium, thousands of them, the intoxicating smell of diesel and barbecue.
I wondered, in fact, what the LSU fans would remember most about the weekend, the second-half blitz that did in the Huskies, 31-23, or the ride from Lake Union, the city skyline in the background, the tour boat churning past decorated little houseboats, kayaks and rowing shells.
If only the golf matched the mountains.
• • •
Well, it does.
My Cal buddies are pretty much finished with work. Another way to say they survive on fixed incomes. They aren't the scotch-drinking, cigar-smoking band of golfers. Never were. They look for value, fun and playability. As Cal Bears, they don't expect much because they haven't gotten much.
Although we'd played Royal County Down and Ballybunion in Ireland in the early '90s, green fees in those days were less than $50.
Chambers Bay so dashes the stereotype of Northwest golf as to be laughable. One tree on the course, firm fescue fairways and greens. Turnberry in Tacoma.
But what a delight to play. The genius is in the design. You have to try to lose a ball, the slope a modest 133 from 7,000 yards, and yet it's a course that can be pushed back to 7,700 yards and be all a U.S. Open field could handle.
Geez, I love links golf, making up shots as you go, using your imagination instead of your strength, bouncing balls into greens partly because that's the way you do it and partly because you can't hit it far enough anymore to fly the ball there.
I'll say this: Chambers Bay has better views than any course I've played. Better than the European courses, better than Bandon Dunes, better than Pebble. You can almost see every hole from every other hole. You see Puget Sound, the Olympic Mountains, a ferry traveling to the state pen at McNeil Island and a train rumbling toward Seattle.
They moved more than 1 million yards of sand to create Chambers Bay in an old gravel pit. One bunker is seven acres.
All of this costs money – $20 million – and the green fees for nonresidents run toward $175, a little much for my guys. But how many U.S. Open courses have you ever played, or ever will play? Bethpage, maybe? Torrey Pines? There is no charge for carts because there are no carts. Caddies are available and extra.
The Home Course, owned and operated by the Pacific Northwest Golf Association, is less than $50 to play; Washington National generally is less than $75.
After the shock and awe of Chambers Bay, we had a difficult time picking our favorite course. Gold Mountain is in Bremerton's watershed, 36 holes with no homes. Its best course, the Olympic, designed by John Harbottle, is fair, firm and more Northwest than the others.
Also in that area, McCormick Woods and Trophy Lake aren't bad layouts, and the tracks east of Tacoma – Druids Glen, Lake Spanaway and Classic Golf Club, the course owned by Ryan Moore's dad – offer similarly good values.
As the more than 1,500 LSU fans prepared to leave town, Herb Vincent, an LSU associate athletic director, said, "We don't get to places like this very often. Seattle is special."
The boys from Berkeley agreed.
Golfweek.com readers: We value your input and welcome your comments, but please be respectful in this forum.
---
---
---
---
---
---
---
---
---
---
---
---
---
---
---
---
---
---
---
---
---