Notes: USGA Senior Women's Am wrap-up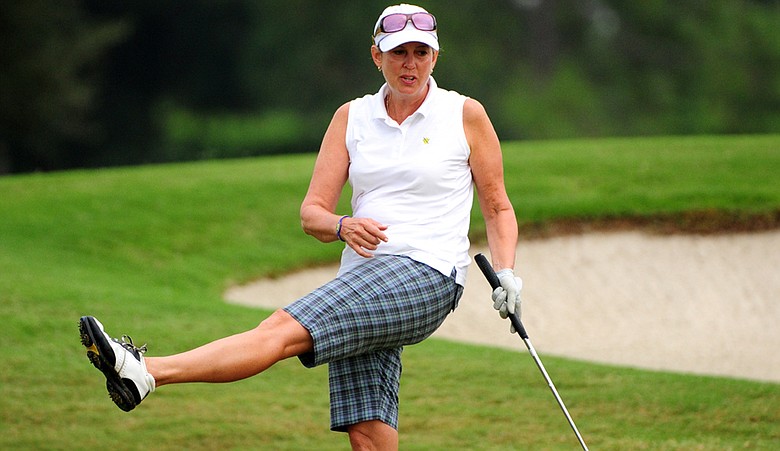 Friday, October 15, 2010
FORT MYERS, Fla. – What was in the bag of the two finalists at the USGA Senior Women's Amateur?
Winner Mina Hardin of Fort Worth, Texas: TaylorMade original Burner driver (9.5 degrees), Callaway FT-iZ 3-wood (15), Callaway FT-iZ hybrid (21), Callaway Diablo Edge hybrid (24), Callaway Diablo Forged irons (5-PW), Titleist Vokey Spin Milled wedges (50, 56 and 60), Yes! Emma long putter, Titleist Pro V1x golf ball.
Runnerup Alexandra Frazier of Haverford, Pa.: TaylorMade CGB Max driver (12), Callaway Diablo 5-wood, Callaway Diablo 7-wood, Callaway Diablo 9-wood, Callaway Big Bertha Heavenwood hybrids (26 and 29), Ping Rhapsody irons (6-PW), Titleist Vokey Spin Milled wedges (52 and 56) Odyssey White Hot 2-Ball putter, Titleist Pro V1 golf ball. 
• • •
In the USGA Senior Women's Amateur, which state advanced the most players to match play?
It was a runaway. Of the 64 golfers in match play, 11 were from California. Tying for second were Pennsylvania and Texas, with five apiece. Florida was next with four.
In the recent USGA (Men's) Senior Amateur, Pennsylvania was first with 8, followed by Texas and Florida with seven. California and Indiana each had six.
Adding the men's and women's senior amateur events together, California claimed the most players in match play with 17. Pennsylvania was second with 13, and Texas was third with 12.
In the women's event, Indiana was unable to match its impressive showing in the men's championship. Nancy Fitzgerald of Carmel was the only Indiana resident to make match play.
• • •
Senior Women's Amateur champion Mina Hardin is a member of the Ladies Amateur Golf Association, a group of highly skilled female golfers in north Texas who compete regularly against each other.
This is particularly noteworthy because the LAGA has become a dominant factor in the Senior Women's Amateur. In the last seven years, six finalists in the national championship have been LAGA members. This includes three winners – Carolyn Creekmore, Anna Schultz and Hardin.
Maximum handicap for the Ladies Amateur Golf Association is 10.4.
• • •
Why is the USGA's minimum age for women set at 50, as opposed to 55 for men?
History.
Ever since the first men's Senior Amateur was played in 1955, the age requirement has been 55. Meanwhile, when the Senior Women's Amateur was started in 1962, the age was pegged at 50 to encourage more golfers to participate.
Around the United States, 55 is hardly a standard age for senior amateur men.
State and regional golf associations in the U.S. are split almost evenly on the senior age for male amateurs – many of the oldest associations have stuck with the USGA's choice of 55, while many of the newest decided to use 50.
• • •
Discrimination?
Nobody seems too upset, but the final match of the men's Senior Amateur started at 9 a.m., while the final match of the Senior Women's Amateur began at 8 a.m.
Both events were played in Florida, with the men in Orlando and the women in Fort Myers.
Before 7:15 a.m., darkness made it was impossible for the women to hit balls on the range and see them in air. So getting ready for the final was something of a hurry-up drill.
The starting times were determined by the USGA and not by the host clubs.
• • •
Fiddlesticks was in marvelous condition for the Senior Women's Amateur. The facility includes two courses, with the Senior Women's Am played on the Long Mean course (the other is called Wee Friendly).
The Long Mean, designed by architect Ron Garl, is a visual treat, with huge waste bunkers and large bodies of water stationed on many holes.
How seriously did Fiddlesticks take this championship? Well, the club didn't fiddle around. The Long Mean was closed for two weeks prior to the Senior Women's event, allowing the maintenance crew to present a near-perfect golf course.
Golfweek.com readers: We value your input and welcome your comments, but please be respectful in this forum.
---
---
---
---
---
---
---
---
---
---
---
---
---
---
---
---
---
---
---
---
---