Junior Boys
AJGA announces Rolex Jr. All-Americans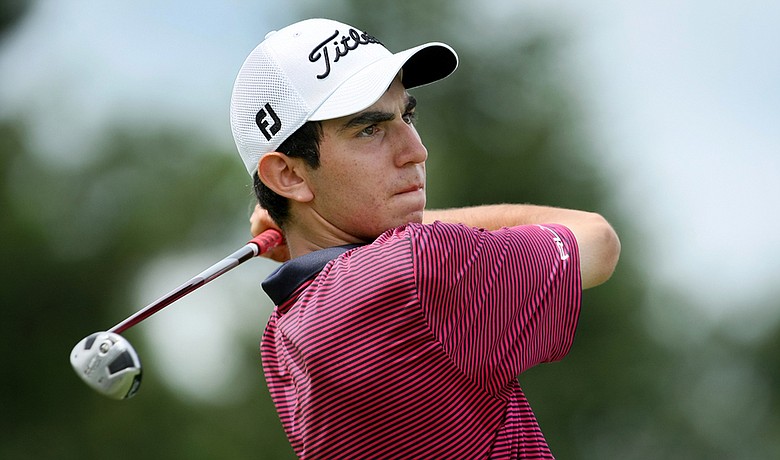 Wednesday, October 20, 2010
The American Junior Golf Association announced its 2010 Rolex Junior All-American teams Wednesday.
The teams were determined exclusively through the Polo Golf Rankings, as of Oct. 20.
Players will be honored at the Rolex Junior All-America Awards Banquet Sunday, Nov. 21, at PGA National Resort & Spa in Palm Beach Gardens, Fla., the night before the start of the Polo Junior Golf Classic.
The Rolex Players of the Year will be announced on Thursday.
---
BOYS DIVISION
First Team
Emiliano Grillo, Bradenton, Fla.
Gavin Hall, Pittsford, N.Y.
Beau Hossler, Rancho Santa Margarita, Calif.
Michael Johnson, Birmingham, Ala.
Tanner Kesterson, Plano, Texas
Jim Liu, Smithtown, N.Y.
Denny McCarthy, Burtonsville, Md.
Anthony Paolucci, Rancho Santa Fe, Calif.
Patrick Rodgers, Avon, Ind.
Oliver Schniederjans, Powder Springs, Ga.
Jordan Spieth, Dallas, Texas
Justin Thomas, Goshen, Ky.
Second Team
Stephen Behr, Jr., Florence, S.C.
Alex Carpenter, Westerville, Ohio
Yi Keun Chang, Diamond Bar, Calif.
Wyndham Clark, Greenwood Village, Colo.
Brendan Connolly, Castle Rock, Colo.
Drew Czuchry, Auburn, Ga.
Shun Yat Hak, Lake Mary, Fla.
David Lee, Houston, Texas
AJ McInerney, Henderson, Nev.
Cody Proveaux, Leesville, S.C.
JD Tomlinson, Gainesville, Fla.
Joseph Winslow, Overland Park, Kan.
Honorable Mention
Daniel Berger, Jupiter, Fla.
Jonathan Garrick, Atherton, Calif.
Nicholas Grubnich, Crown Point, Ind.
J.J. Holen, Castaic, Calif.
Jay Hwang, San Diego, Calif.
Stewart Jolly, Birmingham, Ala.
Billy Kennerly, Alpharetta, Ga.
Michael Kim, Del Mar, Calif.
Chase Koepka, West Palm Beach, Fla.
Andrew Lister, Haymarket, Va.
Tom Lovelady, Birmingham, Ala.
Joshua Martin, Pinehurst, N.C.
Lee McCoy, Palm Harbor, Fla.
David Mills, Evansville, Ind.
Taylor Moore, Edmond, Okla.
Zachary Olsen, Cordova, Tenn.
Marcel Puyat, Indio, Calif.
Jonathan Sanders, Chatsworth, Calif.
Nicholas Scott, Union, Ohio
Cody Shafer, Evans, Ga.
Sawyer Shaw, West Palm Beach, Fla.
Zachary Wright, Phoenix, Ariz.
Motin Yeung, Orlando, Fla.
Will Zalatoris, Plano, Texas
• • • 
GIRLS DIVISION
First Team
Shannon Aubert, ChampionsGate, Fla.
Laetitia Beck, Caesarea, Israel
Doris Chen, Bradenton, Fla.
Yueer Cindy Feng, Orlando, Fla.
Ariya Jutanugarn, Bangkok, Thailand
Kyung Kim, Chandler, Ariz.
Jessica Korda, Bradenton, Fla.
Alison Lee, Valencia, Calif.
Stephanie Meadow, Jordanstown, Northern Ireland
Kristen Park, Buena Park, Calif.
Victoria Tanco, Bradenton, Fla.
Emily Tubert, Burbank, Calif.
Second Team
Karen Chung, Livingston, N.J.
Simin Feng, Orlando, Fla.
Ginger Howard, Bradenton, Fla.
Esther Lee, Los Alamitos, Calif.
Erynne Lee, Silverdale, Wash.
Tiffany Lim, San Jose, Calif.
Rachel Morris, Carlsbad, Calif.
Marijosse Navarro, San Antonio, Texas
Kelly Shon, Port Washington, N.Y.
Mariah Stackhouse, Riverdale, Ga.
McKenzie Talbert, North Augusta, S.C.
Lindsey Weaver, Scottsdale, Ariz.
Honorable Mention
Anne Cheng, Torrance, Calif.
Lauren Diaz-Yi, Thousand Oaks, Calif.
Irina Paulin Gabasa, Cebu, Philippines
Casey Grice, College Station, Texas
Aurora Kan, Boothwyn, Pa.
Lauren Kim, Los Altos, Calif.
Anna Kim, Chandler, Ariz.
Tanaporn Kongkiatkrai, Bradenton, Fla.
Patricia Lee, Lone Tree, Colo.
Stephanie Liu, Fernandina Beach, Fla.
Gabriela Lopez, Heroes de Padierna, Mexico
Kaira Martin, Paradise Valley, Ariz.
Kendall Martindale, Jefferson City, Tenn.
A.J. Newell, Tampa, Fla.
Ashlan Ramsey, Bradenton, Fla.
Morgan Ransom, Columbus, Ohio
Sarah Schmelzel, Phoenix, Ariz.
Emma Talley, Princeton, Ky.
Gabriella Then, Rancho Cucamonga, Calif.
Beverly Vatananugulkit, Cerritos, Calif.
Juliet Vongphoumy, Providence, R.I.
Lilia Vu, Fountain Valley, Calif.
Samantha Wagner, Windermere, Fla.
Jennifer Yang, Coquitlam, British Columbia
Golfweek.com readers: We value your input and welcome your comments, but please be respectful in this forum.
---
---
---
---
---
---
---
---
---
---
---
---
---
---
---
---
---
---
---
---
---