Pavin's picks: Tiger, Cink, Zach, Fowler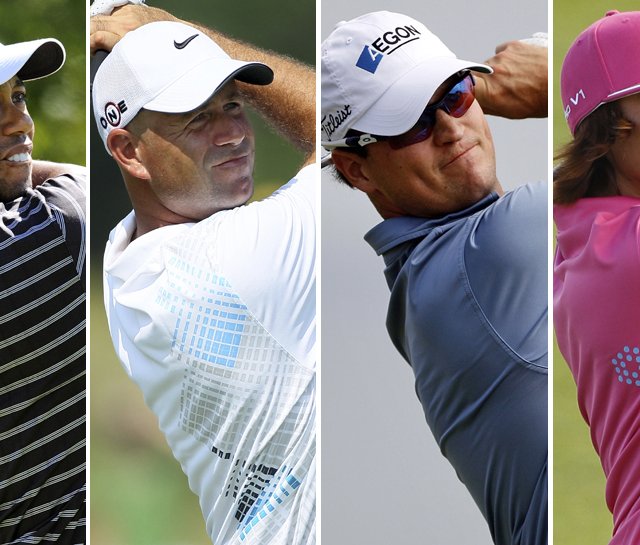 ---
• TEAM EUROPE: European Ryder Cup team | Inside Colin Montgomerie's decision
---
Podcast episode
Alex Miceli explains why Corey Pavin went with safe picks for the U.S. Ryder Cup team.
Final Ryder Cup points
1.) Phil Mickelson (6,095.06)
2.) Hunter Mahan (4,095.62)
3.) Bubba Watson (3,894.32)
4.) Jim Furyk (3,763.64)
5.) Steve Stricker (3,697.98)
6.) Dustin Johnson (3,573.80)
7.) Jeff Overton (3,533.15)
8.) Matt Kuchar (3,415.85)
DID NOT QUALIFY
9.) Anthony Kim (3,274.68)
10.) Lucas Glover (3,052.87)
11.) x-Zach Johnson (3,051.90)
12.) x-Tiger Woods (2,902.58)
13.) Bo Van Pelt (2,662.23)
14.) x-Stewart Cink (2,644.83)
15.) Ben Crane (2,629.80)
16.) Ricky Barnes (2,610.17)
17.) Nick Watney (2,557.44)
18.) Sean O'Hair (2,417.57)
19.) J.B. Holmes (2,390.71)
20.) x-Rickie Fowler (2,353.32)
21.) Ryan Palmer (2,276.38)
22.) Ryan Moore (2,136.10)
23.) Jason Bohn (1,817.24)
24.) Kenny Perry (1,790.83)
25.) Scott Verplank (1,756.60)
Note: x-captain's pick
NEW YORK – Tiger Woods is going to the Ryder Cup as a captain's pick with his 71 victories and 14 majors. So is 21-year-old Rickie Fowler, who has never won anything at all.
Corey Pavin made an obvious choice and a surprising one Tuesday morning at the New York Stock Exchange when he added Woods and Fowler, along with former major champions Zach Johnson and Stewart Cink, to an American team that will try to retain the cup.
The Ryder Cup is Oct. 1-3 at the Celtic Manor in Wales. The United States won two years ago at Valhalla, and will try to win for the first time overseas since 1993 at The Belfry.
This will be the sixth Ryder Cup team for Woods, but the first in which he needed to be picked. Woods had finished first in the standings every time, including in 2008 when he spent the second half of the year recovering from knee surgery.
"It's great to be a part of this team," Woods said. "I'm honored to be selected ... and looking forward to going back and having a great time with the team and hopefully, bring the Cup back."
The eight Americans who qualified after the PGA Championship were Phil Mickelson, Hunter Mahan, Steve Stricker, Jim Furyk, Matt Kuchar, Bubba Watson, Dustin Johnson and Jeff Overton.
European captain Colin Montgomerie said Pavin used his four picks "to good effect."
"Like my European team, the American side has an excellent blend of youthful talent alongside some seasoned Ryder Cup campaigners, and I am delighted to see Tiger Woods amongst Corey's selections," he said. "The Ryder Cup is a better event with him in it."
Cink made his fifth consecutive team – his third as a captain's pick – while Johnson is playing for the second time.
The final selection – and Pavin's most difficult – went to Fowler, the first PGA Tour rookie to make the U.S. team. While the former Oklahoma State star has three runner-up finishes in his 11 months as a pro, he is the first American captain's pick to have never won.
"It just came down to feelings. I had a gut feeling about Rickie," Pavin said. "He has a good Walker Cup record, 7-1. He's a very good player. There's a lot of very good players that I had to look at, but that's the way I went."
No one else stood out over the last three weeks. In the final tournament before Pavin's picks, none of the 14 players on the captain's short list finished among the top 10. According to people with knowledge of the decision, the final selection came down to Fowler and big-hitting J.B. Holmes, who tied for 11th at the TPC Boston.
Among those left off were Anthony Kim, who missed three months this summer with thumb surgery and was bumped out of the top eight in the final qualifying tournament; former U.S. Open champion Lucas Glover and Charley Hoffman, who closed with a 62 on Monday to win the Deutsche Bank Championship.
Hoffman was not on Pavin's short list at the start of last week, but the captain called him Monday night to say he had been considered.
Fowler's selection gives the Americans five Ryder Cup rookies, and another player without a PGA Tour victory. Among the eight who qualified for the team was Overton, winless in his five years on tour.
"I do think I could bring some energy, and that's one thing I would like to do, is help out the team – obviously playing well, stuff like that, but keeping the guys fired up and keeping that main golf in mind," Fowler said.
Woods, who retained the No. 1 world ranking for the 274th consecutive week Monday at the Deutsche Bank Championship, became an obvious selection once he said at the PGA Championship that he wanted to be part of the team. He has been accused of being indifferent toward the Ryder Cup, and his career record of 10-13-2 is the one flaw in an impeccable career inside the ropes.
He will be going to Wales on his own – his divorce was approved two weeks ago – and no longer cutting such an invincible figure.
Woods has failed to win since returning at the Masters, although he appears headed in the right direction. He posted three rounds in the 60s at the Deutsche Bank Championship for the first time all year.
Europe's team has six Ryder Cup rookies – Italian brothers Francesco and Edoardo Molinari, Peter Hanson, Rory McIlroy, Ross Fisher and PGA champion Martin Kaymer – along with Lee Westwood, Ian Poulter, Padraig Harrington, Luke Donald, Miguel Angel Jimenez and U.S. Open champion Graeme McDowell.
Zach Johnson won the Colonial in May, and the former Masters champion had been coming on strong in recent weeks. He finished one shot out of the playoff at the PGA Championship, and kept himself in the mix at the tour's playoff events. Cink, who won the British Open at Turnberry last year, has been making slow progress in recent months.
Only two of the eight American players who made the team have experience playing the Ryder Cup overseas. Cink has played in England and Ireland, while Johnson's only Ryder Cup was in Ireland.
"On the road, it's very different," Woods said. "You get booed a lot, you get jeered, and people say things they probably shouldn't say. I've had that experience and understand how to deal with it and make it a positive thing."
Latest Related Headlines