College Women
Golfweek's preseason top 30 players: Women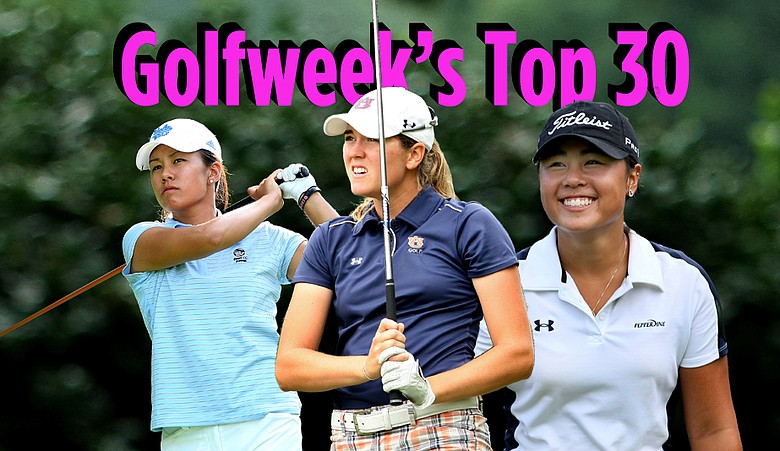 Thursday, September 9, 2010
---
Blog U | Recruiting Extra | Preseason top 30 teams: Men / Women | Discussion Board
---
1.) Cydney Clanton
School: Auburn, senior
2009-10 Golfweek rank: 2
The scoop: Longtime Auburn coach Kim Evans said Clanton was "born to be a great leader." With Candace Schepperle gone, the athletic Clanton will be at the wheel. Recently chosen by the USGA as one of three players to represent the U.S. at the World Amateur Team Championships in October, Clanton won the North & South Women's Amateur over the summer and was a member of the victorious Curtis Cup team. Clanton set a single-season record for scoring average at Auburn with 71.45 and ended 2010 with a final-round 66 at NCAAs to tie for third.
2.) Danielle Kang
School: Pepperdine, sophomore
2009-10 Golfweek rank: 19
The scoop: 2010 U.S. Women's Amateur champion joined the Waves last spring at age 17 and won her second college start. Was medalist at the '10 U.S. Girls' Junior and '09 Women's Amateur.
3.) Stephanie Kono
School: UCLA, junior
2009-10 Golfweek rank: 7
The scoop: Plagued by a back injury most of last season, Kono had to curtail her practice regimen. "That puts question marks in your brain," coach Carrie Forsyth said. Kono is stronger this year and, hopefully for the Bruins, healthier.
4.) Maude-Aimee LeBlanc
School: Purdue, senior
2009-10 Golfweek rank: 9
The scoop: Led Boilermakers to their first NCAA Championship last spring, tying for third individually. The towering Canadian is known for her temper, though college golf has matured her.
5.) Marina Alex
School: Vanderbilt, junior
2009-10 Golfweek rank: 5
The scoop: SEC champion finished runner-up four times last season. Scoring average dropped from 74.31 as a freshman to 71.59 last year thanks to short-game work. Advanced to Sweet 16 at U.S. Women's Amateur.
6.) Carlota Ciganda
School: Arizona State, junior
2009-10 Golfweek rank: 10
The scoop: Didn't live up to her potential last season, but the talented Spaniard plays an aggressive, athletic game that could explode (in a good way) at any point in the spring.
7.) Marta Silva Zamora
School: Georgia, junior
2009-10 Golfweek rank: 13
The scoop: Another gifted Spaniard who won twice last year and posted six top-3 finishes. Led the Bulldogs with 101 birdies in 34 rounds.
8.) Camilla Lennarth
School: Alabama, senior
2009-10 Golfweek rank: 12
The scoop: Still looking for her first victory, Lennarth helped Sweden win the European Team Championship in July. Her strength lies in accuracy. Will be pushed by sophomore Jennifer Kirby.
9.) Lindy Duncan
School: Duke, sophomore
2009-10 Golfweek rank: 14
The scoop: The ACC Player of the Year as a freshman gave the Blue Devils a much-needed spark with a 72.76 average, one victory and four top-5 finishes. Won 2010 Dixie Amateur by five shots over Alexis Thompson.
10.) Lizette Salas
School: USC, senior
2009-10 Golfweek rank: 11
The scoop: Won twice as a sophomore and once last year but fell beneath the shadow of teammate Jennifer Song. More than anything, coach Andrea Gaston says, Salas needs to rebuild the confidence she had two years ago.
Second team
Numa Gulyanamitta, senior, Purdue
Jennifer Kirby, sophomore, Alabama
Lee Lopez, sophomore, UCLA
Tiffany Lua, sophomore, UCLA
Megan McChrystal, senior, LSU
Lisa McCloskey, junior, USC
Rachel Morris, freshman, USC
Margarita Ramos, junior, Arizona
Kelli Shean, senior, Arkansas
Cheyenne Woods, junior, Wake Forest
Third team
Brittany Altomare, sophomore, Virginia
Emilie Burger, sophomore, Georgia
Laura Gonzalez, sophomore, Purdue
Ani Gulugian, freshman, UCLA
Joanne Lee, junior, California
Nathalie Mansson, junior, Tennessee
Calle Nielson, senior, Virginia
Brooke Pancake, junior, Alabama
Emily Tubert, freshman, Arkansas
Sally Watson, sophomore, Stanford
• • • 
Top 10 freshmen
Rachel Morris, USC
Emily Tubert, Arkansas
Laetitia Beck, Duke
Alejandra Cangrejo, Duke
Ani Gulugian, UCLA
Stephanie Meadow, Alabama
Sophia Popov, USC
Nicole Zhang, Notre Dame
Emily Collins, Oklahoma
Sun Gyoung Park, Yale
Other frosh to watch: Haley Andreas, Arizona; Jackie Chang, North Carolina; Austin Ernst, LSU; Casey Grice, North Carolina; Bonnie Hu, Harvard; Suzie Lee, South Carolina; Rebecca Lee-Bentham, Texas; Katherine Perry, North Carolina; Kelly Shon, Princeton; Tessa The, Colorado
Golfweek.com readers: We value your input and welcome your comments, but please be respectful in this forum.
---
---
---
---
---
---
---
---
---
---
---
---
---
---
---
---
---
---
---
---
---