LPGA primps for its big date in Orlando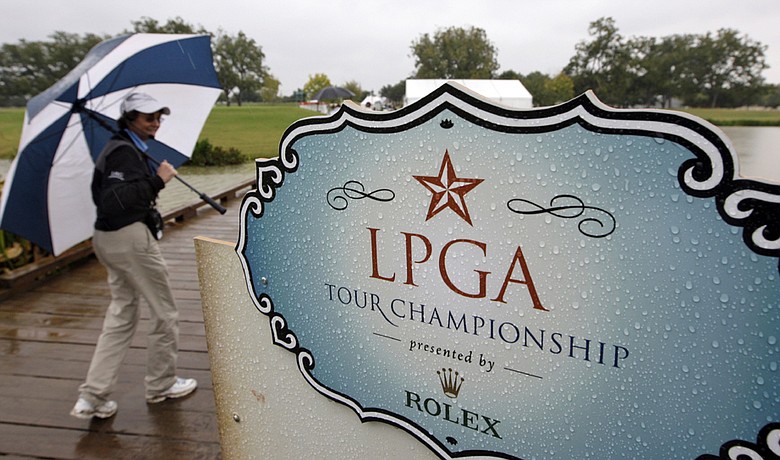 Sunday, September 26, 2010
ORLANDO, Fla. – Mike Whan considers this year's LPGA Tour Championship a homecoming. More than 50 LPGA players live in the Orlando area and, well, the fact that the tour didn't have a presence in central Florida "just seemed wrong" to the new commish.
"This is the first tournament that, while we're playing, I can kiss my kids good night, which is pretty cool," said Whan, who moved his wife and three children from Orange County, Calif., to suburban Orlando in June. 
Those who expected a major announcement to come out of the Sept. 22 media day were left wanting. The biggest news of the day was that seniors get in free on Tuesday during tournament week (Nov. 30 to Dec. 5). Oh, and those who play Grand Cypress in the month of October get two free tickets to the event.
The LPGA had a news conference set for August, where the commissioner planned to announce a new title sponsor for the season-ending tournament. Whan said the unnamed company "got some really bad financial news." The tour moved the presser to Disney, where Paula Creamer was doing a photo-op with Minnie Mouse. 
Six weeks later, with no title sponsor on the horizon, Whan presses on. He said the tour has big plans for 2011 and beyond for its season finale. Hopefully, that plan involves a smaller field. While it's certainly nice to have an event in the tour's backyard (and mine), it doesn't have much of an accomplished feel with 120 players in the mix.
Overall, Whan is a much more relaxed man than he was over the summer. 
"We came in 2010 with significant fear," he said, noting that 10 tournaments had contracts that ended in 2010. CVS is the only sponsor to drop out after this year. The Jamie Farr will take one year off to accommodate the U.S. Senior Open at nearby Inverness but will return in 2012. Safeway is the only "unknown entity" at the moment, with the rest of the tournament renewals in good shape. 
The 2011 schedule, which likely will be announced at the Tour Championship, will be about the same as this year, Whan said, with maybe a couple of additions. He's trying hard to persuade the folks at Mojo 6 to expand their field and make it an official event.
Regardless, the event will go on in '11, in a party place such as Miami or Las Vegas.
Anna Nordqvist, who won the 2009 McDonald's LPGA Championship and Tour Championship and the Mojo 6 in April, was on hand to offer her thoughts on Grand Cypress. Nordqvist lives 10 minutes down the road from the resort and is a member. The tour will play the North and South courses from 6,518 yards.
"The greens are going to be the big challenge with so many small slopes on them," said Nordqvist, who called her less-impressive sophomore season a "transition year."
After the formal news conference, Nordqvist headed to the range to inspire 15 young girls from the Orlando Minority Youth Golf Association. Nordqvist told them how she used to hit pink and orange balls in a foot of snow in Sweden.
"You hit one shot, and it took 10 minutes to find it," she said.
Nordqvist said she spends 70 percent of her time on the short game, which makes sense to anyone who has watched her play. 
Quiana Harris, a 4-year-old with the teeniest pink Lynx golf bag ever seen, hit her pink-shafted iron for Nordqvist and then, more importantly, pulled the Silly Bandz off her right wrist to show off the shapes. Beside her, an older girl making solid contact, earned praise from Whan. 
Whan can't promise that the Tour Championship will remain in Harris' backyard, but he wants to make sure going forward that Nordqvist & Co. play an event in the Orlando area.
Hopefully, there's a title sponsor out there who feels the same.
Golfweek.com readers: We value your input and welcome your comments, but please be respectful in this forum.
---
---
---
---
---
---
---
---
---
---
---
---
---
---
---
---
---
---
---
---
---