LPGA legends reflect on Kraft memories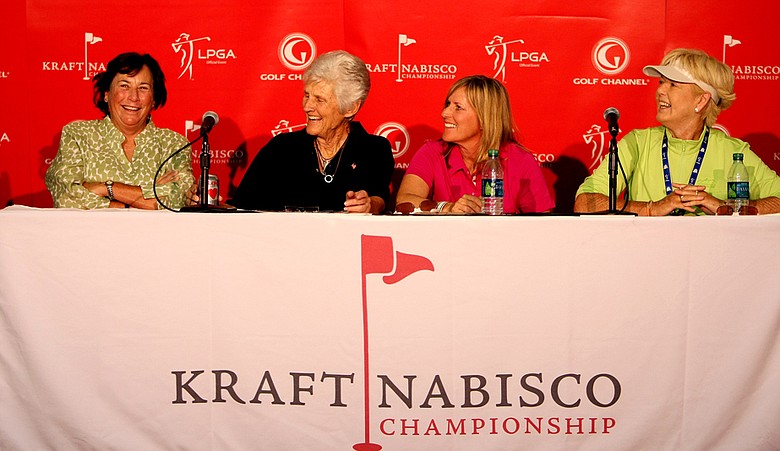 Saturday, April 2, 2011
RANCHO MIRAGE, Calif. – Four LPGA legends settled into their seats in the interview room and looked out toward the assembled scribes.
"On No. 1 I got up and down," began Betsy King, playfully going over her imaginary scorecard.
"The rough is too damn high," Alcott chimed in.
They had danced this dance before.
Golfweek Swing Vault
Watch Kathy Whitworth warming up on the range for the fresh & easy Dinah Shore Charity Pro-Am at the Kraft Nabisco Championship.
King and Alcott, two three-time winners at Mission Hills, were joined at the table by Kathy Whitworth and Pat Bradley. The foursome has eight titles here between them and a truckload of memories. They came to this year's Kraft Nabisco Championship to help celebrate the tournament's 40th anniversary by playing in the new Fresh & Easy Dinah Shore Charity Pro-Am, held on the Palmer Course Saturday afternoon.
A few highlights on what winning this tournament meant to each player:
Bradley: "That walk around that pond is one of the greatest walks in golf. And when I walked over the bridge and saw Dinah at the other side to greet us all, and of course, you know, she gave me a hug, and that is something that I will cherish and always remember."
King: "One of the honors of winning the Kraft Nabisco Championship was that you got to play with Dinah the next year in the Pro Am, and I always looked forward to that. … She was always so gracious with the galleries. I don't know how she did it because she had a lot of people that wanted to get their picture taken with her or get her autograph, and she was just so gracious to everyone, and I thought, 'I'm glad I'm not in a business that I depend so much on being nice to people.' That wasn't my strong point at times, I have to say."
Whitworth: "I too had the pleasure of playing with Dinah, and she had a TV show that we went on a couple of times, and I must say I was probably more remembered from that than winning, because I had to cook, and I made nachos. That was my claim to fame."
Alcott: "I walked up on the 18th fairway with an eight-shot lead in a major tournament, going to win for my third time (in 1991) … I looked all the way across the lake, and there was Dinah standing in black pants. Dinah always wore white slacks with her Kraft jacket and she was always meticulously groomed. I'm trying to win this major tournament, and there's Dinah. I said to (my caddie), I think Dinah Shore really does want to go in the water with us."
Golfweek.com readers: We value your input and welcome your comments, but please be respectful in this forum.
---
---
---
---
---
---
---
---
---
---
---
---
---
---
---
---
---
---
---
---
---