Krutz struts his stuff in front of recruiters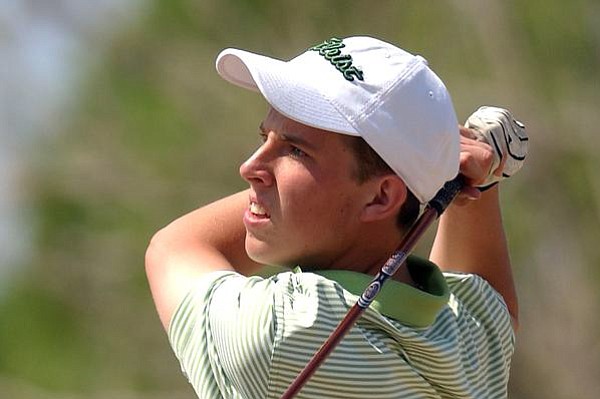 Monday, August 22, 2011
Matt Krutz has found himself without his swing coach, but that hasn't kept him from the winner's circle.
Krutz won the recent UNM Open held at the University of New Mexico's Championship course and he was able to do so without the recent guidance of his long time coach Scott Davies. Since Davies joined the David Leadbetter Academy teaching staff recently, Krutz has not been able to take his game or potential problems to him for any fixing.
"(Davies) moved four months ago," said Krutz, who lives in Norman, Okla. "I've been sort of floating around. After he left, I had some trouble finding someone to help me."
Davies had helped groom Krutz's game to the point where he could win against strong junior competition, but with him out of the picture, a major crutch was missing.
"It's been kind of rough," Krutz said. "Normally when I'm having swing trouble I would go to him. I've gone to a couple local pros for basic swing tips to keep things on track."
Things certainly held together enough at the UNM Open, where Krutz was playing in front of the man he hopes could be his college coach. With UNM on his list of prospective schools, Krutz saw this event as a good opportunity to showcase his talent for UNM coach Glen Millican. He did not disappoint.
Krutz fired rounds of 71-72—143 in winning the event wire-to-wire and surviving a tough battle to the end with Brett Johnson. It took a birdie on the last hole combined with Johnson's bogey to finally pull out the victory.
"I thought I had to worry more about (Grant Storey)," Krutz said of the player who began the final round just one shot off the lead. "Then Brett came out with three birdies in the first four holes and it got pretty intense after that."
After Johnson carded his fourth birdie of the day at the ninth hole, Krutz found himself one shot back heading to the inward nine. The two players had separated themselves from the rest of the field but began to struggle, each making bogey at the 10th and 11th holes. Krutz moved back into a share for the lead when Johnson bogeyed the 13th.
At the 14th Krutz moved back in front after chipping to eight feet then sinking the birdie putt. This came after Johnson narrowly missed his 10-footer for birdie. It was clear that putting would be the key to Krutz winning the event.
"On 15 I made an 8-foot downhill putt to save par, then on 16 I had about the same putt from 10 feet for par and made that," said Krutz, who carried a one-shot lead to the 17th.
This time it would be Krutz who burned the edge of the cup in missing a birdie putt while Johnson had just moments before rolled in an 18-foot birdie putt to tie the match.
With the two players tied at the par-5 18th, it would once again come down to the short game. Krutz laid up on his second shot then pitched to inside 10 feet. Meanwhile Johnson had hit a good drive and went for the green in two but wound up in a greenside bunker. Johnson blasted out and missed his birdie chance, leading to a match-winning birdie putt for Krutz, who dropped in another crucial one down the stretch.
"My short game is what really kept me in it. I had trouble off the tee, but my iron game was solid when I got the ball in the fairway."
In winning Krutz was able to add a GJT victory to his resume but also make a strong case in front of the UNM golf coach, perhaps foremost in his thoughts.
"I wanted to play in front of him, and he seemed pleased with it," Krutz said of UNM coach Glen Millican. "That's one of the D-1 schools I'm talking to and I have some academic scholarships there as well. It's my first choice if I'm offered."
Golfweek.com readers: We value your input and welcome your comments, but please be respectful in this forum.
---
---