Top 10 men's amateur storylines from 2011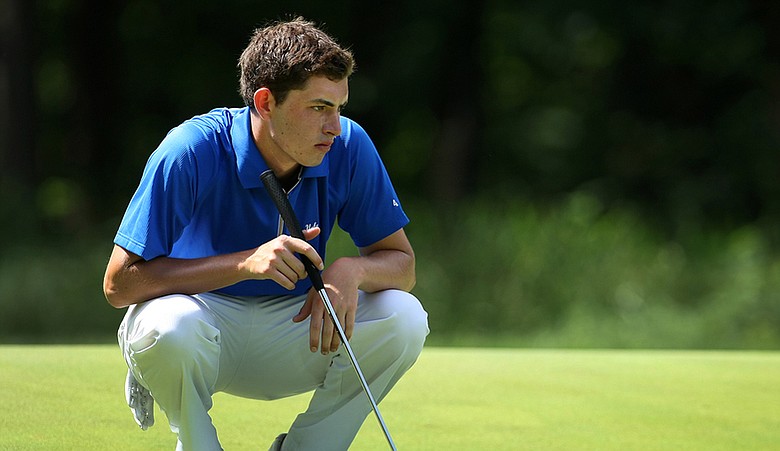 Monday, December 12, 2011
There was plenty to write about in the amateur game this year. Amateurs, most notably Patrick Cantlay, starred in professional events across the globe. The Walker Cup always adds intrigue, for reasons both good and bad. Here are the top 10 storylines from the past year in amateur golf:
1.) Patrick Cantlay's summer success: Cantlay started the summer as a rather anonymous freshman. He was the top player in college golf but known only to the aficionados who follow the amateur game. How quickly that changed. He was low amateur at the U.S. Open, then shot 60 at the next week's Travelers Championship. The quiet kid from Southern California became one of the game's hotly-debated topics after four top 25s in four PGA Tour starts, with pundits calling for him to ditch class for the pro game. He's still at UCLA, for an undetermined amount of time.
---
Photo Gallery
2011 in review: Amateur golf
From the dramatic Walker Cup to Patrick Cantlay's success on the PGA Tour to Kelly Kraft's big win at the U.S. Amateur, the year that was in amateur golf.
---
2.) Amateurs take on the pros: Cantlay was just one of several amateurs to have success against the pros this year. Amateurs finished in the top 30 in all three major championships. They won pro events across the globe, from the Nationwide to Japan tours. Time will tell whether this was the start of a trend, but one thing was certain: It was fun to watch.
3.) Radical amateur-status changes: Rules changes rarely receive much attention, but amateur status underwent an extreme makeover this year. New rules allow an amateur who is at least 18 years old to enter into a contract with an agent or endorsers, as long as the player does not receive financial benefits while an amateur. Another new rule will allow amateurs to receive living expenses from their national golf unions. The rules are in violation of NCAA rules, so student-athletes cannot take advantage of them, but will drastically change the game abroad.
4.) Tom Lewis' memorable Open moment: Lewis, the son of an English driving-range pro, beautifully displayed at the Open Championship the lessons his father, Bryan, had taught him. Tom Lewis' first-round 65, capped with late-afternoon birdies at Nos. 14-17, left him tied for the 18-hole lead. It was the lowest round by an amateur in tournament history. He went on to finish 30th. Lewis turned pro later this year and won the European Tour's Portugal Masters in just his third pro start.
5.) United States' upset loss at the Walker Cup: The United States came to Royal Aberdeen with a star-studded team that featured the top four players in the R&A's World Amateur Rankings. The team featured Cantlay, two U.S. Amateur champions (Kelly Kraft, Peter Uihlein) and two players who had won on the Nationwide Tour (Harris English, Russell Henley). They couldn't overtake a Great Britain & Ireland team led by Lewis, though. GB&I won, 14-12, snapping the United States' three-match winning streak.
6.) Kelly Kraft's U.S. Amateur victory: Kraft remained amateur this summer with hopes of making the U.S. Walker Cup team. He won the Trans-Mississippi Championship and Texas Amateur, but still was a long shot entering the U.S. Amateur, the last event before the team was finalized. He was 1 down with four holes remaining in the final match with Cantlay, but won three of the final four holes to claim the Havemeyer Trophy. Kraft, who will turn pro after the Masters, also earned low-amateur honors (T-19) at the Australian Open in November.
7.) Georgia's Nationwide Tour winners: Two amateurs won on the Nationwide Tour in 2011. They weren't just college teammates but former roommates at the University of Georgia. Russell Henley won first, claiming the Stadion Classic at UGA in May. English, who earned his PGA Tour card at the recent Q-School, followed with his victory at the Nationwide Children's Hospital Invitational. Henley missed at Q-School's second stage, but will be exempt on the Nationwide Tour in 2012.
8.) Hideki Matsuyama, Japan's rising son: The Asian Amateur Championship was created in 2009 to encourage aspiring players in the region. That goal was met early, thanks to Japan's Hideki Matsuyama. He won the 2010 Asian Am, then finished 27th at this year's Masters, not long after the earthquake that devastated his country. Matsuyama successfully defended his title at this year's Asian Amateur, setting up a return trip to Augusta. He then won the Japan Tour's Taiheiyo Masters to become the first amateur since Ryo Ishikawa to win on that tour.
9.) John Peterson's Walker Cup snub: Peterson had one goal for 2011: make the Walker Cup team. He seemed to do everything to merit a berth, winning the NCAA Championship and Jones Cup and finishing second to English at the Nationwide Children's Hospital Invitational. Few players had a better season. Peterson was omitted from the Walker Cup team, though – one of the worst snubs in recent memory. Theories abound regarding his omission, but only one fact was confirmed: The USGA will do as it pleases when selecting the team, even if that means leaving a deserving player at home.
10.) Corbin Mills comes on strong: By all accounts, Mills was a solid college player before the start of this summer. He finished the 2010-11 season ranked 116th in the Golfweek/Sagarin College Rankings. A putting fix turned Mills into one of the nation's top amateurs. He won the U.S. Amateur Public Links and Players Amateur in a two-week span, earning starts in next year's Masters and the PGA Tour's RBC Heritage.
Golfweek.com readers: We value your input and welcome your comments, but please be respectful in this forum.
---
---
---
---
---
---
---
---
---
---
---
---
---
---
---
---
---
---
---
---
---