2012 in preview: 12 N'wide players to watch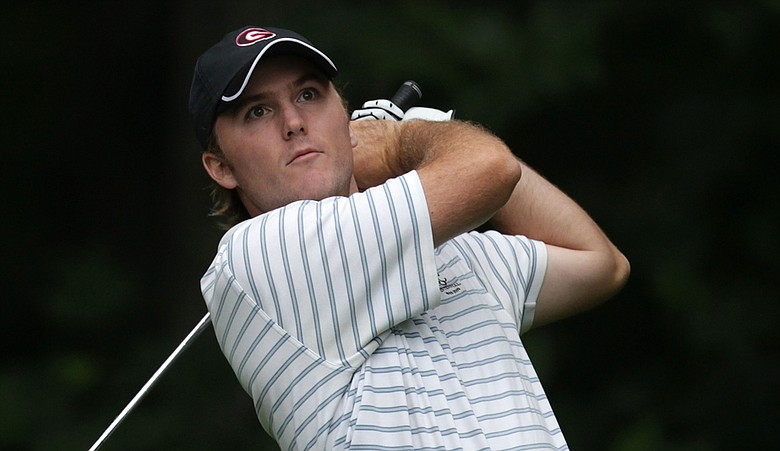 Wednesday, December 28, 2011
The Nationwide Tour no longer likes to be referred to as a "developmental tour." The tour's brass reasons that players already must have a developed game by the time they reach the PGA Tour's secondary circuit. That might be the case, but the truth is that the developing players, the up-and-comers, are the most exciting part of the tour's membership. Fans want to know who the game's next promising youngster is. Here are 10 Nationwide Tour players to watch in 2012. All are on their way up, having never held Nationwide Tour status prior to the 2011 season:
• • •
1. Adam Hadwin
The Canadian had success in limited PGA Tour starts last year, finishing fourth at the Canadian Open and seventh at the Frys.Com Open. Hadwin, 24, made the cut in all five starts, including the U.S. Open, earning $440,752.
• • •
2. Russell Henley
He was one of two University of Georgia players to win on the Nationwide Tour in 2011 while still an amateur. The other, Harris English, will play on the PGA Tour next year. Henley is bound for the Nationwide Tour. He also has made the cut in the past two U.S. Opens, finishing 16th in 2010 and 42nd in 2011. Henley, English and fellow Nationwide Tour player Hudson Swafford led Georgia to a runner-up finish at the 2011 NCAA Championship.
• • •
3. Aaron Goldberg
Goldberg, 26, started the 2011 season behind the 8-ball after finishing 114th at Q-School, but used a top-25 in his third start, the Mexico Open, to get the ball rolling. He made 13 of his final 14 cuts, including two top-5 finishes, to finish 50th on the money list. He was the Canadian Tour's leading money winner in 2010. Hadwin was second on the money list that year.
• • •
4. Will Wilcox
The 25-year-old started last season without Nationwide Tour status. He Monday qualified for the Stadion Classic, and finished third to earn special temporary membership. That was the first of five consecutive top-30 finishes, including another third-place finish at the Mexico Open. Wilcox, the 2010 Hooters Tour rookie of the year, went on to finish 36th on the Nationwide Tour money list. He also had a win and runner-up finish in just six Hooters Tour starts in 2011.
• • •
5. Philip Pettitt
The 26-year-old from Tennessee finished third on the Hooters Tour money list in 2011 after making all 17 cuts (including 13 top-25 finishes) and winning twice. He won his Q-School second-stage qualifier by six shots before finishing T-72 at Q-School finals to earn full Nationwide Tour status for the first time.
• • •
6. Hudson Swafford
Swafford, who played at Georgia with Henley and English, almost earned his PGA Tour card at this year's Q-School, falling two shots short after a final-round 73. Swafford, who turned pro after the 2011 NCAA Championship, had a win and runner-up on the eGolf Professional Tour after turning professional.
• • •
7. Chris DeForest
Add DeForest to the "stupid long" category of players. He has the ability to hit drives longer than 350 yards, and is a very straight hitter considering his length, according to observers. He made a dazzling professional debut at the U.S. Open, getting to 3 under par early in the first round to top the leaderboard. He eventually missed the cut after rounds of 71-76. He tied for 82nd at Q-School while battling a muscle strain near his collar bone.
• • •
8. Corey Nagy
The former Charlotte standout was the leading money winner on the eGolf Professional Tour after winning three times. His tie for 22nd in the Nationwide Tour's Chiquita Classic was his best finish in three Nationwide Tour starts in 2011. He finished 63rd at Q-School to earn full Nationwide Tour status.
• • •
9. Sam Saunders
Saunders' first-round 68 at Q-School had Arnold Palmer fans excited about the prospect of his grandson earning a PGA Tour card. Saunders eventually faded to 109th, but he earned a conditional Nationwide Tour card for the first time in his career. Saunders made the cut in three of five Nationwide Tour starts in 2011, including a career-best 10th-place finish at the Panama Claro Championship. He also finished 15th at the 2011 AT&T Pebble Beach National Pro-Am, the best PGA Tour finish of his career.
• • •
10. David Lingmerth
The 24-year-old Swede almost earned his PGA Tour card in his first Nationwide Tour season, finishing 27th on the money list. Missed cuts hurt his chances of getting his Tour card – he played the weekend in only half his starts - but he also had five top-10s, including two consecutive third-place finishes to end his season. Lingmerth was a quarterfinalist at the 2009 U.S. Amateur.
• • •
11. Adam Long
The former Duke standout took on not one, but two Q-Schools in 2011, carrying his own bag for much of the journey. He advanced out of the first stage of European Tour Q-School, but had to abandon that quest because the second stage conflicted with PGA Tour Q-School finals. He won on the Hooters Tour in 2011.
• • •
12. Bio Kim
Yes, Kim will be taking a step down in 2012, but he's still a player worth keeping an eye on. Kim, who turned 21 in August, was the PGA Tour's youngest member in 2011. He finished 162nd on the money list with five top-25 finishes, including at the season-ending Children's Miracle Network Hospitals Classic, where he contended until a final-round 76. He also won on the OneAsia Tour in 2011.
Golfweek.com readers: We value your input and welcome your comments, but please be respectful in this forum.
---
---
---
---
---
---
---
---
---
---
---
---
---
---
---
---
---
---
---
---
---