Uihlein, Langley top early Walker Cup watch list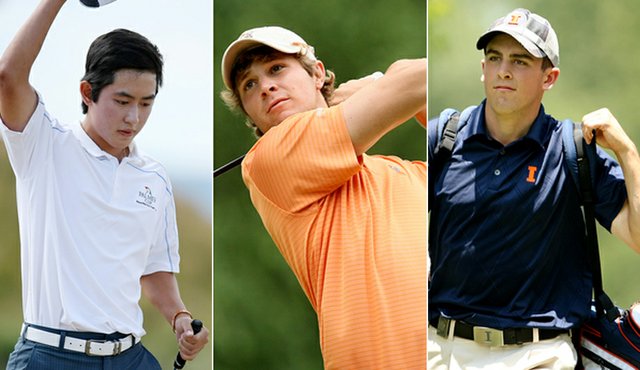 February 7, 2011 12:13 p.m.
ST. SIMONS ISLAND, Ga. – The Jones Cup was created 10 years ago to serve as a Walker Cup preview. With that said, now is a good time to kick off the Walker Cup watch list. This isn't a ranking of the hottest players. The Walker Cup team is selected based on performance over the past two years (with an emphasis on results in USGA events). Ten players will represent the United States in Scotland in September. 
ON THE TEAM
1.) Peter Uihlein, Orlando, Fla. (Oklahoma State)
Last week: T-19 at Jones Cup
2.) Scott Langley, Manchester, Mo. (Illinois)
Last week: T-6 at Jones Cup
3.) David Chung, Fayetteville, N.C. (Stanford)
Last week: T-28 at Ameri Ari Invitational
4.) Bud Cauley, Jacksonville, Fla. (Alabama)
Last week: T-3 at Jones Cup
5.) Morgan Hoffmann, Wyckoff, N.J. (Oklahoma State)
Last week: T-6 at Amer Ari Invitational
6.) Russell Henley, Macon, Ga. (Georgia)
Last week: T-39 at Jones Cup
7.) Nathan Smith, Pittsburgh, Pa. (Mid-am)
Last week: T-74 at Jones Cup
8.) Jordan Spieth, Dallas, Texas (High-school senior)
Last week: Runner-up at Jones Cup (lost playoff)
9.) Andrew Putnam, University Place, Wash. (Pepperdine)
Last week: Won Arizona Intercollegiate; 5th at Jones Cup
10.) Patrick Cantlay, Los Alamitos, Calif. (UCLA)
Last week: T-1 at Amer Ari Invitational
---
ON THE BUBBLE:
11.) Patrick Reed, Martinez, Ga. (Augusta State)
Last week: T-6 at Jones Cup
12.) Blayne Barber, Lake City, Fla. (Auburn)
Last week: T-29 at Jones Cup
13.) John Peterson, Fort Worth, Texas (LSU)
Last week: Won Jones Cup
14.) Harris English, Thomasville, Ga. (Georgia)
Last week: T-51 at Jones Cup 
15.) Alex Ching, Honolulu (San Diego)
Last week: Did not play
---
More to watch: John Hahn; Bobby Hudson; Gregor Main; Daniel Miernicki; Bobby Wyatt; Andrew Yun
Latest Related Headlines