Albrecht, Kentucky looking for playoff berth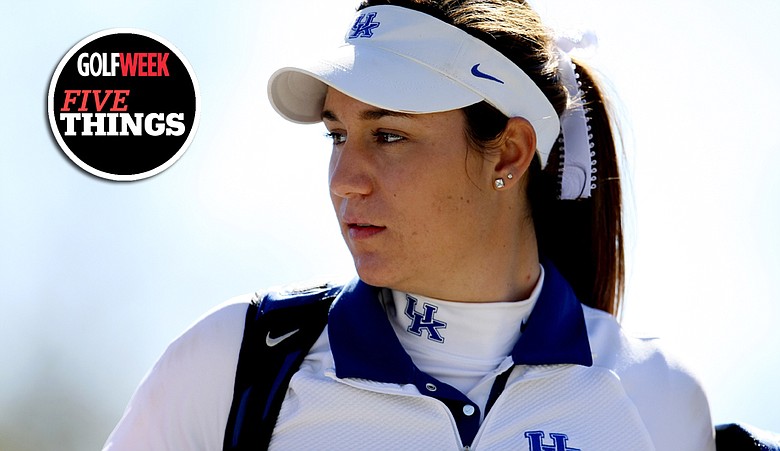 Tuesday, February 15, 2011
Scores
SORRENTO, Fla. – Buried in the middle of Central Florida lies Red Tail Golf Club, unknown to many of the locals in the area but one of six area courses the UCF women's golf team uses for practice. With a mostly wide-open layout, scores sank deeper into the red during Monday's second round of the UCF Challenge. Here are five things to know before the final round commences:
1.) Never too early to think postseason
For first-year Kentucky head coach Golda Borst, it's never too early to start thinking about the postseason. Kentucky is one of five teams in the 17-team field that finds itself on the bubble for postseason play, even if it is a little early in the season to begin thinking about the NCAAs.
---
Photo Gallery
UCF Challenge (Rd. 2)
View images of Monday's Round 2 at Red Tail Golf Club in Sorrento, Fla.
---
Kentucky sits at No. 61 in the Golfweek/Sagarin College Rankings, and is joined on the outside looking in by Texas San Antonio (No. 59), Augusta State (No. 63), Kennesaw State (No. 65) and Georgia State (No. 67).
After opening with 1-under 287, the Wildcats returned with 7-over 295 and sit in fourth – the lowest of the "bubble teams."
"I wasn't quite sure how they were going to bounce back," Borst said Monday's round. "I'm proud of them – if 7 over is our bad day our second competitive round in, I'm happy with that."
As far as the season goes, Borst still has her eye on a top-40 ranking. It's what she's been telling her team all along, and it would get the Wildcats safely into postseason play.
"A good finish tomorrow would get our confidence going," she said. "We can do a lot of good stuff, this team is better than they think they are."
2.) Finally, some breathing room
After the first round in Sorrento, five teams were wedged into the top of the leaderboard, all separated by a single shot.
Coastal Carolina broke away from the pack Monday, putting up a 1-over 289 for the only total score in the red. At 2-under 574 for the tournament, the Chanticleers lead South Carolina (2-over 578) and first-round leader Tulane (3-over 579). The team is looking for its second win for the 2010-11 season, and head coach Katie Quinney says her young players aren't uncomfortable with a lead. After practicing in difficult conditions at home in Conway, S.C., Quinney wouldn't mind the wind picking up for Tuesday's final round.
"We practice on really hard golf courses at home and usually really hard conditions," Quinney said. "I'd rather see the wind blow and good, tough golf courses like this one. They make a lot of pars."
3.) Could it be the best season ever?
Get used to the name Ashleigh Albrecht. The Kentucky sophomore is gaining confidence with each new low round. After a second-round 70, she is at 8-under 136 and trails Coastal Carolina's Jessica Alexander by one shot.
During her freshman campaign, Albrecht's career low was 70. Increased attention to her short game in the fall set off a chain reaction that began with a course-record 63 at the Harder Hall in January (which she went on to win), and Albrecht continues to score in the red as her confidence improves. She'll even go so far as to say the past few months could be the best stretch of golf in her career so far.
"After the Harder my confidence really went up through the roof and I've been having fun ever since," she said.
Albrecht faces two more tough tests of golf at the Allstate Sugar Bowl Intercollegiate and the LSU Golf Classic before she'll tee it up in her first Futures Tour start, the Florida's Natural Charity Classic. She earned the exemption through her Harder Hall win.
4.) Running the gauntlet
The round of the day belonged to South Carolina, returning to form after losing three seniors from the 2010 East Regional Championship team. The Gamecocks put together a 4-under 284 to move from 10th at the beginning of the round to second.
The game changer for South Carolina came at holes 14-17, a difficult stretch that loops around a lake and brings water into play at every shot. The Gamecocks were 4 under through 15 in Round 1, and went 10 over in the next three to drop down the leaderboard.
"The finishing holes on the back nine are a lot more difficult than the finishing holes on the front nine and we obviously teed off on the back side (Monday)," Anderson explained. "They just had a few more putts fall today and they stayed very patient."
Sophomore Katie Burnett (67) and freshman Samantha Swinehart (68) led the Gamecock charge in Round 2.
5.) Greetings from the North
Look closely at this week's 17-team field and a theme emerges: This is a tournament of the South. Illinois State and Minnesota are the only north-based teams in the field in Sorrento.
Despite a snow-heavy winter, Minnesota senior Teresa Puga is representing the northerners well and sits in solo ninth after an even-par 72. Puga started with a 2-over 38 on the front, but rebounded with two birdies and no bogeys on the back to return to level par.
Puga had three top-20 events in four starts in the fall, and put together the lowest scoring average in school history (73.25).
Golfweek.com readers: We value your input and welcome your comments, but please be respectful in this forum.
---
---
---
---
---
---
---
---
---
---
---
---
---
---
---
---
---
---
---
---
---