Jobe, Flesch push through weather to make cut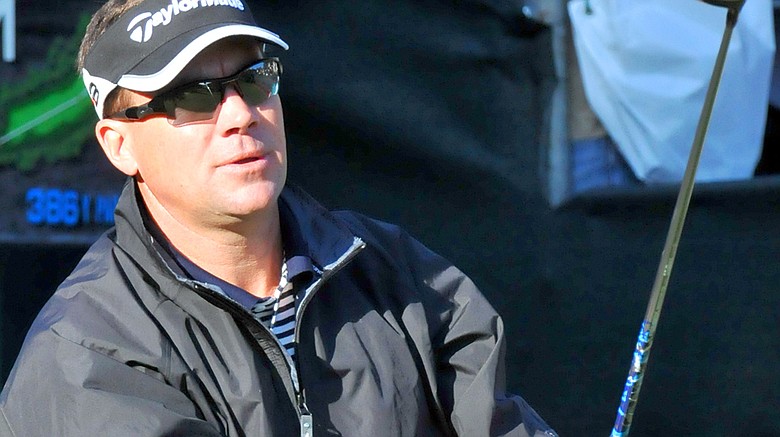 Friday, February 18, 2011
LOS ANGELES - A low pressure system and associated cold front will continue to slowly move east through the area for the rest of the day. Light rain will increase in intensity later this afternoon into tonight.
That was the weather forecast when the afternoon wave marched out to tame the 18 holes at Riviera on Friday.
---
Photo Gallery
2011 Northern Trust Open
From Phil Mickelson to Jhonattan Vegas, the Northern Trust Open put Riviera Country Club on full display.
---
As the round progressed, the numbers started to climb, as did the cut and players were just trying to survive not only Hogan's Alley, but the weather that was becoming increasingly difficult to deal with.
The second round started with the top-70 at 1 over and just before play was called for the day the cut moved to 3 over with 26 players still yet to finish their rounds that will resume at 7 a.m. Saturday.
A comparison: The first-round scoring average on Thursday was 72.097 and, at the suspension of play on Friday, the average was 72.709.
Two players that found a way to endure the conditions were Steve Flesch and Brandt Jobe.
Flesch was 4 over after bogying the 14th hole, and needed something to go right with the remaining four holes or he would miss his fourth consecutive cut. Flesch would birdie the final two holes to move to 2-over, comfortably within the cut line and the first weekend play since finishing 68th at Sony.
Flesch hit only woods over the last two holes, needing driver, 3-wood and hybrid into the 17th and driver, 3-wood into No. 18 to six feet, making one of only three birdies on the most difficult hole in the second round.
"I just figured I needed one birdie, I figured the cut would get to 3 over" Flesch said of his mindset on No. 17. "The cut went from even to 2 over in like 10 minutes on the scoreboard."
While jubilant about his making the cut, Flesch is looking at his second round as a building block to counteract what has been a dismal season.
"I'm just glad I hit three good shots, because that's been the challenge," Flesh said reflecting on his last month. "I can hit one or two, but to hit three is a challenge."
Jobe made it into the field when Tim Clark withdrew prior to the tournament. Having made three of the last four cuts, including finishing 29th at the Farmers Insurance in San Diego, the native of Oklahoma was hoping for a good finish at Riviera to move up in the reshuffle.
It didn't look good early turning on the back nine with a 38, mainly due to a double-bogey on the 18th hole.
As the round progressed, Jobe was losing ground and - like Flesch - found himself on the outside looking in, sitting at 4 over through his first 16 holes (he started on the back nine).
Then a birdie-birdie finish that consisted of draining a 25 footer on No. 8 and a six-footer on No. 9 put Jobe comfortably inside the cut line.
"I don't have to go to Mexico," Jobe's said as his first thought after his round. "For the re-ranking and all that for me this was huge, but it was the wildest day I've had on a golf course."
Jobe was happy to have endured what he called the type of weather he use to see in college.
"I got a lot of work to do this year, but I'm healthy as I can be," Jobe said of his fingers that were reattached after a freak accident at the end of 2006. "I'm where I want to be, now I got to start playing like I belong here."
Golfweek.com readers: We value your input and welcome your comments, but please be respectful in this forum.
---
---
---
---
---
---
---
---
---
---
---
---
---
---
---
---
---
---
---
---
---