Golfweek Fantasy Tip Sheet: Mayakoba Classic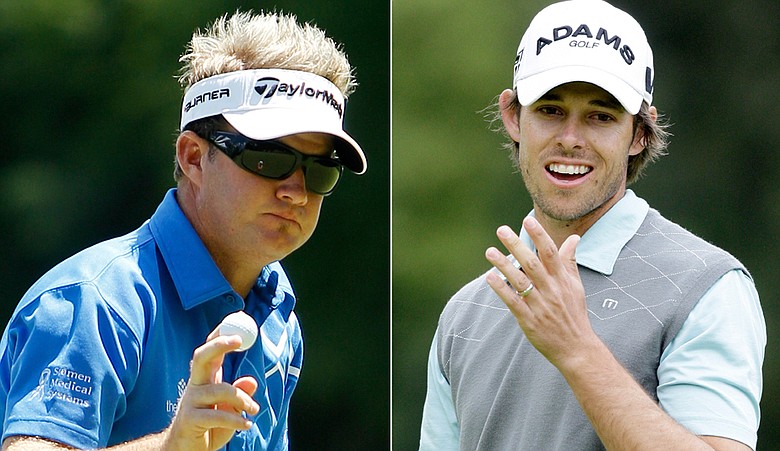 Wednesday, February 23, 2011
Rank
Winner
Wild Card
Last Week
Babineau
Brian Gay


He's comfortable with the golf course, has won here before and has been performing pretty consistently out of the gates this season.

Aaron Baddeley


Hard to pick a guy coming off victory at Riviera as a sleeper, but he qualifies being outside the top 50. He's obviously in for a bit of a letdown playing the week after winning, but let's see how far he can ride a hot hand.

Winner: Phil Mickelson (T-35); wild card: Tom Gillis (MC)

Rude
Carl Pettersson


Call it a hunch. He has cooled off after a T-4 in the season-opening Tournament of Champions, but he knows how to close.

Aaron Baddeley


The scientific term for this is "riding a hot horse."

Winner: Phil Mickelson (T-35); wild card: Steve Marino (MC).

Martin
Jhonattan Vegas


Nice to see the big Venezuelan playing Mayakoba even after his Bob Hope win. Seeing a successful Latin American player will be a great inspiration to Mexico's youth. Based on his recent form, Vegas should give the fans plenty to cheer about. In addition to his Hope win, he finished third at Torrey Pines and 12th last week at Riviera.

Spencer Levin


It looks like the talented Calfiornian is getting comfortable on Tour. He closed 2010 with consecutive top 5s, and has made five of six cuts this year. He finished fourth at Pebble Beach and 12th at Riviera.

Winner: Dustin Johnson (MC); wild card: Alex Prugh (MC).

McCabe
Chad Campbell


Though it's a tournament where the youngsters have gotten a chance to play, each of the four editions of this event have produced a veteran as champion. Look for that tradition to continue with one of the tour's best ballstrikers.

David Toms


Why? See above explanation.

Winner: Robert Karlsson (T-62); wild card: Rory Sabbatini (MC).

Miceli
Brian Gay


Straight-hitter and good with the flatstick are both important characteristics of playing at Mayakoba.

Jhonattan Vegas


Can anything stop Johnny Vegas? Doubtful. Probably the hottest player in the field, and easily could walk away with his second victory in 2011.

Winner: Anthony Kim (WD); wild card: Fred Couples (T-7).

Ringler
Fredrik Jacobson


Jacobson is the third-best player in the field, according to Golfweek/Sagarin Performance Index, and has played well this year in making three of four cuts. Seven of his 15 rounds this year have been in the 60s.

Fabian Gomez


This is a similar field for Gomez, who in 2010 played on Nationwide Tour and Tour de Las Americas, where he had much success.

Winner: J.B. Holmes (T-12); wild card: Tom Gillis (MC).
The Mayakoba Golf Classic field based on the Golfweek/Sagarin Performance Index:
37. Ricky Barnes
47. Charles Howell III
52. Fredrik Jacobson
58. Jerry Kelly
59. Scott Verplank
62. Spencer Levin
63. Tom Lehman
64. Aaron Baddeley
69. David Toms
74. J.J. Henry
78. Chad Campbell
80. Carl Pettersson
83. Tag Ridings
93. Brian Gay
108. Tommy Gainey
112. Fabian Gomez
127. Jason Bohn
129. John Merrick
130. Andres Romero
131. Alejandro Canizares
140. Brett Quigley
142. Jhonattan Vegas
144. Brett Wetterich
148. Rory Sabbatini
150. David Mathis
154. Boo Weekley
156. Paul Stankowski
162. Chris Riley
164. Joe Durant
167. Kirk Triplett
168. Richard S. Johnson
170. Chris Stroud
175. William McGirt
178. Peter Tomasulo
181. Scott Gutschewski
183. Michael Letzig
184. Tom Pernice, Jr.
187. Aron Price
188. Garrett Willis
190. Will MacKenzie
194. Kevin Chappell
195. Ryuji Imada
201. Scott McCarron
205. Kyle Stanley
209. Scott Piercy
211. Woody Austin
214. Johnson Wagner
216. Chad Collins
217. Michael Sim
218. Zack Miller
219. Nate Smith
221. Steven Bowditch
226. Josh Teater
228. Colt Knost
229. Briny Baird
234. D.J. Brigman
237. Tim Herron
238. Justin Hicks
241. Jarrod Lyle
242. Nathan Green
247. David Hearn
251. James Driscoll
252. Kevin Stadler
262. Kevin Kisner
273. Mark Hensby
277. John Daly
283. Chris Tidland
284. Charles Warren
288. Scott Stallings
289. Kent Jones
290. Jason Gore
291. Joe Ogilvie
292. Jeff Quinney
298. Jim Herman
299. Skip Kendall
302. John Mallinger
305. Craig Barlow
310. Martin Piller
311. Nick O'Hern
316. Bobby Gates
331. Lee Janzen
332. Billy Mayfair
337. Jay Williamson
343. George McNeill
345. Joe Affrunti
346. Cameron Percy
371. Michael Allen
372. Marc Turnesa
373. Marco Dawson
384. Cameron Beckman
388. Dicky Pride
389. Jeff Maggert
408. Frank Lickliter II
415. Rod Pampling
454. Ted Purdy
458. Bio Kim
481. Jose Manuel Lara
482. Matt McQuillan
510. Omar Uresti
531. Carlos Franco
560. Esteban Toledo
581. Steve Pate
621. Santiago Luna
645. Will Strickler
666. Chris Baryla
692. Brad Faxon
835. Chris Smith
891. Jon McLean
N/R. Shane Bertsch
N/R. Joseph Bramlett
N/R. John Cook
N/R. Fred Funk
N/R. Andres Gonzales
N/R. Scott Gordon
N/R. Billy Horschel
N/R. Sunghoon Kang
N/R. Ben Martin
N/R. Jesper Parnevik
N/R. Carl Paulson
N/R. Jim Renner
N/R. Alexandre Rocha
N/R. Jose de Jesus Rodriguez
N/R. Efren Serna
N/R. Oscar Serna
N/R. Mike Small
N/R. Michael Thompson
N/R. Inigo Urquizu
N/R. Duffy Waldorf
Golfweek.com readers: We value your input and welcome your comments, but please be respectful in this forum.
---
---
---
---
---
---
---
---
---
---
---
---
---
---
---
---
---
---
---
---
---