Junior Boys
Dalke, Green headline Wyndham Cup teams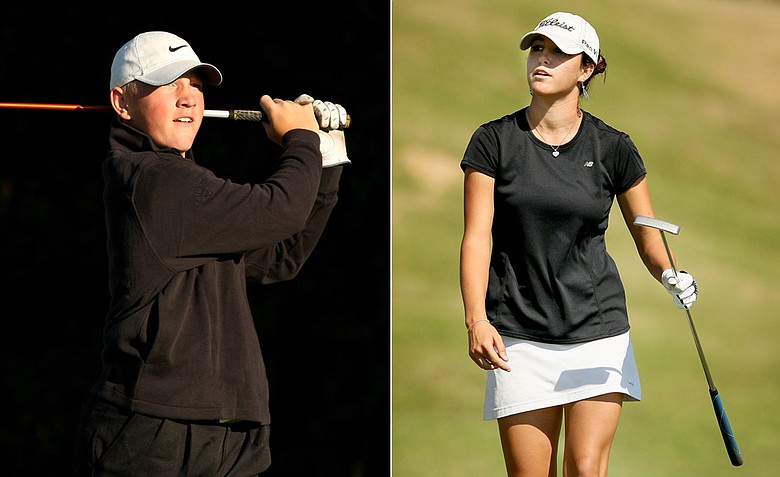 Thursday, July 7, 2011
Brad Dalke and Jaye Marie Green highlight their respective 20-man teams at the upcoming Wyndham Cup, an East-versus-West mixed team match-play competition to be held July 25-28 at Eagle Point Golf Club in Wilmington, N.C.
The West team has won six straight matches, and will head into North Carolina relying on team members Dalke, 13, who earlier this year became the youngest AJGA invitational winner; Beau Hossler, 16, who qualified for this year's U.S. Open; and Kristen Park, the USC signee who is the reigning AJGA Player of the Year. Another member of the West team, Alison Lee of Valencia, Calif., has plenty of match-play experience, having been a member of the 2009 Junior Solheim Cup and 2010 Junior Ryder Cup teams.
AJGA FootJoy Invitational winner Billy Kennerly, and last year's AJGA Polo Junior winners, Cody Proveaux and Green, headline the East team. Mariah Stackhouse, who is playing this week's U.S. Women's Open in Colorado, will make her Wyndham Cup debut.
The three-day event will feature five match-play formats: four-ball, mixed four-ball, foursomes, mixed-foursomes and singles.
• • • 
The team rosters:
West – Boys
Connor Black, Katy, Texas (2014)
Brad Dalke, McKinney, Texas (2016)
Nicolo Galletti, Clayton, Calif. (2013)
Jonathan Garrick, Atherton, Calif. (2012)
Beau Hossler, Rancho Santa Margarita, Calif. (2013)
AJ McInerney, Henderson, Nev. (2012)
Marcel Puyat, Indio, Calif. (2011)
Scott Scheffler, Dallas (2014)
Joseph Winslow, Overland Park, Kan. (2011)
Zachary Wright, Phoenix (2012)
West – Girls
Anna Kim, Chandler, Ariz. (2012)
Kyung Kim, Chandler, Ariz. (2012)
Alison Lee, Valencia, Calif. (2013)
Esther Lee, Los Alamitos, Calif. (2013)
Tiffany Lim, San Jose, Calif. (2011)
Kristen Park, Buena Park, Calif. (2011)
Kendall Prince, Lake Oswego, Ore. (2011)
Gabriella Then, Rancho Cucamonga, Calif. (2013)
Jessica Vasilic, Anaheim Hills, Calif. (2013)
Lindsey Weaver, Scottsdale, Ariz. (2012)
• • • 
East – Boys
Chad Cox, Charlotte, N.C. (2012)
Henry Do, Ypsilanti, Mich. (2013)
Michael Johnson, Birmingham, Ala. (2011)
Billy Kennerly, Alpharetta, Ga. (2011)
Jake McBride, Hartville, Ohio (2013)
Matthew NeSmith, North Augusta, S.C. (2012)
Cody Proveaux, Leesville, S.C. (2012)
JD Tomlinson, Gainesville, Fla. (2011)
Motin Yeung, Orlando, Fla. (2012)
James Yoon, Bradenton, Fla. (2012)
East – Girls
Shannon Aubert, Champions Gate, Fla. (2014)
Karen Chung, Livingston, N.J. (2013)
Katelyn Dambaugh, Goose Creek, S.C. (2013)
Casey Danielson, Osceola, Wis. (2013)
Jaye Marie Green, Boca Raton, Fla. (2012)
Aurora Kan, Boothwyn, Pa. (2011)
Kendall Martindale, Jefferson City, Tenn. (2011)
Ashlan Ramsey, Milledgeville, Ga. (2013)
Mariah Stackhouse, Riverdale, Ga. (2012)
McKenzie Talbert, North Augusta, S.C. (2013)
Golfweek.com readers: We value your input and welcome your comments, but please be respectful in this forum.
---
---
---
---
---
---
---
---
---
---
---
---
---
---
---
---
---
---
---
---
---