The lost links of the Open Championship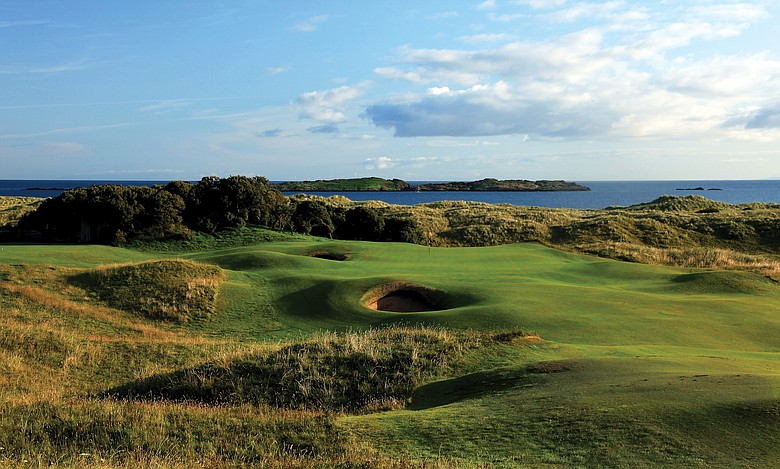 Wednesday, July 13, 2011
DEAL, England – The only clues as to the time of year are three layers, waterproof trousers and a bobble hat to keep out the cold. Otherwise, Royal Cinque Ports plays as if it's the middle of summer rather than mid-December.
You have to experience links golf in wintertime to realize why the game began at the seaside. Our forebears weren't so daft. They knew links turf is good year-round, not just when the summer sun is shining.
With a freeze having wrapped itself around the British Isles like deep rough enveloping a lost ball, Royal Cinque Ports was fast and running, the greens slick, the wind blowing. Just the sort of elements that marked it as a two-time British Open venue.
These classic links form part of a trio of courses the equal of any other threesome in the British Isles. Just east of Sandwich, in a five-mile stretch south toward the seaside town of Deal, three courses – Royal St. George's, Royal Cinque Ports and Prince's – sit near one another along the North Sea.
Royal St. George's, this week's Open venue, is the jewel in the middle of that three-pronged crown. Yet while St. George's prepares to host its 14th Open, Prince's and Royal Cinque Ports are consigned to the history books. They are two courses among five that have hosted the Open but no longer are in the rota.
• • •
Historian David Dobby, a member of Royal Cinque Ports, has written two books on golf in this corner of southeast England. Dobby said the club, site of the 1909 and 1920 Opens, should have hosted the Open on four other occasions: 1915, 1938, 1942 and 1949.
Two world wars cost Cinque Ports two Opens. The other two floated out to sea. Flooding meant the 1938 and '49 Opens had to move three miles north to Royal St. George's.
"There was never an issue with the length or the challenge of the golf course," Dobby said, "but winter flooding was a perennial problem. There was never a guarantee that the course would be in good condition in July because it might have been flooded the previous winter."
The R&A would have been justified in holding more championships at Royal Cinque Ports, which was one of the longest courses in the British Isles. In 1938, it measured 7,077 yards.
After more flooding in 1978, a sea wall was built. The golf course, however, lost nearly 400 yards.
New tees, in play for this year's Local Final Qualifying, extended the course to 7,006 yards. Meanwhile, an extensive reconditioning program helped take the course back to its glory days after years of too much water and fertilizer diminished its links qualities. However, LFQ is as close to the Open as Royal Cinque Ports is going to get.
"The problem now is logistics," Dobby said, ticking off requirements for a tented village, practice range, media center and TV compound. "That wasn't the case in the early days."
• • •
Prince's was the scene of Gene Sarazen's 1932 Open victory. It was some challenge, too, measuring more than 7,200 yards. However, Prince's suffered during both world wars. In World War I, the course formed part of Britain's coastal-defense system. In World War II, it was requisitioned and turned into a battle-training area.
Prince's has no problem with space. It consists of three nine-hole loops, so one loop easily could accommodate the tented village, media facilities and the TV compound. It is challenging, too. The club recently reshaped every bunker, giving the flattest of the trio of courses much more definition.
Trouble is, Prince's is even more difficult to reach than Royal St. George's. "Prince's has the space for an Open Championship, but access is the main concern," said Peter Dawson, chief executive of the R&A.
There's another challenge for Royal Cinque Ports and Prince's: They lie in the shadow of Royal St. George's, which possesses the best dunes land of the three.
"My own view is that if we are going to that corner of Kent, then we are going to go to the best course," Dawson said.
These two layouts have the length and challenge to test the world's best. The same can't be said about the two Scottish courses no longer on the Open rota, Musselburgh and Prestwick.
• • •
You don't have to play Musselburgh to understand why it staged only six Open Championships from 1874 to 1889. All you have to do is cast your eyes on the course. The original nine holes sit within the Musselburgh Racecourse.
Horse racing and golf enjoy a fairly cozy existence now, but not that long ago the course was in danger of being eradicated to make way for racetrack facilities.
"When the Honourable Company of Edinburgh Golfers moved from Musselburgh to Muirfield in 1891, that was the start of the demise of Musselburgh," Dawson said. "I don't think it would have survived as a modern venue anyway, much as we love it dearly.
"It was a great golfing center, producing some great golfing families. It exists within the racecourse as a reminder of the course that staged the Open. Anyone interested in Open Championship history should go and see it."
Ditto for Prestwick, where the inaugural Open was played in 1860.
The Ayrshire links staged the first 12 Opens and 24 in all. The last staged there, in 1925, was won by Jim Barnes.
Stand on the first tee at Prestwick and it's evident why it quickly became too small to hold an Open. A railway line on the right hems in the first hole. There are no practice facilities to speak of, and the 18 holes are squeezed onto a tiny plot of land.
Prestwick originally consisted of 12 holes. The early Opens were staged over three loops. Six holes were added in 1883, but even then the course wasn't big enough. That became clear when Barnes won.
Scotland's MacDonald Smith held a five-stroke lead heading into the final round. A large, partisan crowd turned up to cheer Smith to victory, but it was too partisan, and too big. The people got in the way and hindered Smith rather than helped him. He shot 82 when 78 would have won. The thousands of fans who swarmed over the links put an end to Prestwick's Open run.
Still, most links lovers count Prestwick among their must-play venues, for it retains the basic elements of golf as it originally was intended: small greens, pot bunkers, humps and hollows, blind shots, bunkers with railroad ties and features with exotic names – Cardinal Bunker, the Himalayas and the Alps.
No wonder Bernard Darwin once wrote of Prestwick, "A man is probably less likely to be contradicted in lauding Prestwick than in singing the praises of any other course in Christendom."
• • •
Darwin could have been just as praiseworthy of Royal Portrush. The British Open has been staged in this corner of Northern Ireland only once. The colorful Max Faulkner won the 1951 Open there.
The sectarian "Troubles" that plagued Northern Ireland from the late 1960s until just before the turn of this century precluded Royal Portrush from another Open. The R&A brought Portrush back into the fold in 1995 with five consecutive Senior British Opens. However, calls for Portrush to return to the Open rota began last year, when native son Graeme McDowell won the U.S. Open. Those calls have become louder in the wake of compatriot Rory McIlory's U.S. Open victory.
"It would be a dream come true to play the Open at Royal Portrush," McDowell said. "When you think of some of the Open venues we go to and some of the golf courses we manage to make it happen on and how tight they are, I think an Open would work at Portrush."
McIlroy agrees. "St. Andrews is my favorite Open venue, but that might change if the Open ever goes back to Royal Portrush."
Portrush is an hour north of Belfast, and there is a limit to how many spectators the area could accommodate. That's the R&A's fear. "The timing of the Open coincides with a very busy holiday period in Northern Ireland," Dawson said. "In that area, it is impossible to get accommodation at that time of year."
Nonsense, said David McClarty, a member of the Northern Ireland Assembly. "Golf fans have proved they are prepared to travel miles to see the Open," he said, "and in Northern Ireland you are never more than two hours from anywhere, so there is plenty of accommodation throughout the country."
Wilma Erskine, the secretary-manager of Royal Portrush, said the club would love to host an Open, but added a proviso.
"Funding is vital, and we are working with the government on that issue," she said.
Golfweek.com readers: We value your input and welcome your comments, but please be respectful in this forum.
---
---
---
---
---
---
---
---
---
---
---
---
---
---
---
---
---
---
---
---
---