U.S. Junior: Ball's torrid play earns Elite 8 bid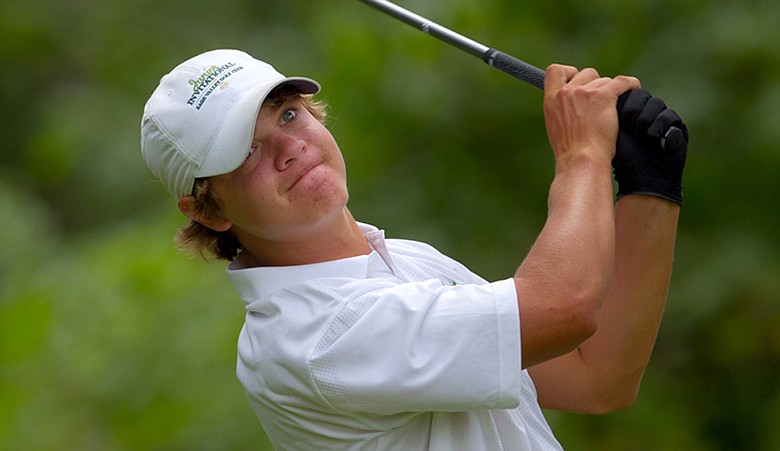 Thursday, July 21, 2011
BREMERTON, Wash. – Quick hits from the Round of 16 at the U.S. Junior Amateur:
Adam Ball turned the final hour at Gold Mountain into his personal highlight reel. Playing in his third and final U.S. Junior, Ball closed eagle-birdie-birdie-birdie-birdie – that's right, 6 under par on the final five holes – to stun Juan Yumar, 2 up, and advance to the quarterfinals. "The best hour of my life," Ball said.
Let's recap: Ball was 3 down after 12 holes but won No. 13 with a par. That's when things got crazy. On the par-5 14th, Ball hit a low, running 4-iron that nestled to within 20 feet but left a challenging putt down the hill. "I never hit a putt easier in my life," he would say later, but he sank it anyway. Eagle, 1 down.
On to 15, where he laid up to his favorite yardage – 72 yards – and stiffed his wedge shot to 5 feet. Hole halved with birdie. Now, on 16, a dastardly, 209-yard par 3 that plays almost entirely over water, Ball hit a 5-iron to 4 feet. Another birdie, all square. He hit his approach to 3 feet on the par-4 17th to move 1 up, then put his drive just left on the drivable 18th and hit what he called "the best shot of my life" – a delicate flop shot from a downhill lie, over a bunker, onto a downslope, to 7 feet. Conceded birdie, and the win, 2 up.
"If I play like that," Ball said, shaking his head, "no one out there can beat me."
Don't bother asking Ball, 17, which colleges he's considering. His father, Matt, is the head coach at Virginia Commonwealth, where his brother, Matt Jr., is a sophomore. In a few years, he'd like to play alongside his brother and for his father. Wouldn't that be something?
It'd almost be as sweet as a victory here Saturday afternoon. A torrid stretch on a quiet afternoon made the thought possible. "I've had good stretches in my life," he said, "but to win this tournament has been my dream my whole life, and I didn't want my dream to be crushed right there. I finished the best I could."
• • •
It's not often Jordan Spieth is outdriven by 30 yards. So when left-hander Wilson Bateman launched his opening tee shot well past Spieth, the 2009 U.S. Junior champ knew he was in for a long day. "He freakin' stripes it," Spieth said incredulously. "I've gotta hit the gym to catch up to him."
Despite admittedly being outplayed the entire match, Spieth won Nos. 16 and 17 – the latter after hitting his 6-iron approach to 3 feet – to defeat Bateman, 2 up.
"Today is the hardest day to get by," said Spieth, and he knows from experience. Last year at Egypt Valley, he lost the final two holes to Robby Shelton, then an unheralded 14-year-old from Alabama, and was ousted in the second round. "So many players can spark at any time. There's not as much pressure or something."
Spieth, 17, will face Andrew Whalen in Friday's quarterfinal match. A victory here outside Seattle would be significant for two reasons: First, it would vault Spieth into elite company. Only Tiger Woods, who won three consecutive U.S. Junior titles from 1991-93, is a multiple winner of this event. And second, a title on Saturday likely would make him a lock for the U.S. Walker Cup team. "I've got a chance to make history here," he said.
• • •
There aren't many drawbacks to being the No. 1 overall seed. But early tee times, at least for native Californian Beau Hossler, have taken some getting used to. That's why he was particularly pleased with his 5-and-4 rout of Connor Black in Thursday afternoon's Round of 16. "Instead of grinding out there for another hour and a half," said Hossler, of Mission Viejo, Calif., "I'm going to go inside and watch the scores. That's good mentally."
For the first time this week, Hossler, 16, got off to a hot start – winning two of the first three holes with birdies – and from there, he said, "there's not a single golf shot I don't like."
Or, apparently, a single putt that doesn't feel good coming off the blade.
"He made everything he looked at," Black, the reigning Western Junior champ, said after the round.
• • •
Chelso Barrett's 2-and-1 victory over Will Zalatoris did more than punch his ticket to Friday's quarterfinals. It also secured his spot in the 2012 U.S. Junior Amateur, to be held at the Golf Club of New England in Stratham, N.H., about two hours from his hometown of Keene. (It's the first USGA championship to be played in New Hampshire.)
---
Results
ROUND OF 16
Beau Hossler def. Connor Black, 5 and 4
Adam Ball def. Juan Yumar, 2 up
Jordan Spieth def. Wilson Bateman, 2 and 1
Andrew Whalen def. Taylor Moore, 1 up
William Starke def. Zachary Herr, 3 and 2
Chelso Barrett def. William Zalatoris, 2 and 1
Nicolas Echavarria def. Emilio Maurer, 3 and 2
Ryan Benton def. Hank Lebioda, 3 and 2
ROUND OF 32
Beau Hossler def. Austin Smotherman, 1 up
Connor Black def. Scottie Scheffler, 19 holes
Adam Ball def. James Park, 2 and 1
Juan Umar def. Derek Bard, 2 and 1
Jordan Spieth def. Wesley Gosselin, 2 and 1
Wilson Bateman def. Stuart Thomas, 1 up
Taylor Moore def. Robby Shelton, 6 and 4
Andrew Whalen def. Christopher Petefish, 2 and 1
William Starke def. Matt Gilchrest, 1 up
Zachary Herr def. Aaron Kunitomo, 3 and 2
Chelso Barrett def. Jim Liu, 2 up
William Zalatoris def. Andy Olsen, 3 and 2
Nicolas Echavarria def. Yi Keun Chang, 2 and 1
Emilio Maurer def. Jordan Niebrugge, 5 and 4
Hank Lebioda def. A.J. McInerney, 7 and 5
Ryan Benton def. Jonathan De Los Reyes, 2 and 1
Golfweek.com readers: We value your input and welcome your comments, but please be respectful in this forum.
---
---
---
---
---
---
---
---
---
---
---
---
---
---
---
---
---
---
---
---
---