5 Things: Lefty makes 1st start at Greenbrier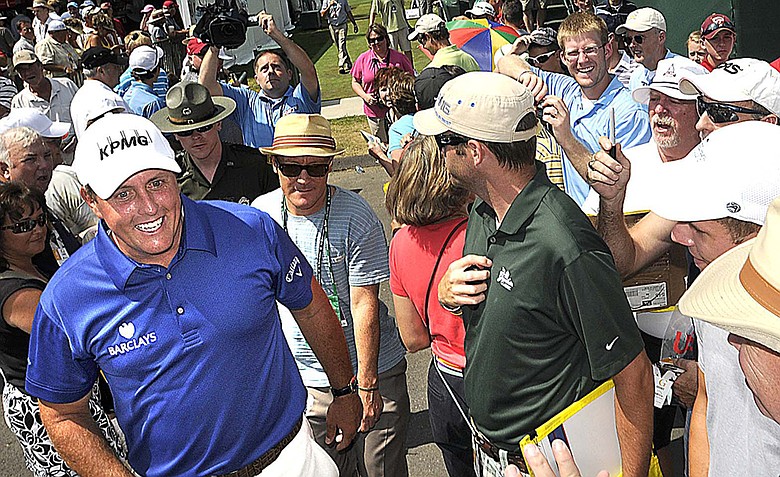 Wednesday, July 27, 2011
WHITE SULPHUR SPRINGS, W.Va. – Five things you need to know about The Greenbrier Classic:
1. Unlikely appearance: Phil Mickelson is making his first appearance in The Greenbrier Classic. He's one of just two top-20 players in the field (Retief Goosen, No. 20 in the Official World Golf Ranking, is the other). Mickelson's reason for coming to West Virginia? To take advantage of the host Greenbrier Resort's many extracurricular activities. Whitewater rafting and falconry will be among the family's activities, he said. "It just really is a fun place," he said. "The golf is a bonus."
Mickelson also is making his first start since finishing second at the Open Championship.
"I felt like I kind of turned a corner for me," he said. "I'm starting to put things together slowly, be a little bit more patient and enjoy my time on the course and be more creative hitting shots again."
This will be the first of three consecutive events for Mickelson. The WGC-Bridgestone is next week in Akron, Ohio, followed by the PGA Championship in Atlanta.
• • •
2. Host with the most: Mickelson is tied with another player for most victories among competitors at the Greenbrier. That would be Tom Watson, who like Mickelson has won 39 times on the PGA Tour. Watson, the pro emeritus at the Greenbrier, is passing on this week's U.S. Senior Open to play in West Virginia.
"There wasn't any question whether I was going to play this year," Watson said. "I felt bad about not playing here the first year."
Watson first came to the Greenbrier for the 1979 Ryder Cup. He didn't compete in the matches, though, leaving for the birth of his daughter, Meg. Speaking of international team matches, Greenbrier owner Jim Justice said he is lobbying the PGA Tour to bring the 2017 Presidents Cup to the Greenbrier.
Watson enters this week's event in good form. He finished 22nd at the Open Championship, and third at last week's Senior Open.
Watson and Mickelson will be paired with defending champion Stuart Appleby for the Greenbrier's opening two rounds.
• • •
3. Tough enough: The most common quote heard around the Greenbrier: "There won't be any 59s shot here this year." You may remember Appleby won last year with a final-round 59. Renovations to the Greenbrier's Old White Course have added more than 200 yards to the course, and the new bentgrass greens are firmer than the previous surfaces.
"They are like this (knocking on wood table)," Watson said. "The ball is not going to stop. It's going to be a tough go this year with getting your irons close to the hole. Last year, it was like shooting darts, throwing darts."
• • •
4. Separate paths: Bifurcation is a dirty word in golf, at least regarding equipment rules. Bifurcation will begin on the PGA Tour after this week. The elites will head to next week's WGC-Bridgestone and the following week's PGA Championship before beginning the FedEx Cup playoffs.
Those on the bottom half of the FedEx food chain will board a charter flight for next week's opposite-field Reno-Tahoe Open. They'll have one more event – the Wyndham Championship – to try to qualify for the FedEx Cup playoffs. Those who don't qualify will face either a lengthy vacation or starts on the Nationwide Tour, followed by the fall events.
Players still can qualify for the Bridgestone by moving into the top 50 of the Official World Golf Ranking at week's end. Ryan Palmer (No. 52), runner-up at last year's Bridgestone, and Webb Simpson (53) are the players closest to the top 50 not already exempt. Anthony Kim, No. 62 in the world, also is looking to lock up a spot in next week's field.
• • •
5. Let's get it started: Justice doesn't just want The Greenbrier Classic to be a golf tournament. He wants it to be one of West Virginia's largest social events, which is why he secured top-notch concert talent for tournament week. Tim McGraw, Miranda Lambert, Keith Urban and the Black Eyed Peas, who performed at this year's Super Bowl, are among the performers.
"The Black Eyed Peas were a lot, lot tougher than getting Phil (Mickelson)," Justice said. "We worked a long, long time with the Black Eyed Peas." And undoubtedly spent some dollars. Justice has spared no expense this week, though.
Golfweek.com readers: We value your input and welcome your comments, but please be respectful in this forum.
---
---
---
---
---
---
---
---
---
---
---
---
---
---
---
---
---
---
---
---
---