Addington closes with 67 at John Kline Super Senior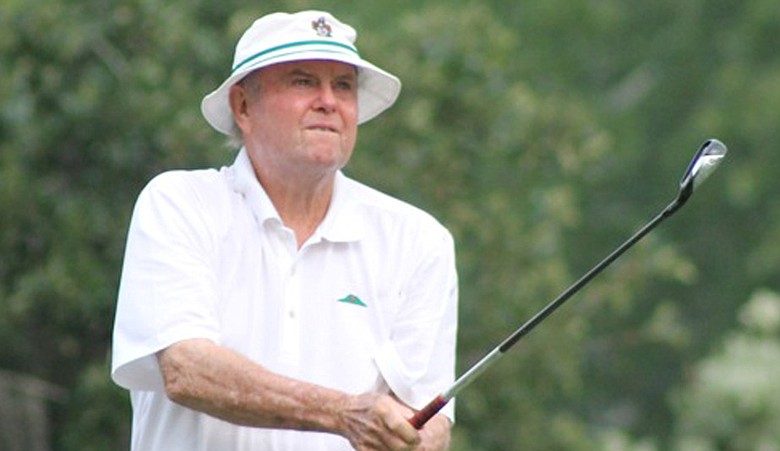 Friday, June 3, 2011
HOUSTON, Texas – Get this: An 80-year-old man, playing in his biggest tournament of the year, closed with a 4-under-par 67 on a one-time U.S. Open course. Not only did he break his age by 13 shots over the Cypress Creek course at Champions Golf Club, but he posted a 54-hole total of 217, 4-over par, and won his age division by 11 strokes.
The John Kline Super Senior Championship, conducted by the Society of Seniors, is arguably the most important tournament of the year for amateurs 65 and older. Don Addington, who turned 80 in February and lives in Dallas, Texas, decided he would bypass the 80-and-over division and play in the more competitive 75-79 division.
Good move. In the end, only one player in the entire field had a lower total than Addington. That was 65-year-old Ted Smith of Wilkinson, Ind., who finished at 212 and won the overall title by five.
Another 65-year-old, Jim Hays of Prosper, Texas, tied Addington at 217.
"Just kids," Addington joked about the two golfers who were 15 years younger.
"What an exceptional round," said Jim Popa, executive director of the Ohio Golf Association and the official in charge of the Super Senior Championship. "It was really windy, and it was really warm. What Don did was the talk of the whole awards ceremony. He's such a humble guy. He kept saying 'The hole got in the way' and stuff like that. We were all very happy for him."
Jackie Burke, owner of Champions and a former winner of the Masters and the PGA Championship, had a big smile when he asked Addington if he played all the holes.
"A great, great round," Burke said. "When you get it done in the last round of a big tournament, you know you're doing a lot of things right."
This was not your average golf course. The Cyrpress Creek course at Champions has hosted the 1967 Ryder Cup (the U.S. won 23 1/2 to 8 1/2) and 1993 U.S. Amateur (John Harris) as well as the 1969 U.S. Open (Orville Moody).
Addington, who worked in the paper business before retiring at 73, has been a fine player for a long, long time. Asked what his secret was at Champions, he said, "I'm healthy, I stay active by playing a lot of golf, I stretch every day, I take a lot of vitamins, I made a bunch of putts to shoot 67, and I was using a new swing."
New swing?
"The guy who taught me was Kenny Huff," Addington said. "He's one of the lead instructors for Hank Haney in Dallas. He calls it the European swing. I'm simplifying, but you take the club back square, you bring it through square, and you hit the ball with your right hand. It took me about 10 days to get it, but it was magic."
Bill Stallings of McLean, Va., trailed Addington by two strokes heading into the final round. They were paired together, and Stallings kept Addington's scorecard.
"First hole, I thought maybe I could get one of those strokes back," Stallings said. "It was a par 5, and his second shot ended up in the rough near a tree. He was only 30 yards from the green, but it was a tough shot.
"He hit it to eight inches. Then I missed my birdie putt. So I thought maybe I could do something on the second hole. It never happened. He played a steady, beautiful round of golf.
"When we were finished, I added up the card and he had 67. It seemed so easy. He never struggled at all."
Addington credited two of his clubs in particular – a new Adams F11 driver and a 10-year old Rife Two Bar putter.
"Ordinarily I don't putt well on Bermuda greens," he said, "but it was different at Champions. That last round I made everything."
Addington plays at two Dallas courses with bent grass greens, Dallas Country Club and Brook Hollow Country Club. He plays about four times a week and has lost count of the number of times he has shot his age.
Addington's son Rob has been executive director of the Texas Golf Association for the past 10 years.
"What my father did (the 67) certainly didn't shock me," he said. "He's ultra competitive. He has  never quit trying to find the answer. He still works at it a lot. It helps that senior golf is so very competitive in Texas. A lot of very good players around here take senior golf very seriously. It's not just the social aspect. They like to win big tournaments."
Talking about golf as the game of a lifetime, Addington offered hope to other seniors: "I still hit the ball about as far as I did when I was younger, maybe 230 or 235 yards. Now I get tired sometimes, but I can still hit most of the shots I've always hit. If you stay flexible, you can play some pretty good golf at 80. Shooting that 67, I literally felt like I was 30 years old."
Added Stallings, "He didn't play like he was 80. If that's what 80 is like, I can't wait."
Golfweek.com readers: We value your input and welcome your comments, but please be respectful in this forum.
---
---
---
---
---
---
---
---
---
---
---
---
---
---
---
---
---
---
---
---
---