College Women
Zamora, Forsyth garner end-of-year honors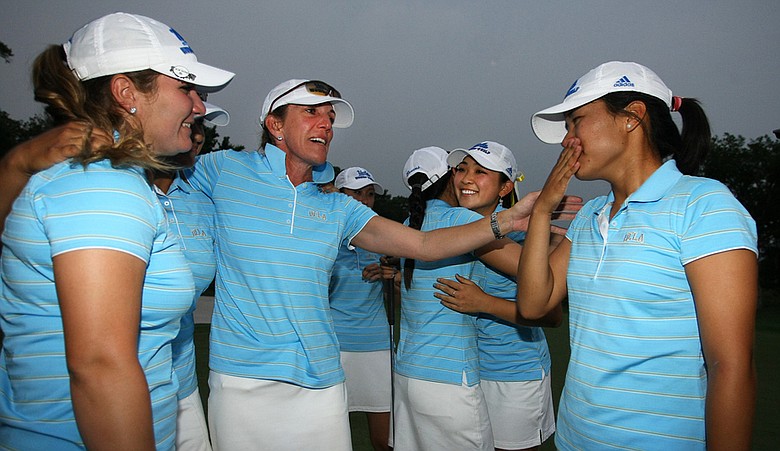 Wednesday, June 8, 2011
Carrie Forsyth has arrived at past NCAA Championships with greater expectations. She has had more high-profile players, more talent. But there was something pleasantly low-key and determined about this year's Bruins team.
Forsyth guided the second-ranked Bruins to the program's third national championship, the second under her watch. The victory May 21 in Bryan, Texas, marked Forsyth's 40th victory as UCLA head coach and gave the school a national-best 107 NCAA titles in all sports combined.
An added accolade: Forsyth is Golfweek's College Coach of the Year for 2010-11.
UCLA won six of 11 events this season. The team had an overall record of 168-14-1. While none of the Bruins finished among the top 10 individually in the Golfweek/Sagarin College Rankings, all five starters were inside the top 40.
"They're just a great group of girls, and they get along well," Forsyth said after the Bruins' victory. "We just don't have any issues, and you don't always have that on a women's team."
Georgia's Marta Silva Zamora finished the year atop Golfweek's individual rankings and earned Player of the Year honors. Zamora set a Georgia women's scoring record at 71.51 Though she only won one event – the Liz Murphey Collegiate – her consistency landed her atop the rankings. Zamora had six top 5s in 10 starts. She also had three additional top 10s and an overall record of 938-48-12.
The Spaniard ended the season with a solid fourth-place finish at the NCAA Championship after qualifying as an individual.
"This is the first (national championship) I've played a little decent," Zamora said. "I leave (NCAAs) with a good experience; I leave happy."
FIRST TEAM
Marta Silva (Georgia)
Lizette Salas (USC)
Sophia Popov (USC)*
Erica Popson (Tennessee)
Lisa McCloskey (USC)
Stephanie Meadow (Alabama)*
Megan McChrystal (LSU)
Brooke Pancake (Alabama)
Lindy Duncan (Duke)
Carlota Ciganda (Arizona St)
SECOND TEAM
Stephanie Kono (UCLA)
Emily Tubert (Arkansas)*
Cydney Clanton (Auburn)
Danielle Kang (Pepperdine)
Brittany Altomare (Virginia)
Laura Gonzalez (Purdue)
Numa Gulyanamitta (Purdue)
Joanne Lee (California)
Tiffany Lua (UCLA)
Austin Ernst (LSU)*
THIRD TEAM
Therese Koelbaek (UNLV)
Caroline Powers (Michigan St.)
Natalie Sheary (Wake Forest)
Lee Lopez (UCLA)
Camilla Lennarth (Alabama)
Isabelle Boineau (Arizona)
Sara-Maude Juneau (Louisville)
Kayla Mortellaro (Idaho)
Cheyenne Woods (Wake Forest)
Michelle Shin (Wake Forest)
HONORABLE MENTION
Pia Halbig (California)
Katerina Ruzickova (Texas A&M)*
Glory Yang (UCLA)
Catherine O'Donnell (N Carolina)
Laetitia Beck (Duke)
Kelli Shean (Arkansas)
Calle Nielson (Virginia)
Ani Gulugian (UCLA)
Grace Na (Pepperdine)
Marina Alex (Vanderbilt)
Mia Piccio (Florida)
Maria Salinas (Florida St)
Emilie Burger (Georgia)
Cyna Rodriguez (USC)
Margarita Ramos (Arizona)
Kristina Wong (Stanford)
Nicole Zhang (Notre Dame)
Madison Pressel (Texas)
Nathalie Mansson (Tennessee)
Maribel Lopez Porras (Tulane)
*All-freshman team
Note: Teams determined by players' order in Golfweek/Sagarin College Rankings
Golfweek.com readers: We value your input and welcome your comments, but please be respectful in this forum.
---
---
---
---
---
---
---
---
---
---
---
---
---
---
---
---
---
---
---
---
---