College Men
McGraw, Cantlay earn men's honors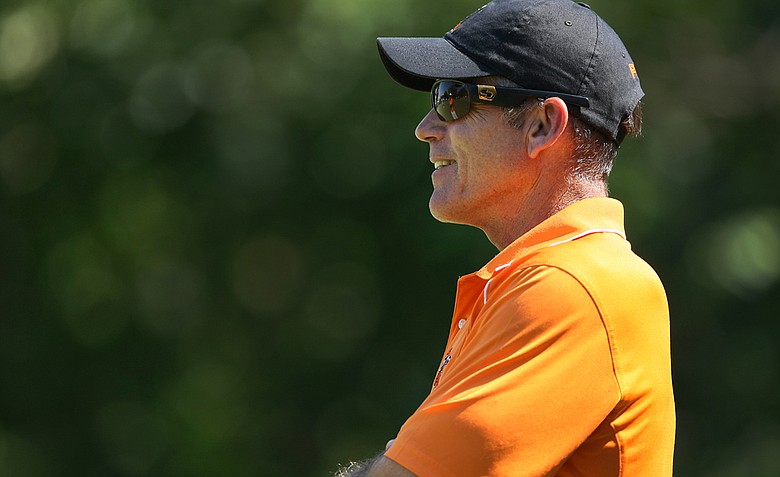 Monday, June 20, 2011
Coach Mike McGraw and his Oklahoma State Cowboys did not come out on the winning end at this year's NCAA Championship at their home course of Karsten Creek. They lost in the semifinals to eventual champion Augusta State, 3-2, with the deciding match going to the 19th hole.
When you look at the entire season, however, McGraw and the Cowboys won plenty. OSU notched eight victories, the most for the program since the Cowboys won nine times in 1994-95.
That overall performance earned McGraw the 2010-11 Coach of the Year honor from Golfweek.
"In the big picture, this season was actually outstanding," McGraw said. "Our goal was to win the national championship, and we didn't accomplish that. But the kids did everything they could to get ready for it. I'm proud of them for the way they prepared, and I'm proud of the way they handled things in defeat."
Included in OSU's eight victories were the Ping/Golfweek Preview and Southern Highlands titles, a triumph at Augusta State's home event and lopsided victories at the Big 12 Championship (13 strokes) and NCAA South Central Regional (18 strokes).
UCLA freshman Patrick Cantlay also won plenty in his inaugural season, adding to his collection of postseason honors as Golfweek's Player of the Year.
Cantlay, already named the Phil Mickelson Award winner as Freshman of the Year and the Jack Nicklaus Award winner as Player of the Year by the Golf Coaches Association of America, won four times and finished with a 70.2 scoring average.
A first-team All-American and the Pac-10 Player of the Year, he finished second individually at the NCAA Championship.
FIRST TEAM
Patrick Cantlay, fr., UCLA *
Peter Uihlein, jr., Oklahoma State
Kevin Tway, sr., Oklahoma State
Patrick Reed, jr., Augusta State
Bank Vongvanij, sr., Florida
Bud Cauley, jr., Alabama
Andrew Yun, so., Stanford
Kyle Scott, sr., Georgia Tech
Luke Guthrie, jr., Illinois
James White, jr., Georgia Tech
SECOND TEAM
J.T. Griffin, sr., Georgia Tech
Morgan Hoffmann, jr., Oklahoma State
John Peterson, sr., LSU
Phillip Choi, so., Florida
Cory Whitsett, fr., Alabama *
Henrik Norlander, sr., Augusta State
Blayne Barber, so., Auburn
Jordan Russell, jr., Texas A&M
Vince India, sr., Iowa
Chris Williams, so., Washington
THIRD TEAM
Nils Floren, sr., Texas Tech
Harris English, sr., Georgia
Andres Echavarria, sr., Florida
Gregor Main, jr., UCLA
Sebastian Cappelen, fr., Arkansas *
Jason Millard, sr., Middle Tennessee State
Jeff Karlsson, jr., Kennesaw State
Harold Varner, jr., East Carolina
Pontus Widegren, so., UCLA
Robin Wingardh, sr., Tennessee
HONORABLE MENTION
Evan Beck, so., Wake Forest
Kelly Kraft, sr., SMU
Lee Bedford, jr., Wake Forest
Dylan Frittelli, jr., Texas
Andrew Putnam, sr., Pepperdine
Ben Kohles, jr., Virginia
Bobby Wyatt, fr., Alabama *
Ignacio Elvira, sr., Texas A&M
Russell Henley, sr., Georgia
Andrew Loupe, sr., LSU
Scott Pinckney, sr., Arizona State
John Hahn, sr., Kent State
Lion Kim, sr., Michigan
Brinson Paolini, so., Duke
Matt Smith, sr., Texas Tech
Jace Long, so., Missouri
Alex Moore, jr., Oregon State
J.J. Spaun, jr., San Diego State
Ethan Tracy, jr., Arkansas
Albin Choi, fr., N.C. State *
Note: Teams determined by players' order in Golfweek/Sagarin College Rankings
Golfweek.com readers: We value your input and welcome your comments, but please be respectful in this forum.
---
---
---
---
---
---
---
---
---
---
---
---
---
---
---
---
---
---
---
---
---