1986 Masters: 'Nobody that old wins the Masters'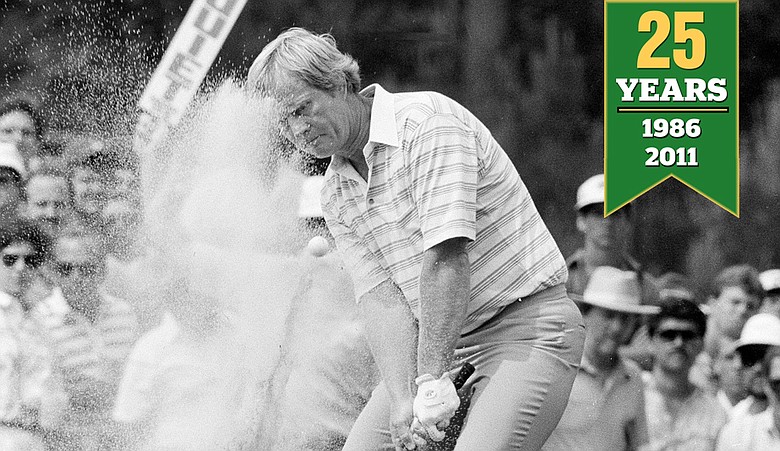 Monday, April 4, 2011
Tom McCollister, longtime golf writer at the Atlanta Journal-Constitution, was scrambling to piece together an advance for the 50th Masters in 1986 to run the Sunday before the tournament. He came up with a preview touching on several players.
---
Photo Gallery
Jack Nicklaus at the Masters
Take a look back at Jack Nicklaus in the Masters tournaments over the years
---
He wrote: "Nicklaus is gone, done. He just doesn't have the game anymore. It's rusted from lack of use. He's 46, and nobody that old wins the Masters."
Jack Nicklaus probably never would have seen the piece, but family friend and frequent prankster John Montgomery made sure the article was taped prominently in a place Nicklaus was sure to see it again and again – on the refrigerator in Jack's rented home.
Nicklaus is a prideful man, so obviously such disparaging words had to motivate him, right? Actually, he downplays the significance.
"I had enough motivation to play golf," he said recently. "I didn't worry too much about articles."
Nonetheless, after Nicklaus received his sixth green jacket and made his way to his lengthy sit-down interview with the media, he asked, "Where's Tom McCollister?" He was told McCollister was on deadline, filing a story. But later in the interview, McCollister entered the room.
"Thanks, Tom," Jack said upon seeing him.
Answered McCollister, "Glad I could help."
Laughter drowned out what McCollister said next, a witty line only a few around him heard: "(Tom) Watson wants me to write about him next year."
Glenn Sheeley worked with McCollister for many years in Atlanta, covering golf at the Journal-Constitution from 1979 to 2005. His said his good friend T-Mac was a pretty good golfer with a tight draw who, as a journalist, was "all about fairness." After several years covering NASCAR, McCollister was set to return to covering more golf in 1999. He was a month away from the Masters when he was killed in a car accident at age 61. Today, three journalism scholarships are awarded annually in his name.
"That whole thing in 1986 was amazing, and Tom laughed about it a lot," Sheeley said. "He had a good relationship with Jack. He probably felt bad about writing what he did, and I'm glad Jack had some fun with it."
Golfweek.com readers: We value your input and welcome your comments, but please be respectful in this forum.
---
---
---
---
---
---
---
---
---
---
---
---
---
---
---
---
---
---
---
---
---