Mirror images at Augusta: Tiger and Phil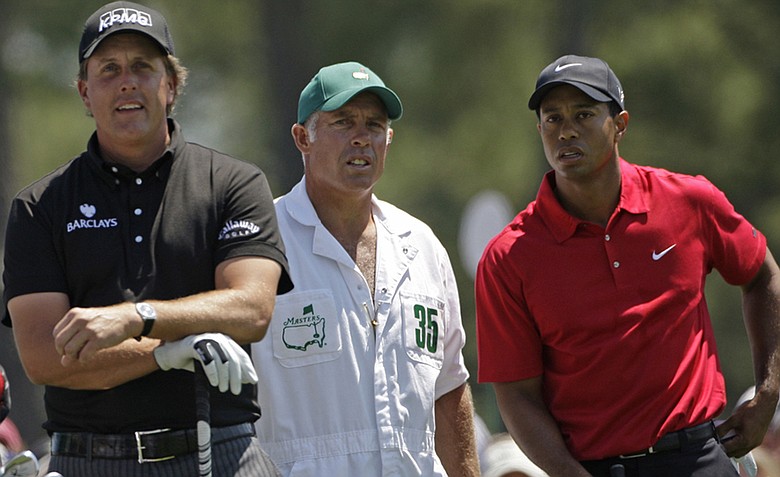 Friday, April 1, 2011
A soft-spoken German is the world's top-ranked player, an Englishman arguably is overdue for a major and unheralded players are winning all the tournaments.
True, all of that, but with the season's first major on our doorstep, there is this first and foremost: When it comes to the Masters, you start with Tiger Woods and Phil Mickelson.
That's right, the Martin Laird Lobby needs to breathe in the azaleas for a few moments and allow things to come into focus. Augusta National requires a great deal of knowledge, and nobody has the GPS tuned into the place quite like Woods and Mickelson.
But they're not in good form? They're a combined 0-for-11 this year on the PGA Tour and 1-for-54 stretching back to 2010?
Holy Amen Corner, Batman. Who cares? They were winless heading into Augusta last year, too. (For the sake of accuracy, Woods was winless because he was almost lifeless for the first three months of 2010, committed to his Howard Hughes lifestyle in the aftermath of, well, you know.) So what happened a year ago? Mickelson won and Woods was in a share of fourth.
Amazing what that short ride down Magnolia Lane does to them, eh?
It's equally amazing how similar Woods and Mickelson are once they're at work inside the gates of Augusta National. Here's a stat that pounds home that point:
In the past seven Masters – and that's 28 rounds or 504 holes – Mickelson has gone a cumulative 35 under par. And Woods over that same stretch? Guess what: He's 35 under, too.
That's right – 1,981 strokes for Mickelson, 1,981 for Woods.
You won't find anyone else who has made the cut in each of the past seven Masters, so as usual, no one is comparable to Woods or Mickelson at Augusta National.
Stretching the head-to-head comparison out over those years when they've both played as professionals, there are 14 in all (1997-2010). The only cut Mickelson has missed at Augusta National came in 1997, so their rounds played for this comparison are not quite in sync – 54 for the left-hander, 56 for Woods – but the similarities are again notable for these 14 Masters:
Player: Woods/Mickelson
Wins: 4/3
Top 5s: 9/8

Top 10s: 11/11
Rounds: 56/54
Sub-70s: 18/21
Sub-280s: 5/4
Scoring avg: 70.482/70.851
Golfweek.com readers: We value your input and welcome your comments, but please be respectful in this forum.
---
---
---
---
---
---
---
---
---
---
---
---
---
---
---
---
---
---
---
---
---