College Men
College coaches debate usefulness of .500 Rule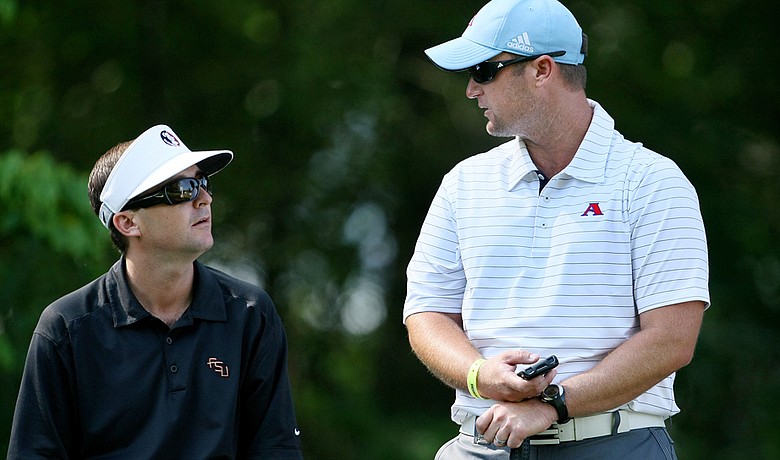 Tuesday, May 3, 2011
We asked more than two dozen coaches a simple question: What are your thoughts on the .500 Rule - four years later, or how it has impacted your program - good or bad?
Here are some pointed answers:
"I think the .500 rule is great for college golf. It allows teams to get into tournaments they may not have had a chance to play and it forces teams to win. Now, coaches have to really pay attention to the tournament fields and not over schedule with their particular team, or they may lose a chance to play in the NCAA Regional."

– Colorado State coach Jamie Bermel

"The .500 rule has been good for our program and we have benefited greatly from the rule. It has enabled us to schedule a few more quality events each year and given our players the opportunity to prove themselves by competing against the best."

– Liberty coach Jeffrey Thomas

"The .500 rule has stifled competition and creativity with our Coaches and Players both at home and on the road. It has devastating consequences for the growth of Collegiate Golf! The Women have this one right!"

– Texas coach John Fields

"My opinion has changed completely. When it was first proposed I thought it was absurd. Then while coaching at Arizona we were the first team to be hit with the rule, when we were one win short in '08. Now at UTSA I have not changed my scheduling any to combat the rule. I feel if you can't beat the best teams you don't deserve to be in the postseason. But, I do think the rule has made more events more balanced. There are a tremendous amount of good tournaments to play in these days. Just a few short years ago there were only a handful of great events.

I will say the trend of teams changing their schedule to get more wins or dodge losses needs to be addressed though. It is absolutely within the rules now but, is against the spirit of the system. All things should be tweaked as they evolve and this is just one of them."

– Texas-San Antonio coach John Knauer

"The impact on my program has been minimal. We are not getting into better events because of the .500 rule . We are getting into better events because are team is getting better and the relationships I have developed with other coaches over the last 23 years. I'm sure some teams can say this, but that is just not the case with my program.

As the .500 rule goes, I think there needs to be signed contracts, with $5,000 or $10,000 penalties for those teams pulling out of events to protect themselves from possible falling below the .500 mark. To me you have coaches that are using the system, which is flawed without penalties. There are numerous examples this year of teams withdrawing form events with a week or two of the event. We are supposed to be an example to other sports in terms of sportsmanship or playing a game of self imposed penalties. But what is the penalty for this act, nothing, as long as you can get away with it and someone else is willing to let you in their tournament. It is wrong and it is unethical. But, we have coaches that are trying to protect their "little nest egg." There are at least a half dozen schools that have pulled out of events the week or two prior to the event and have gone to a lesser tournament for guaranteed head-to-head wins. This is the message that the .500 has sent out to me. There are no penalties at this time and the system is flawed.

I wish the .500 rule would be abolished. Keep your won-loss records, use your Golfweek/Sagarin and Golfstat rankings, and determine the best 81 teams. If that involves a team being under .500 because they are playing a tough schedule, but they are one of the top 81 teams in the country, well then put them in the Regionals and lets move on. But this stuff is getting old seeing teams jockeying in and out of tournaments. The system is flawed and it needs to be changed."

– Texas-Arlington coach Jarrod Rees

"The .500 Rule is one of the best things to happen to Division I college golf over the last 10 years."

– Arkansas-Little Rock coach Wyn Norwood

"There is no question in my mind, the .500 rule is good for collegiate golf across the board. It has benefited our scheduling tremendously, and given us a chance to prove ourselves on a bigger stage."

– Middle Tennessee State coach Whit Turnbow

"I like the .500 rule. Before the rule, I never liked the fact that big name programs could write their post season ticket by playing a high ranked schedule and avoiding programs that were less funded and obviously better. It gives programs like mine an opportunity to earn respect with a consistently competitive program while playing the best schedule we can enter and afford. What I don't like is how the system has been manipulated to get easy wins along the way by changing schedules during the season. The NCAA Golf Committee needs to hold these folks accountable and either fine them or disallow the competition altogether. No excuses, if your good enough you go. If not, maybe next year. Don't play games with the system."

– SE Louisiana coach Tim Baldwin

"The .500 rule is a good guideline in helping select post-season teams, but there are some problems with the rule as it is currently. For example, around mid-year some coaches withdrew from tournaments they were committed to playing for fear that their team might play poorly and not meet .500 at year-end. My honest opinion of this maneuver is better left unsaid.

Also, coaches who haven't met .500 put together one-day weaker field events after their conference championship in an attempt to raise their winning percentage right before post-season selections are made.

What I have to say about both of these examples isn't important. The issue with the rule is that we are able to manipulate the system at will. How are we to know who is truly deserving of postseason if we are allowed to manipulate the system? I hazard a guess that if USC, Alabama, Texas, Florida or any of the other football powerhouses did anything like the above-mentioned examples we all would say: "That's not right!"

– Central Arkansas coach Ryke Dismuke

"I don't agree with people changing their schedules to meet their 500 record. Adding or dropping out of tournaments in my opinion is not acceptable. We all make our own schedules. As a coach you are responsible for your scheduling and should have to honor your commitments!"

– Arkansas coach Brad McMakin

"I like the .500 rule. I think it has allowed some teams like ours to be able to get into some of the more prestigious tournaments. Before the rule, it seemed as though the top teams played together every week and it made it more difficult for programs on the rise to get into the top events."

– Mississippi coach Ernest Ross

"I've always been told compromise is the best way to get things done. The problem with that, of course, is when you give up on something you know to be good or true simply to appease. The .500 rule was developed during the time our landscape for NCAA Regionals, with its District quotas, was changed. It was born of compromise and appeasement. I'm not for the old District way, but our current system isn't conducive to competing against the best top to bottom each week."

"To me, whether you've beaten more teams than you've lost to or not, your ranking is designed to assess where you stand. It determines whether or not you're good enough to compete at NCAAs or not. The idea that top ranked teams now open up their schedules to include events against lesser competition might be good for those lesser teams but it doesn't offer the top player, the player who deserves greater opportunities for competition the most, the opportunity to compete against the best week in and week out."

– Notre Dame coach James Kubinski

"I think the .500 rule has been terrific for college golf. The fields at most tournaments are more diverse and that has led to the best teams being identified for bids to the NCAA."

– Furman coach Todd Satterfield

"Overall, the .500 rule has not been as negative as I originally thought that it would be. Teams definitely have to play around in some different tournaments which should make for more accurate rankings. I do think that it handicaps the better programs because you cannot just schedule the best events like you could in the past. In a way, it penalizes the student-athletes at those programs who have worked hard to get to that level of play. However, the negative impact is fairly small and certainly does not prohibit the better programs from continuing to be successful."

– Kentucky coach Brian Craig

"Honestly, I thought there would be more teams who would miss NCAAs because of the .500 rule. Surprisingly there have only been 4-5 teams miss in the 4 years. It has definitely created more opportunities for lesser known programs to get in better events, which is a great thing for college golf. It has definitely made scheduling much more challenging for coaches. Our goal each year is to get to the NCAA Championship, therefore you better make a schedule to give yourself the best chance. The only negative has been teams pulling out of events, but until there are game contracts that will continue to happen, unfortunately. That is not the intent of the .500 rule at all, and has created some controversy. Hopefully game contracts will be issued, or there will be harsher penalties that will be issued if you pull out close to the event. All in all, the .500 rule has added a new dimension to college golf and a level of excitement to the end of the season. It has created more attention to college golf, which is always a good thing."

– Augusta State coach Josh Gregory

"As a coach of a mid-major university, the .500 rule has impacted our program very positively. It has provided more exposure for our program and our individual players. Without the .500 rule, teams outside of the top 100 and individuals that may be some of the best players in NCAA Division I golf would be denied opportunity to compete against the elite competition."

– Western Illinois coach Mel Blasi

"Overall it has been good for college golf with regards to the variety of teams that you see and the common opponent factor is greater. I do not like the idea of one bad tournament at the wrong time could sink your season. Something has to be done with teams that drop out a month prior to an event. I have not changed anything in my scheduling; I have always tried to play a strong schedule that has a variety of teams and courses. If you are not good enough, your not good enough!"

– Pepperdine coach John Geiberger

"The .500 rule is a non-factor for my team. I have not changed the way we schedule tournaments at all. If we are good enough to participate in the post season, we will not have a problem earning more wins than losses through the course of a season. I do think that it has changed the way some teams schedule tournaments and I like that we get a chance to see some of those teams more often because of it."

– UC Irvine coach Paul Smolinski

"The .500 rule has enabled my team the occasional opportunity to compete against some of the highly ranked teams. The past two seasons have seen The Dragons compete against numerous top 50 teams as well as NCAA champs Augusta State last spring. We are all for it."

– Drexel coach Mike Dynda

"The .500 rule is good. Has not been much of an effect on our program since we don't see to many top 50 teams in our events. Every now and then the Big Boys will grace us with their presence if they need to bolster there record to get above 500. Top team are still restricting invite to those ranked 100-150, so as not to have a huge upset and hurt themselves in the rankings."

– Cal Poly coach Scott Cartwright

"I am happy with the .500 rule now that we have done away with districts/regions. Our program has had the opportunity to compete with teams that we wouldn't ordinarily have a chance to see. It seems that strength of field/schedule is a major factor in how you are ranked. There have been some unintended scheduling consequences that have become part of the game - but overall for a mid-major, I think it has been positive."

– Richmond coach Adam Decker

"Over the past four years since the implementation of the .500 rule, we have seen the accuracy of the Golfstat and GolfWeek rankings improve and become more accurate especially once past the top 25 in the ranking."

– former Univ. of San Francisco Director of Golf & current Interim Athletic Director Gary Nelson
Golfweek.com readers: We value your input and welcome your comments, but please be respectful in this forum.
---
---
---
---
---
---
---
---
---
---
---
---
---
---
---
---
---
---
---
---
---