College Men
Golfweek.com special report: The .500 rule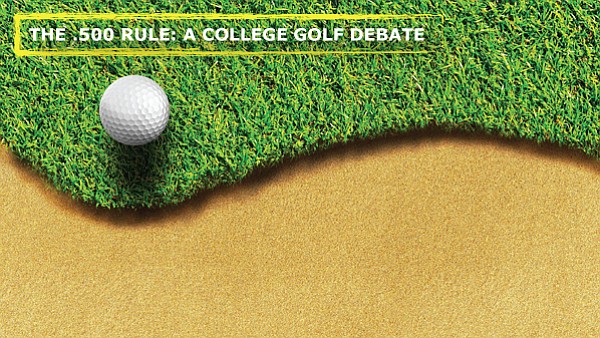 Tuesday, May 3, 2011
The .500 rule is now in its fourth year of existence and coaches are far from a consensus on how it has served Division I men's college golf. For that reason, Golfweek.com has compiled the following report with the hopes of exploring the .500 rule's merits and offering solutions to some of its problems.
---
LEAD STORY

Ron Balicki explores the background of the .500 rule and comes to one conclusion: No matter their opinion of the rule, it has had a significant impact on the way coaches think about and set their schedules. CLICK HERE TO READ
---
A QUICK FIX
Lance Ringler says one solution to the problems of the .500 rule may be to start following the lead of other Division I sports in instituting "game contracts." CLICK HERE TO READ
---
COACHES WEIGH-IN
Golfweek discussed the rule with more than 20 coaches from programs both large and small, who showed how polarizing the .500 rule is. CLICK HERE TO READ
---
VIDEO
Off Campus takes a look at the .500 rule and the positive effect it has had on smaller programs throughout the country. CLICK HERE TO WATCH
---
PODCAST
Lance Ringler and Asher Wildman debate the merits of the .500 rule and discuss it's impact on college golf. CLICK HERE TO LISTEN
Golfweek.com readers: We value your input and welcome your comments, but please be respectful in this forum.
---
---
---
---
---
---
---
---
---
---
---
---
---
---
---
---
---
---
---
---
---