Wildman's Walk: Teams asking 'What if?'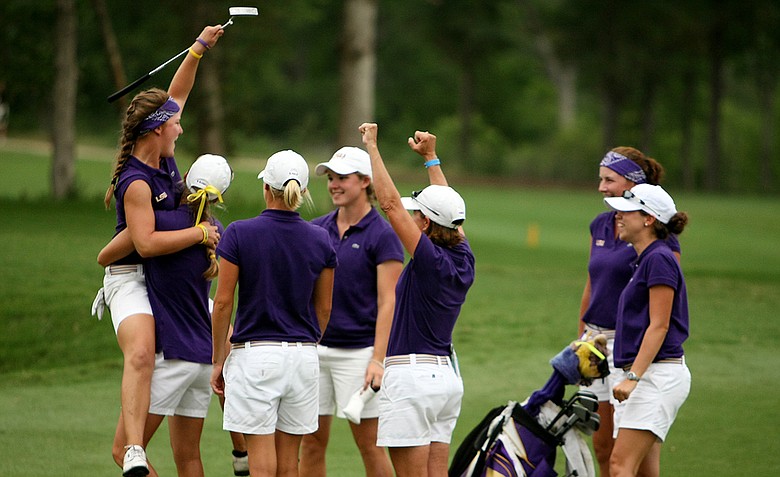 Sunday, May 22, 2011
BRYAN, Texas – What a wild and odd finish down the stretch here at Traditions Golf Club. My feet are killing me from doing two loops around the course today.
Two teams will be leaving College Station wondering What if? The first team, USC, was missing a key person from their line up: Lisa McCloskey. USC really missed their No. 1 player, but coach Andrea Gaston insisted all week her team was talented enough to overcome the loss of McCloskey. Some people were wondering why USC freshman Pearl Jin wasn't in the lineup this week to help the Trojans. According to Gaston, "She (Pearl Jin) is no longer on the team."
---
Photo Gallery
NCAA Women's Championship (Final)
View images of the final round of the Women's NCAA Championship at Traditions Club in Bryan, TX.
---
The Trojans were down one of their best players and left short on the depth chart, but they did play well in the last two rounds to finish in a tie for fifth with Arkansas.
Another team that has to be wondering what could have been is LSU. For much of the season Megan McChrystal held the top spot in the Golfweek/Sagarin rankings, but this week she struggled mightily. McChrystal started her senior year with a victory in the fall at the Preview, but struggled in her last event, finishing in a tie for 43rd. The Tigers needed their star player, but instead got erratic play.
After the last collegiate round of her career McChrystal looked worn out.
"I didn't have it all week and it has been a really long semester," McChrystal said. " I wish I played better, because if I did maybe we could have been in a better position to go after a better finish." LSU placed third at nationals this year, but if McChrystal performed half as well this week as she played at the Preview then perhaps the Bayou Bengals could have left College Station as national champions.
•••
Today I decided to watch North Dakota State's Amy Anderson. All year, I've said she's the best player in the country that no one watches. Sadly, even at the national championship she continued to be just that. At one point, Anderson worked her way up to third place in the individual race, but had some bogeys on the back nine to finish T-12. Despite being at the biggest event of the year for women's college golf, Anderson enjoys being a hidden gem.
"Everywhere I go people say to me, 'You're the girl from North Dakota,' and that's really fun. I'm just having fun doing what I'm doing and that's all that counts," Anderson said.
At this week's championship, it did appear Anderson had fun and enjoyed showcasing herself at the National Championship. Unfortunately, she remains a mystery to the rest of the country because people rarely get the chance to see her and that's alright with her. Hopefully, Anderson, either as an individual or with her fellow Bison teammates, will get the chance to showcase her talents at some more premiere events next year.
•••
Sportsmanship was on display on the 18th green, and it was an amazing thing to witness from about five feet away. When the final group walked into the tent to sign their scorecards, the teams knew UCLA was the champs. Every player from Purdue, who won the title last year, walked over and hugged the Bruins players.
It seemed to be one of those passing-of-the-torch moments where the Boilermakers were happy for the Bruins. Good sportsmanship seems to be a rarity these days, and to see that was great. Not only did Purdue handle losing graciously, but they then handled the passing their title to UCLA with the utmost respect.
•••
Throughout the week Traditions Golf Club was in championship shape. While walking the course, I was often admiring the job the grounds crew did getting the course in pristine conditions for each round. Traditions Club General Manager Bill Horton said that up to eight weeks before the tournament he was worried the course wouldn't be ready.
"I was really worried about our greens being ready for this championship," Horton said. "Fortunately, everything worked out the way it did and the course was in great condition."
Traditions was a great course to host the championship this week, but the ambiance was dismal. Crowds all week were small and quiet. On the back nine I was following the last group when UCLA only had a two shot lead with five holes to go. The only people following the group were Tiffany Lua's parents, myself, Golfweek's Lance Ringler, and the rules official that was on them to pick up their pace of play.
The course failed to provide a championship atmosphere, but Horton believes that's because the Aggies' rivals weren't in the field.
"If Texas or Baylor were able to make it, I really think crowds would have been bigger," Horton said. He's probably right, but it's a shame players couldn't have a more appreciative crowd to see them play in their most important event of the year.
Golfweek.com readers: We value your input and welcome your comments, but please be respectful in this forum.
---
---
---
---
---
---
---
---
---
---
---
---
---
---
---
---
---
---
---
---
---