College Men
Golfweek's preseason top 10 teams: Men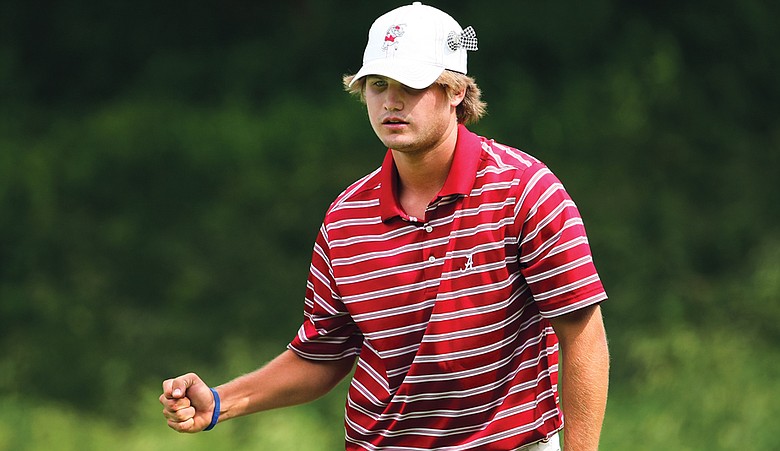 Monday, September 12, 2011
1.) Alabama
2010-11 Golfweek rank: 4
Go-to guy: Cory Whitsett
Can win national title if . . . The Crimson Tide can just make it to match play. Alabama went from being a potential No. 1 seed to missing match play altogether. Bud Cauley opted to turn pro and leave school early, but Jay Seawell has big-name recruit Justin Thomas, who will be expected to contribute immediately.
If the Tide make it to match play, their top three of Whitsett, Bobby Wyatt and Hunter Hamrick would be intimidating for opponents. "All three can be Player of the Year," Seawell said. "I can't distinguish that much between them."
Assuming Thomas is put in the fourth spot, the No. 5 position will be the only one up for grabs. Sophomore Trey Mullinax traveled with the team to nationals last year but will be tested for his roster spot by juniors Lee Knox and Scott Strohmeyer and senior Hunter Slatton.
"This team has eight guys we can start any given week," Seawell said. "Qualifiers will be tough, but they'll also be really exciting."
2.) UCLA
2010-11 Golfweek rank: 3
Go-to guy: Patrick Cantlay
Can win national title if . . . Coach Derek Freeman can find the right combination to bring to Riviera. Like 'Bama, the Bruins are seven to eight players deep, starting at the top with all-everything sophomore Cantlay and junior Pontus Widegren.
3.) Stanford
2010-11 Golfweek rank: 20
Go-to guy: Andrew Yun
Can win national title if . . . David Chung returns to the form he displayed during his sophomore year and the summer of 2010. Once considered the team's top player, he is now part of a solid nucleus that includes Yun and freshman Patrick Rodgers, the Porter Cup champion and U.S. Walker Cup player.
4.) Georgia Tech
2010-11 Golfweek rank: 2
Go-to guy: James White
Can win national title if . . . Anders Albertson and Oliver Schniederjans finally are ready to play after enrolling in school last January. The two were highly touted recruits, and coach Bruce Heppler eased them into college life to prepare them for the fall. The Yellow Jackets think they'll be worth the wait.
5.) Texas
2010-11 Golfweek rank: 13
Go-to guy: Dylan Frittelli
Can win national title if . . . Jordan Spieth comes in and contends for Player of the Year honors. Texas already has talent and experience, and with a push from its heralded freshman, may possess the drive and desire to accomplish great things this season.
6.) San Diego State
2010-11 Golfweek rank: 9
Go-to guy: J.J. Spaun
Can win national title if . . . Their four returning starters take the next step with their games. The Aztecs quietly won seven times last year but often were overlooked. To earn recognition, they will have to play better at nationals (16th last year).
7.) USC
2010-11 Golfweek rank: 16
Go-to guy: Anthony Paolucci
Can win national title if . . . Paolucci can have an instant impact at the top of the lineup as a freshman. The Trojans have solid players in Steve Lim, Jeffrey Kang and Martin Trainer but lack that star in the No. 1 slot. If Paolucci can have a freshman year that's half as good as Patrick Cantlay's a year ago, then USC will be a contender.
8.) Oklahoma State
2010-11 Golfweek rank: 1
Go-to guy: Peter Uihlein
Can win national title if . . . Uihlein gets some help and the Cowboys figure out how to win in the match-play portion of the NCAA Championship. Three years in a row, OSU entered the finals as the top-ranked team in the country but left without a title.
9.) Arkansas
2010-11 Golfweek rank: 15
Go-to guy: Ethan Tracy
Can win national title if . . . Tracy (Western Amateur winner) and Sebastian Cappellen (ranked No. 25 as a freshman) continue to progress. Joining the team in January will be freshman Thomas Sorensen from Denmark, a player whom coach Brad McMakin thinks will be as good as any of the other big-name freshmen this season.
10.) Auburn
2010-11 Golfweek rank: 14
Go-to guy: Blayne Barber
Can win national title if . . . The Tigers can avoid a postseason letdown. After winning three tournaments last season, the Tigers were cruising through NCAA regionals but had a meltdown over the final few holes and fell from second to eighth, costing them a trip to nationals.
• • •
Nos. 11-30, with final 2010-11 Golfweek rank:
11.) Florida, 6
12.) Illinois, 7
13.) Washington, 29
14.) Duke, 12
15.) Clemson, 27
16.) Georgia, 10
17.) Texas A&M, 5
18.) Virginia, 21
19.) Wake Forest, 30
20.) California, 19
21.) Oregon, 22
22.) Oklahoma, 28
23.) LSU, 11
24.) N.C. State, 31
25.) Central Florida, 35
26.) Indiana, 37
27.) Baylor, 42
28.) Florida State, 44
29.) Liberty, 33
30.) Kennesaw State, 47
Golfweek.com readers: We value your input and welcome your comments, but please be respectful in this forum.
---
---
---
---
---
---
---
---
---
---
---
---
---
---
---
---
---
---
---
---
---