College Women
Golfweek's preseason top 10 individuals: Women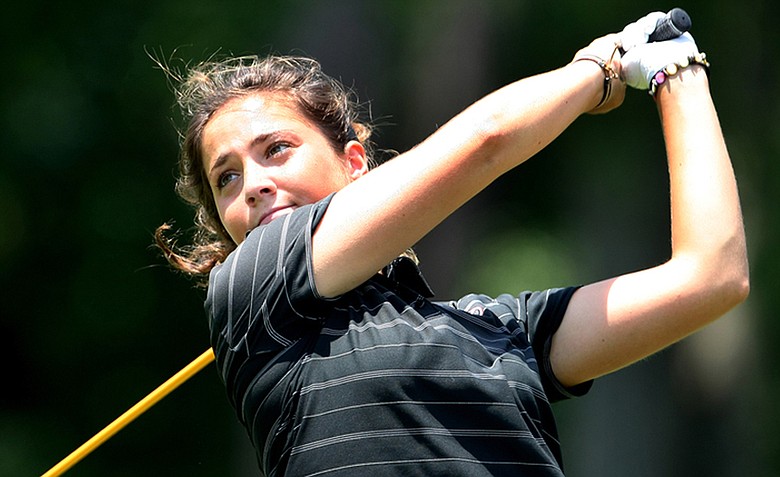 Monday, September 12, 2011
Golfweek's Top 10 Women's Individuals
1.) Marta Silva Zamora
Georgia, senior
2010-11 Golfweek rank: 1
Silva Zamora swept the postseason awards on the strength of her 71.51 scoring average, the nation's lowest. Although she won only one tournament – Georgia's Liz Murphey Collegiate Classic – Silva Zamora finished outside the top 10 only once thanks to great ballstriking. She hit 81.7 percent of fairways on the season and 78.6 percent of greens. The Spaniard won Golfweek and NGCA Player of the Year honors, as well as the Honda Sports Award for golf. She paced the Bulldogs in every event but one, the Kinderlou Forest Challenge, where she withdrew because of illness. Georgia coach Kelley Hester said Silva Zamora has a simple, refreshing approach to the game. After a poor round, she's likely to say: "Today I did not have it. Tomorrow will be better."
Silva Zamora said: "If I do what I did last year, I wouldn't complain. . . . I just told myself just to have fun on the golf course."
2.) Sophia Popov
USC, sophomore
2010-11 Golfweek rank: 3
Emotionally charged, intense German won three times as a freshman, including the Pac-10 Championship in a playoff. Made the cut at the Women's British Open.
3.) Stephanie Meadow
Alabama, sophomore
2010-11 Golfweek rank: 6
Came alive in the spring semester, winning three times. Led 'Bama with a 72.15 stroke average. Oh, and she's from Northern Ireland, a country that's quite hot in golf right now.
4.) Lisa McCloskey
USC, senior
2010-11 Golfweek rank: 5
Missed the 2011 postseason because of a rib injury. Didn't win last year, but was consistent and can go low, including a 64 last season.
5.) Erica Popson
Tennessee, junior
2010-11 Golfweek rank: 4
Victorious in four tournaments last season, including the SEC Championship and NCAA West Regional. Lost one more in a playoff.
6.) Brooke Pancake
Alabama, senior
2010-11 Golfweek rank: 8
Alabama's reliable leader, "Cakes" advanced to the semifinals of the U.S. Women's Amateur. As solid in the classroom as she is on the course, she never has made less than an A.
7.) Lindy Duncan
Duke, junior
2010-11 Golfweek rank: 9
Advanced to NCAA Championship as an individual and tied for eighth. Led Duke with nine top 10s. Named Atlantic Coast Conference Player of the Year.
8.) Stephanie Kono
UCLA, senior
2010-11 Golfweek rank: 11
A reserved player, Kono has compiled a stroke average during the past three years that hardly has wavered: 72.2, 72.0, 72.8. Advanced to quarters of U.S. Women's Amateur and Women's Public Links.
9.) Emily Tubert
Arkansas, sophomore
2010-11 Golfweek rank: 12
At nearly 6 feet tall, the affable Tubert makes a big impression. The 2010 Women's Amateur Public Links champ hits a long ball and posted a school- and NCAA-record 63 in Vegas. She won three times.
10.) Austin Ernst
LSU, sophomore
2010-11 Golfweek rank: 20
Still riding high off her NCAA Championship victory, a confident Ernst advanced to the semifinals of the U.S. Women's Amateur. Solid ballstriker who has worked hard to develop a short game to match.
• • •
Second team
Marina Alex, senior, Vanderbilt
Brittany Altomare, junior, Virginia
Amy Anderson, junior, North Dakota State
Laura Gonzalez, junior, Purdue
Erynne Lee, freshman, UCLA
Joanne Lee, senior, California
Lee Lopez, senior, UCLA
Tiffany Lua, junior, UCLA
Caroline Powers, junior, Michigan State
Cheyenne Woods, senior, Wake Forest
Third team
Isabelle Boineau, senior, Arizona
Emilie Burger, junior, Georgia
Doris Chen, freshman, USC
Brianna Do, senior, UCLA
Kayla Mortellaro, senior, Idaho
Grace Na, sophomore, Pepperdine
Catherine O'Donnell, senior, North Carolina
Mia Piccio, junior, Florida
Margarita Ramos, Arizona, senior
Michelle Shin, junior, Wake Forest
• • •
Golfweek's Top 10 College Freshman to watch
1.) Erynne Lee, Silverdale, Wash., UCLA
2.) Kendall Prince, Lake Oswego, Ore., Ohio State
3.) Doris Chen, Bradenton, Fla., USC
4.) Kristen Park, Buena Park, Calif., USC
5.) Kyle Roig, Pembroke Pines, Fla., UCLA
6.) Tiffany Lim, San Jose, Calif., Harvard
7.) Kendall Martindale, Jefferson City, Tenn., Vanderbilt
8.) Aurora Kan, Boothwyn, Pa., Purdue
9.) Irene Jung, Jacksonville, Fla., Duke
10.) Alexandra Bonnetti, France, TCU
Other frosh to watch: Marissa Dodd, Wake Forest; Gemma Dryburgh, Tulane; Camilla Hedberg, Florida; Cali Hipp, Oregon; Daniela Lendl, Alabama; Ally McDonald, Mississippi State; A.J. Newell, Tennessee; Ri Hyang Park, Miami; Monifa Sealy, UCF; Mariko Tumangan, Stanford
– Julie Williams
Golfweek.com readers: We value your input and welcome your comments, but please be respectful in this forum.
---
---
---
---
---
---
---
---
---
---
---
---
---
---
---
---
---
---
---
---
---