Europeans take one-point lead at Solheim Cup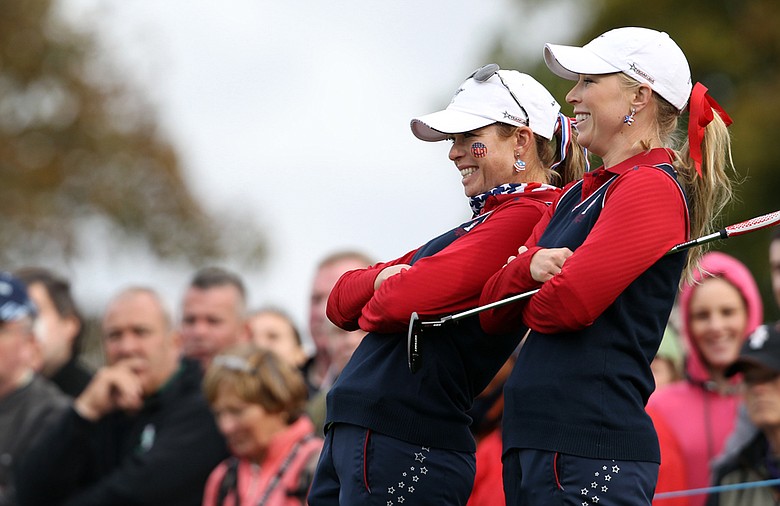 Friday, September 23, 2011
---
• Click here for Complete Coverage from the Solheim Cup
---
DUNSANY, Ireland - If the ability to close out matches determines this Solheim Cup, then Europe might be in big trouble.
The U.S. team seems to have better nerve over the closing holes than the Europeans. That much was obvious from the opening day's play.
---
Photo Gallery
Solheim Cup 2011: Day 1 in pictures
Check out player and fan images from Day 1 in Ireland.
---
Europe leads the U.S., 4.5–3.5, but it should have been so much better for the home side. The Europeans could have entered Saturday's play leading 7-1 if not for throwing points away down the stretch.
"The great thing about these girls is that they don't give up," U.S. captain Rosie Jones said. "They don't like to lose. Sometimes, it's in the clutch that wins it. We showed a lot of heart when we needed it today."
That was true on at least three occasions. The Europeans seemed to have commanding leads, only to fall foul of the closing holes. Europe's Mel Reid and American Paula Creamer were involved on two of those occasions, with Creamer having better memories of the last two holes than the Englishwoman.
Reid was 1 up with two to play in both of her matches against Creamer and came out worse. First, she played a part in blowing the final two holes in a foursomes partnership with Karen Stupples against Creamer and Brittany Lincicome. Then Reid and Laura Davies lost the 17th and 18th to gift Creamer and Morgan Pressel a point in the afternoon four-balls.
Creamer holed a 25-footer for birdie on the 17th to draw level, and then Pressel holed from 18 feet on the last to give the U.S. the point.
Davies was searching for at least a half-point to tie Annika Sorenstam as leading Solheim points earner, and a full point to go ahead of the Swede. Instead, she came away with nothing.
"It was a great day," Creamer said. "We made putts when we had to. That's the Solheim Cup. You make birdies on top of birdies."
Reid and Davies weren't the only European pair to throw away a lead in the afternoon. Scotland's Catriona Matthew and Germany's Sandra Gal were 2 up against Christina Kim and Ryann O'Toole after 15 holes and managed only a half-point. The Americans birdied 16 and 17.
The Americans will be buoyed by the way they played the final holes. However, anyone believing in omens can chalk up a European victory in this Solheim Cup.
Europe has led after the opening two sessions the three times it has won the biennial match. The only time Europe has led the first two sessions and lost was at Crooked Stick in 2005.
Despite going into the four-ball session with the momentum after eking out a 2-2 tie in the morning, the U.S. did not come out firing in the afternoon. It was Europe that regrouped and took the match to the visitors early on.
The all-Swedish duo of Sophie Gustafson and Caroline Hedwall took the first point of the afternoon with a comprehensive 5-and-4 hammering of Vicky Hurst and Lincicome. The Swedes were 6 under par when the match ended on the 14th hole. Hedwall made four birdies in her first appearance in the Solheim Cup.
"It gives me a lot of self-confidence coming into the rest of the week," Hedwall said. "It's been so much fun, and I really enjoyed myself out there. I was very nervous on the first tee, but I enjoy those situations and I hit a good drive on the fairway. It's so much fun that it's easy to cope (with the pressure)."
Jones played all 12 members of her team on the opening day. Nicholas benched Dutch professional Christel Boeljon for both sessions.
A good crowd turned out despite a chilly gray, overcast day. They were treated to exciting matches. However, they weren't treated to quick play.
Anyone looking for proof that professional golf is far too slow would have found it here in Ireland. Play was so slow in the afternoon that the last match - Americans Michelle Wie and Cristie Kerr against Europeans Suzann Pettersen and Anna Nordqvist - took 5 hours and 37 minutes.
Pressel and Creamer took 5 hours and 20 minutes, with Pressel depressing traditionalists when she said: "I thought that was pretty quick."
So we will be treated to exciting golf over the next two days with the match hanging in the balance.
Just don't expect it to be quick.
•••
Saturday's matchups: Foursomes
• 7:40 a.m.: Angela Stanford & Stacy Lewis (U.S.) vs. Caroline Hedwall & Sophie Gustafson (Europe)
• 7:52 a.m.: Morgan Pressel & Ryann O'Toole (U.S.) vs. Karen Stupples & Christel Boeljon (Europe)
• 8:04 a.m.: Brittany Lang & Juli Inkster (U.S.) vs. Maria Hjorth & Anna Nordqvist (Europe)
• 8:16 a.m.: Cristie Kerr & Paula Creamer (U.S.) vs. Catriona Matthew & Azahara Munoz (Europe)
Golfweek.com readers: We value your input and welcome your comments, but please be respectful in this forum.
---
---
---
---
---
---
---
---
---
---
---
---
---
---
---
---
---
---
---
---
---