Euros looking to change Solheim singles trend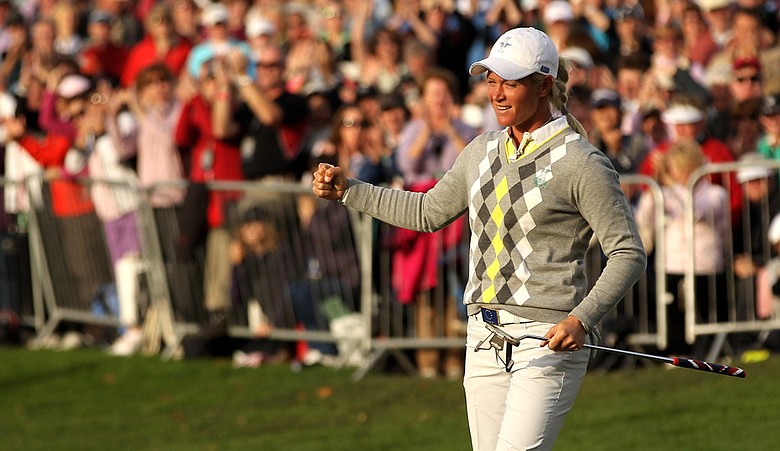 Saturday, September 24, 2011
DUNSANY, Ireland – Europe needs to buck a trend to win this Solheim Cup. It needs to do what previous European teams have only ever managed to do three times – win the singles.
The teams might be tied 8–8 after the foursomes and four-balls, but parity might end there. History is on the side of the United States. The U.S. has a huge advantage in singles play. Not only have the Americans won eight of 11 sessions, U.S. teams hold a 58.5–48.5 points advantage in singles golf.
There have been some blowouts, too. In 1994 at The Greenbrier, the U.S. won the final session 8-2 to win the match. It got worse for Europe two years later in Chepstow, Wales. The home team took a 9–7 lead heading into the singles and lost, suffering a 10–2 drubbing in the one-on-one format.
Maybe that's why Europe's most senior player wants to see her team take a different approach to the singles.
"We've messed up the singles so many times," Laura Davies admitted. "This time we need to go out there and not worry, try not to look at that scoreboard. I think (it's better) not to look at the leaderboard tomorrow, because if you see a lot of blue you might start thinking I don't need it. It seems like we've done that in the past because we've been beaten so badly.
"Tomorrow we've got to just go out there and win our point. It's easy to say, but that's what we've got to do."
On paper, Europe's biggest win in the final session is an 8-4 triumph at Barseback, Sweden in 2003. However, that was the year of the concession, when US players conceded the final points because Europe had already won the cup. Throw that result out, and Europe's biggest win is a 7-3 margin of victory at Dalmahoy in 1992 when they won for the first time.
If U.S. captain Rosie Jones and her team were looking for further omens, then they only need to look to previous tied matches heading into the singles. Three matches – 1994, 2005 and 2009 – have saw the teams enter the final session tied, and the U.S. has won all three.
Two years ago at Rich Harvest Farms the U.S. won the final session 8-4 to break the deadlock and win 16-12.
"I think we are confident individuals," Jones said. "Though we have a lot of team bonding and camaraderie, we feel like we can handle our own. We don't want to be the player that loses. We want it badly. We just have a lot of heart and guts. We showed it yesterday and today and we're going to bring it back tomorrow."
Aware of America's strength in depth, Alison Nicholas changed her tactics this year in order to help her team win the singles.
"I've always been aware that we've overplayed our players going into the singles, so I've rested players so they're fresh coming into the singles," Nicholas said.
Every European player has sat out at least one session, compared the U.S. where Cristie Kerr and Paula Creamer will play all five sessions. Indeed, Nicholas took the opportunity to sit out her strongest players in the penultimate session. Catriona Matthew, Anna Nordqvist and Sophie Gustafson all sat out the afternoon four-balls.
Nicholas is also backing Davies' approach. "They've got to go out there and be selfish and not look at the scoreboard. They've got to take care of their own business.
"We always knew it was going to come down to the singles. It's up to each individual now. They've got to get out there and win their point."
This is the best European team ever assembled, with strength in depth. It's time for the Europeans to assert themselves in the singles. Otherwise Nicholas will look back and rue the opening day of this Solheim Cup, when Europe blew a number of points down the closing holes that cost Nicholas a potentially three point advantage heading into the last day.
Will history repeat itself or is the start of a new European dawn?
Solheim Cup singles draw
10:10 a.m. – Paula Creamer vs. Catriona Matthew
10:20 a.m. –  Stacy Lewis vs. Sophie Gustafson
10:30 a.m. – Morgan Pressel vs. Anna Nordqvist
10:40 a.m. – Juli Inkster vs. Laura Davies
10:50 a.m. – Vicky Hurst vs. Mel Reid
11:00 a.m. – Brittany Lincicome vs. Christel Boeljon
11:10 a.m. – Brittany Lang vs. Sandra Gal
11:20 a.m. – Christina Kim vs. Maria Hjorth
11:30 a.m. – Michelle Wie vs. Suzann Pettersen
11:40 a.m. – Ryann O'Toole vs. Caroline Hedwall
11:50 a.m. – Angela Stanford vs. Azahara Munoz
12:00 p.m. – Cristie Kerr vs. Karen Stupples
Golfweek.com readers: We value your input and welcome your comments, but please be respectful in this forum.
---
---
---
---
---
---
---
---
---
---
---
---
---
---
---
---
---
---
---
---
---