Arkansas wins Challenge; Jaeger earns medalist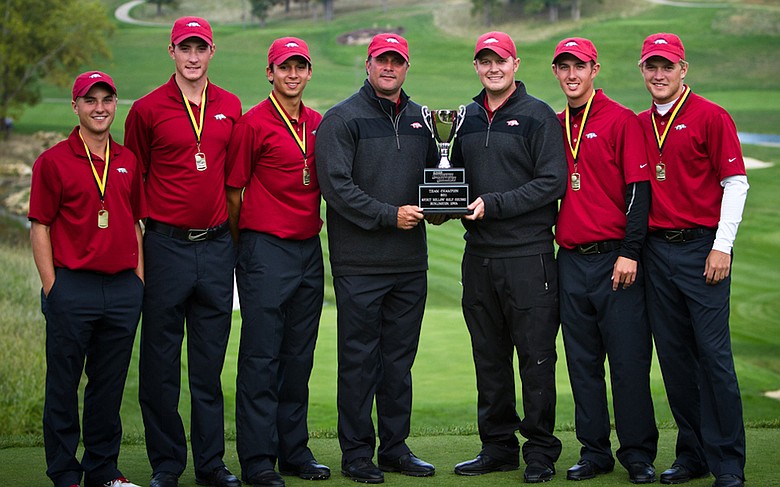 Tuesday, September 27, 2011
BURLINGTON, Iowa – Stephan Jaeger had built a comfortable lead at the Golfweek Conference Challenge. Errant shots forced the Chattanooga senior to produce final-hole dramatics to capture his second college title, though.
Jaeger held a three-shot lead over Arkansas' Josh Eure when they stepped to Spirit Hollow's 15th tee. Jaeger "chunked" a 3-iron into a water hazard on the 215-yard par-3, resulting in a double bogey. Another mis-hit to the right – this time with a 3-wood tee shot on the par-4 16th – resulted in another bogey. Jaeger had to hack out of tall grass, and his lead was gone when he failed to get up-and-down from about 30 yards short of the green.
Jaeger and Eure were tied on the 18th tee after Jaeger missed an 8-foot birdie putt on the 17th. Jaeger's 35-foot birdie putt on the final hole capped a wild back nine and gave him a one-shot victory.
"What I did on 18, I might do one out of 10 times," Jaeger said. "I got lucky enough that I did it this time."
He finished at 7-under 209 (67-69-73) in a wire-to-wire victory. He won his first collegiate title at last spring's LSU National Invitational.
Jaeger's tee shot on 18 at Spirit Hollow Golf Course landed in a hazard right of the fairway. He hacked out of tall grass on the riverbank, his ball running through the fairway and resting on the side of a hill in the rough. He hit 5-iron from 190 yards to 35 feet. It took him a full second to react after his final putt banged into the hole. His ball would have rolled several feet by had it not dropped.
"I thought I missed it left and then it kept breaking right and right and right," Jaeger said. "I actually couldn't believe it, because it was humming. I didn't realize until it was really down at the bottom that it went in. At that moment, you really don't feel a lot. It takes you a couple seconds to realize what you just did."
Eure was key to Arkansas' seven-shot victory in the team race. The Razorbacks, No. 9 in Golfweek's preseason rankings, also won the Gopher Invitational, giving them two consecutive victories to start the season.
"There's a lot of experience on this team," Arkansas head coach Brad McMakin said. "This is a little more experience than we've had in the past. The past couple years we've lost our best player. This year, we returned our top three players."
Those three players are Western Amateur champion Ethan Tracy, European Palmer Cup team member Sebastian Cappelen and Austin Cook, who finished 10th at last season's NCAA Championship. Arkansas' No. 4 and 5 players – Eure and freshman Kolton Crawford – played important roles in this week's victory.
"Good teams have guys step up," McMakin said.
Eure failed to qualify for the Gopher Invitational. He was the low Razorback at Spirit Hollow, and produced the team's most important round, a 4-under 68 in rainy, windy conditions during the second round. McMakin said that round was the reason the Razorbacks won the tournament. Eure's short game was key not just in those poor conditions, but throughout the week.
"It's just part of the game that's kept him from being a starter all the time," McMakin said. "He made it look easy. It's continuing to get better. I've been harder on him probably than anybody because I have a lot of expectations for him because he is so talented."
McMakin said Eure chipped "phenomenally" this week. A recent switch to the belly putter also improved Eure's short game. Crawford finished sixth, the second-best showing for Arkansas. His final-round 70 matched Arkansas' low round on the final day.
Jaeger also credited an improved short game for his good play at Spirit Hollow. Jaeger spends each summer working with his swing coach in his native Germany. The putter was one of their focuses this past summer. Jaeger has lived in the United States for the past six years. He studied two years at a Chattanooga-based boarding school, the Baylor School, before attending the in-town university.
Jaeger was the 2010 and 2011 Southern Conference player of the year and finished last season No. 60 in the Golfweek/Sagarin College Rankings. Advancing to the second round of the recent U.S. Amateur – he beat U.S. Walker Cup team member Blayne Barber in the first round – was a big boost to Jaeger's confidence, Chattanooga head coach Mark Guhne said.
"He's so much more confident over his putter than I've ever seen him before," Guhne said. "He feels like he's going to make putts."
He showed that at the Golfweek Conference Challenge, holing a long one at the perfect moment.
• • •
SCORES:
TEAMS
Arkansas 280-294-285–859 -5
Chattanooga 279-291-296–866 +2
Oklahoma State 283-289-295–867 +3
New Mexico 289-291-295–875 +11
California 288-296-294–878 +14
Iowa 283-294-302–879 +15
Ball State 295-291-297–883 +19
Georgia Tech 294-301-294–889 +25
New Mexico State 301-296-293–890 +26
Tulsa 294-306-292–892 +28
Kennesaw State 293-302-299–894 +30
Southeastern Louisiana 293-310-293–896 +32
North Texas 297-305-303–905 +41
Xavier 299-314-295–908 +44
UC Irvine 298-314-303–915 +51
INDIVIDUALS
Stephan Jaeger, Chattanooga 67-69-73–209 -7
Josh Eure, Arkansas 70-68-72–210 -6
Justin Shin, New Mexico State 70-74-68–212 -4
John Catlin, New Mexico 68-74-72–214 -2
Tyler Merkel, Ball State 73-70-71–214 -2
Kolton Crawford, Arkansas 72-73-70–215 -1
Sean Einhaus, Oklahoma State 68-69-78–215 -1
Gaston De La Torre, New Mexico State 72-72-72–216 E
James Erkenbeck, New Mexico 74-68-74–216 E
Max Homa, California 71-74-71–216 E
Sebastian Cappelen, Arkansas 70-77-70–217 +1
Benni Weilguni, Chattanooga 75-69-73–217 +1
Chris Brant, Iowa 70-73-75–218 +2
Talor Gooch, Oklahoma State 71-77-70–218 +2
Pace Johnson, California 70-72-76–218 +2
Matt Nagy, Kennesaw State 68-75-75–218 +2
Chris Worrell, Tulsa 76-72-70–218 +2
Anders Albertson, Georgia Tech 72-73-75–220 +4
Austin Cook, Arkansas 68-76-76–220 +4
Joe Gasser, Ball State 70-73-77–220 +4
James White, Georgia Tech 76-73-71–220 +4
Ian Davis, Oklahoma State 78-71-72–221 +5
Steven Ihm, Iowa 71-72-78–221 +5
Jeff Karlsson, Kennesaw State 74-74-73–221 +5
Barrett Kelpin, Iowa 72-74-75–221 +5
Michael Kim, California 72-76-73–221 +5
Philipp Westermann, Southeastern Louisiana 76-72-73–221 +5
Allan Jun, UC Irvine 73-76-73–222 +6
Drew Page, Oklahoma State 71-74-77–222 +6
Ian Vandersee, Iowa 73-75-74–222 +6
Bo Andrews, Georgia Tech 75-73-75–223 +7
T.J. Carpenter, Ball State 77-72-74–223 +7
Victor Perez, New Mexico 73-75-75–223 +7
Chris Robb, Chattanooga 69-78-76–223 +7
Joel Stalter, California 75-74-74–223 +7
Andre Tourinho, Tulsa 69-80-74–223 +7
Benjamin Bauch, New Mexico 74-76-74–224 +8
Kevin Dougherty, Oklahoma State 73-75-76–224 +8
Steven Fox, Chattanooga 70-80-74–224 +8
Sebastian MacLean, Xavier 73-81-70–224 +8
Daniel Zuluaga, Southeastern Louisiana 72-79-73–224 +8
Rodolfo Cazaubon, North Texas 74-75-76–225 +9
Carlos Ortiz, North Texas 76-74-75–225 +9
Tony Lazzara, Ball State 75-76-75–226 +10
Ethan Tracy, Arkansas 75-78-73–226 +10
Gavin Green, New Mexico 75-74-78–227 +11
Liam Johnston, Chattanooga 73-75-79–227 +11
John Young Kim, Tulsa 74-76-77–227 +11
Santiago Mejia, Southeastern Louisiana 72-78-77–227 +11
Chris Burger, Xavier 76-77-75–228 +12
Josh Jones, North Texas 74-77-77–228 +12
Matt Mabrey, Tulsa 76-79-73–228 +12
Arie Fauzi, Tulsa 75-79-75–229 +13
Pete Fernandez, UC Irvine 70-83-76–229 +13
Rhys West, Southeastern Louisiana 73-84-72–229 +13
Jimmy Beck, Kennesaw State 76-77-77–230 +14
Sam Curtis, Kennesaw State 80-76-74–230 +14
Yuki Kato, Xavier 74-82-74–230 +14
Seth Reeves, Georgia Tech 71-86-73–230 +14
Zachery Fullerton, New Mexico State 79-74-78–231 +15
Cosme Beamonte, New Mexico State 81-76-75–232 +16
Mickey Chan, UC Irvine 73-82-77–232 +16
Jonathan Klotz, Kennesaw State 75-81-77–233 +17
Korey Ward, Xavier 82-75-76–233 +17
Curtis Donahoe, North Texas 74-85-75–234 +18
Bradley George, Iowa 70-84-80–234 +18
Juan Munoz, North Texas 75-79-80–234 +18
Grady Brame, Southeastern Louisiana 79-81-75–235 +19
Tanapol Vattanapisit, Xavier 76-81-79–236 +20
Brandon Hagy, California 80-81-76–237 +21
Ollie Schniederjans, Georgia Tech 76-82-79–237 +21
Alex Stinson, Ball State 84-76-81–241 +25
Derek Baade, New Mexico State 80-81-81–242 +26
Zack Duan, UC Irvine 82-76-84–242 +26
Golfweek.com readers: We value your input and welcome your comments, but please be respectful in this forum.
---
---
---
---
---
---
---
---
---
---
---
---
---
---
---
---
---
---
---
---
---