Virginia trending upward after season-opener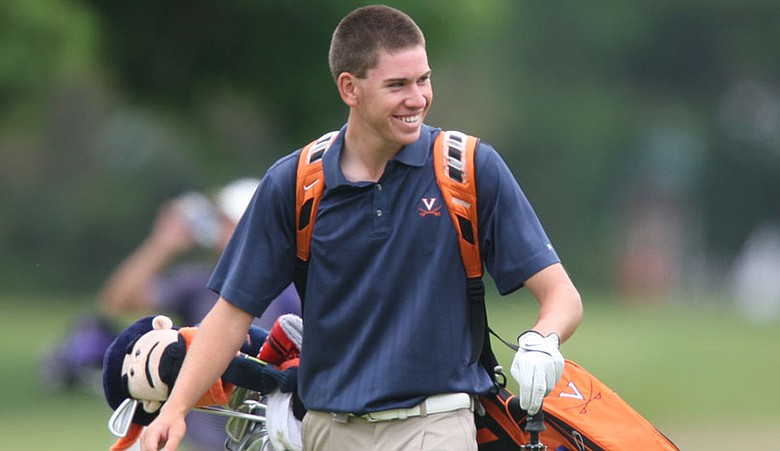 Wednesday, September 28, 2011
Yes, it's only one tournament – and the first of the new season to boot.
However, it was an impressive start for head coach Bowen Sargent and his Virginia Cavaliers – one they hope will lead to bigger and better things.
The Cavs kicked off their 2011-12 campaign in style this week at the VCU Shootout at Hermitage Country Club in Manakin-Sabot, Va.
With four players finishing in the top 11 individually, Virginia posted the best team score in each of the last two rounds, shot 27-under 837 and won by seven strokes over East Carolina. For the Cavs, it was the best team score in school history, topping the 22-under 830 total at the 1992 Stanford Shootout.
"It was a great win and a great start to our season," said Sargent, now in his eighth year at the Virginia helm. "But we have a long season ahead of us, and I don't want to put the cart before the horse."
The victory continues the steady climb the Virginia program has had under Sargent.
In 2005-06, the Cavs finished 71st in the final Golfweek/Sagarin Rankings. The next two seasons, they were 67th and 64th, respectively. They cracked the top 50 (No. 49) in 2008-09 and ended the last two seasons at No. 21.
With a strong core returning and some talented freshmen coming in, Virginia was No. 18 in this year's Golfweek preseason rankings.
"My philosophy, and that of our entire coaching staff, is to recruit kids who want to work hard and have high goals and expectations," Sargent said. "We recruit kids who want to get better.
"It's been a steady progression," he said. "It's been fun to be a part of it and watch it develop."
In his first three seasons, the Cavaliers did not make it to the NCAA postseason. "We just didn't have the horsepower," Sargent said.
Virginia has competed the NCAA regionals the past three seasons, and two years ago the Cavs made an impressive showing at the NCAA Championship at The Honors Course in Tennessee, missing a spot in the Elite Eight match-play portion of the event by one stroke.
"That showing at The Honors set the bar for our progress," Sargent said. "So last year was a bit of a disappointment when we didn't make it out of regionals (eighth-place finish). That was kind of a wake-up call for us."
This season, Sargent and the Cavs have set the bar high and carry plenty of confidence that they can reach that level.
"For a while, our goal was to get to the NCAAs; now we not only want to get there, we want to get to match play," Sargent said. "We also want to win the ACC. That's something Virginia has never done. It's a very strong conference, but I feel we have a chance to do that."
The Cavs' senior leader is Ben Kohles, who tied for fourth at the VCU Shootout with freshman teammate Denny McCarthy. Both shot 8-under 208. Senior Bruce Woodall and junior Mac McLaughlin tied for 11th at 4-under 212.
"Ben is a two-time ACC Player of the Year and obviously very talented," Sargent said. "And our younger guys are really motivated and push our team.
"Ben and Denny feed off each other's energy, and it carries over to everyone else. They definitely give us a very strong 1-2 punch at the top of the lineup," he said.
The rest of the fall schedule has the Cavs at the Bank of Tennessee at The Ridges on Oct. 14-16, at the U.S. Collegiate Championship in Georgia on Oct. 23-25 and at The Gifford in California on Oct. 31-Nov. 2.
By then, Sargent and his squad should have a pretty good idea if they are headed in the right direction.
"We'll just have to see what happens," Sargent said. "But I do know this: This group of guys wants to put Virginia golf back to where we all feel it belongs – among the best in the country."
Golfweek.com readers: We value your input and welcome your comments, but please be respectful in this forum.
---
---
---
---
---
---
---
---
---
---
---
---
---
---
---
---
---
---
---
---
---