Tait: Solheim Cup was golf at its best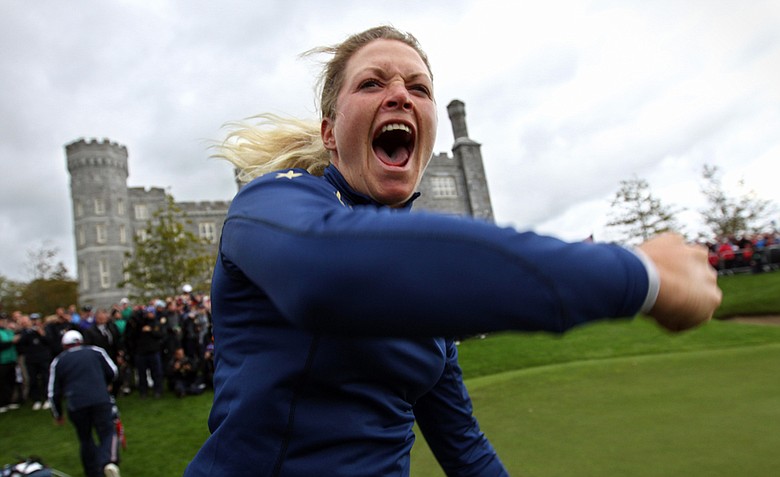 Friday, September 30, 2011
I'm still buzzing over the Solheim Cup. So much so that I actually watched it again when I got back from Ireland. It was just as exciting three days later as it was last Sunday.
---
Photo Gallery
Solheim Cup 2011: Day 3 in pictures
Check out images from Sunday's singles action in Ireland.
---
---
Photo Gallery
Solheim Cup 2011: Day 2 in pictures
Photos from the second day of the 2011 Solheim Cup, where the Americans rallied to tie the match, 8-8.
---
---
Photo Gallery
Solheim Cup 2011: Day 1 in pictures
Check out player and fan images from Day 1 in Ireland.
---
I left Ireland feeling very positive about the game we all love, and the women's game in particular. Here are some observations from three wonderful days in Ireland.
1. The format is just fine. There's been talk in recent years of including Asian players and turning the Solheim into a competition pitting the United States against the rest of the world. Such chatter would have continued had the U.S. won the Cup for a fourth consecutive time. That conversation no longer needs to take place.
2. Europe has strength in depth. Previous European Solheim Cup victories were predicated on captains relying on a core group of players to carry the load, much the same as with previous Ryder Cups. This match was different. Europe was so deep that Alison Nicholas had the luxury of resting players. No European played in every session. The play of rookies Azahara Munoz, Christel Boeljon, Caroline Hedwall, Mel Reid and Sandra Gal was impressive and augurs well for future matches.
3. Pride is a great motivator. The Solheim went up against the final version of the FedEx Cup. Only difference was the 30 millionaires in Atlanta were playing for an outrageous sum of money, while the girls at Killeen were playing for pride. And guess which one had more passion? You guessed it, the Solheim Cup. And you didn't need a calculator. (Note to PGA Tour: Simplify the FedEx system so those of us without a PhD in advanced mathematics can figure it out. Please!)
4. This match should inspire. There are already signs of good young amateurs coming through the European ranks. Charley Hull, Lauren Taylor, Sally Watson, the Maguire twins, Sophia Popov, Madelene Sagstrom and Marta Silva, to name a few, look like potential Solheim Cup players one day. Hopefully more will have been inspired by what happened in Ireland.
5. Europeans can play singles. Perhaps the most rewarding aspect of this Solheim Cup was how the Europeans played in the final singles session. Long the underdogs in this format, it was the Europeans who looked better in the head-to-head play. As Karen Stupples said, "This proves we can stand toe to toe with the best Americans."
6. Europe can handle pressure. Europe normally folds under the pressure in the Solheim Cup. That was certainly true on the first day when the Europeans seemed to crumble down the stretch. Fast forward to Sunday and it was the Europeans who soaked it up under the gun. They needed results from the last three matches and got them. "It's the first time we looked like we were dead and buried and we've come back and actually won it," Laura Davies said. "We had three matches left on the course, and we needed a result from all of them."
7. Checkbooks please. Hopefully potential sponsors were watching and will get their checkbooks out and sponsor women's golf. The Ladies European Tour has done well to put on 26 tournaments this year in 20 countries. Hopefully Europe's win will help make the LET stronger so that good young players have a viable tour to play on in future.
8. The fans should be proud. I only witnessed one incident of bad sportsmanship over three days. Other than that the rivalry between fans was good–natured. The atmosphere on the first tee was electric, and a great advertisement for the game.
9. Pick up the pace please. The one negative of the week was the pace of play. It was torturous. The last match on Friday featuring Suzann Pettersen and Anna Nordqvist against Cristie Kerr and Michelle Wie took five hours and 37 minutes. That's an hour and 37 minutes too long. The LET and LPGA need to do something about pace of play or it will kill the game.
10. Roll on Colorado. I was so taken with this Solheim Cup that I can't wait for the return match in Colorado in two years time. If you want three days of exciting entertainment, then start planning your trip now.
Golfweek.com readers: We value your input and welcome your comments, but please be respectful in this forum.
---
---
---
---
---
---
---
---
---
---
---
---
---
---
---
---
---
---
---
---
---