Junior Boys
Kim fires 66 to lead at Gary Woodland Championship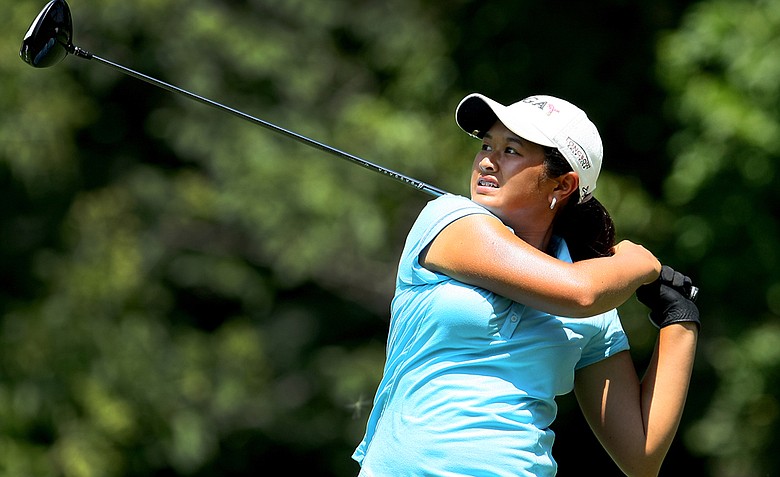 Sunday, April 22, 2012
David Kim torched the Diablo Grande Golf & Country Club in Patterson, Calif. on Saturday, firing a 6-under 66 to take a three-shot lead at the Under Armour/Gary Woodland Championship.
Meanwhile, Andrea Wong, Lilia Vu and Pailin Ruttanasupagid fired even-par 71s to share the lead on the girls side.
The boys play the 36-hole, stroke-play event at par 72, while the girls are a par 71.
An eagle at No. 5 highlighted Kim's round, making up for an opening bogey.
Kim is three shots ahead of Jack Chung and four ahead of Andrew Whalen, Tharusyan Pillay, Ben Schlotman and Kevin Murphy.
Ruttanasupagid and Vu picked up three birdies on Saturday, while Wong had five.
• • •
Quick facts about the tournament
• Seven states are represented
• Players from Australia, Brazil, Canada, China, Mexico, South Korea and Thailand
• 8 players have signed Div. 1 Letters of Intent
• The boys defending champ is Julian Lerda of Argentina, while Kendall Prince of Oregon won the girls competition in 2011.
• Gary Woodland, No. 65 in the World Golf Rankings currently, is hosting his first AJGA event. Woodland is one of four pros that will host an event on the AJGA circuit in 2012, joining Hunter Mahan, Vicky Hurst and Steve Marino.
• • •
The field
• BOYS
Joseph Ahn
Matthew Ashley
Soungjae Baek (South Korea)
Andrej Bevins
Taylor Bromley
Landon Brown
Jeff Carney
William Chae
Jonathan Chang
Michael Choe
Steven Sunwoo Choi
Christopher Chu
Jack Chung (South Korea)
Jin Ho Chung (Brazil)
Sebastian Crampton
Cameron Davison
Justin De los Santos
Michael Decker
Ben Doyle
Hale Furey
Frank Garber
Ian Hagener
Ryan Han
Jonny Hogan
Michael Hong
Franklin Huang
Tanner Hughes
Johnny Hyun
Andrew Kennedy
Bradley Keyer
David Kim
John YounSung Kim
Ryan Knop
Joseph Ko
Jonathan Lai
KK Limbhasut (Thailand)
Clayton Madey
Cole Madey
Brandon Mai
Mitchell Martin
Troy Maxoutopoulis
Mike McGilton
Evan McLeod
Kevin Murphy
Tharusyan Pillay
Donalddong Qiu (China)
Christian Rajcic
Hunter Rappleye
Sulman Raza
Ryan Rhee
Gustavo Romero
Randy Ross
Travis Rowney
Ben Schlottman
Hayden Shieh
Bryan BeomCheol Shin (South Korea)
Léven Simon-Seay
Zachary Smith
Justin Suh
Barrett Taylor
Brandon Tsujimoto
Andre Vu
Andrew Whalen
David-wookyeon Won (South Korea)
Dylan Wu
Clayton Yamaguchi
Edwin Yi
• GIRLS
Jocelyn Chia
Lauren Diaz-Yi
Nina Fairbairn
Brittany Fan
Avery French
Mariel Galdiano
Muni He (China)
Marissa Hinchman
Lauren Kim
Kaylyn King
Danielle Lee
Paige Lee
Euna Pak
Grace Park (South Korea)
Pailin Ruttanasupagid (Thailand)
Sara Scarlett
Kelsey Ulep
Lilia Vu
Crystal Wang
Alexandra Wong
Andrea Wong
Michelle Xie
Tiffany Yau
Angel Yin
Michelle Yom
Anna Zhou
Wanasa Zhou (Australia)
Golfweek.com readers: We value your input and welcome your comments, but please be respectful in this forum.
---
---
---
---
---
---
---
---
---
---
---
---
---
---
---
---
---
---
---
---
---