Rodriguez thinks of home, but not before advancing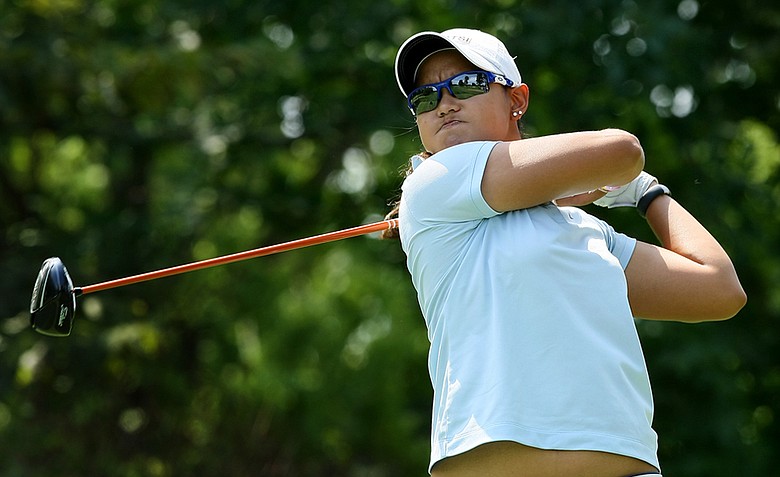 Wednesday, August 8, 2012
CLEVELAND –- Call Cyna Rodriguez's Wednesday morning match against Ani Gulugian a Pac-12 showdown. But at the end of the U.S. Women's Amateur, UCLA's Gulugian is the only one who will return west. Instead, Rodriguez, a former USC player, is going home to play with the Philippine national team.
Rodriguez, who was on the USC roster during her freshman and sophomore seasons but was academically ineligible last year as a junior, says it was a simple case of wanting to concentrate entirely on golf.
"I can't balance school and golf," she said. "I can't do anything better in school or in golf, and it's pretty hard living away from home."
She will focus on competing with the Philippine national team in the fall. Next on her schedule is the Santi Cup, Taiwan Amateur and the Hong Kong Amateur with national teammates Jayvie Marie Agojo and Dottie Ardina. Rodriguez hopes to be selected to the three-woman team that will represent the Philippines at the World Team Amateur in September.
"My game is coming along," Rodriguez said. "I wasn't able to play any tournaments last year, and being back out here is fun. I'm not going to sacrifice another year without it."
With Rodriguez gone and Lisa McCloskey and Inah Park lost to graduation, the USC roster takes a hit. Rachel Morris, Sophia Popov and Doris Chen are the only returners from last year's NCAA Championship runner-up squad of five players. Freshman Kyung Kim will arrive in the fall and so will walk-on Kimberly Santiago. Annie Park will graduate from high school early and start at USC in January.
Rodriguez arrived at the Women's Amateur with her right knee buckled into a massive brace. Despite causing a bit of a limp – plus some aggravating tan lines and a few blisters – Rodriguez says it looks worse than it is. She has a torn meniscus that won't require surgery, just therapy. She still can jog without pain; it's only the twisting motion in her golf swing that hurts.
Rodriguez's summer has been full of match-play events. In the past two months, Rodriguez has played the Women's Western Amateur, North & South Women's Amateur and Women's Trans Mississippi Amateur, which might be why she looked so comfortable at the start of her match against Gulugian.
Rodriguez took the first lead at No. 3, then won four of five holes from Nos. 6 to 10 to get to 5 up. Seemingly buried, Gulugian made an improbable par at the 12th hole with a tricky up-and-down from behind the green to start a comeback. She birdied the next three holes, which included a 20-footerat No. 15 that went straight downhill ("I barely even breathed on it.").
Rodriguez continued to focus on hitting fairways and greens. It wasn't that she was making mistakes but that Gulugian was playing great golf.
"I don't really know what happened," Gulugian said. "I was hitting pretty good shots."
Gulugian could only cut Rodriguez's lead to one hole before running out of time. Both players parred out from No. 16, and Rodriguez advanced, 1 up.
"The last four holes, I was just like, 'OK, it's her run. Just keep it on the fairway, keep it on the green. If she holes it, then it's hers. Just stick to the game plan,' " she said.
• • •
ROUND OF 64
Hyo-Joo Kim def. Megan Khang, 7 and 6
Isabelle Lendl def. Whitney Hillier, 2 and 1
Cyna Rodriguez def. Ani Gulugian, 1 up
Nicole Zhang def. Jaclyn Jansen, 6 and 5
Natalie Gleadall def. Grace Na, 2 and 1
Jayvie Marie Agojo def. Emily Childs, 1 up
Maia Schechter def. Alina Ching, 4 and 3
Su-Hyun Oh def. Holly Clyburn, 4 and 2
Andrea Lee def. Alison Lee, 1 up
Jaye Marie Green def. Jenna Hague, 6 and 4
Lisa McCloskey def. Haley Millsap, 2 and 1
Lauren Diaz-Yi def. Jennifer Kirby, 22 holes
Madeleine Sheils def. Sierra Brooks, 3 and 1
Ashlan Ramsey def. Harin Lee, 6 and 5
Marijosse Navarro def. Kelly Shon, 3 and 2
Lee Lopez def. Casey Grice, 1 up
Lydia Ko def. Amy Beth Simanton, 4 and 3
Amy Anderon and Moriya Jutanugarn, 1 up
Celine Boutier def. Mathilda Poulsen, 4 and 3
Karen Chung def. Brooke Mackenzie Henderson, 4 and 3
Diana Fernandez def. Brogan McKinnon, 19 holes
Jessica Vasilic def. Yueer Feng, 4 and 3
Paula Reto def. McKenzie Neisen, 6 and 5
Bronte Law def. Chirapat Jao-Javanil, 3 and 2
Ariya Jutanugarn def. Jennifer Yang, 3 and 1
Bethany Wu def. Samantha Swinehart, 2 and 1
Breanna Elliott def. Casey Danielson, 3 and 2
Ashlee Dewhurst def. Alexandra Papell, 6 and 5
Sarah Beth Davis def. Emily Tubert, 3 and 2
Austin Ernst def. Dottie Ardina, 4 and 3
Erynne Lee def. Minjee Lee, 5 and 4
Elisabeth Bernabe def. Demi Frances Runas, 1 up
Golfweek.com readers: We value your input and welcome your comments, but please be respectful in this forum.
---
---
---
---
---
---
---
---
---
---
---
---
---
---
---
---
---
---
---
---
---