Vasilic has the game to back up her 6-foot-3 frame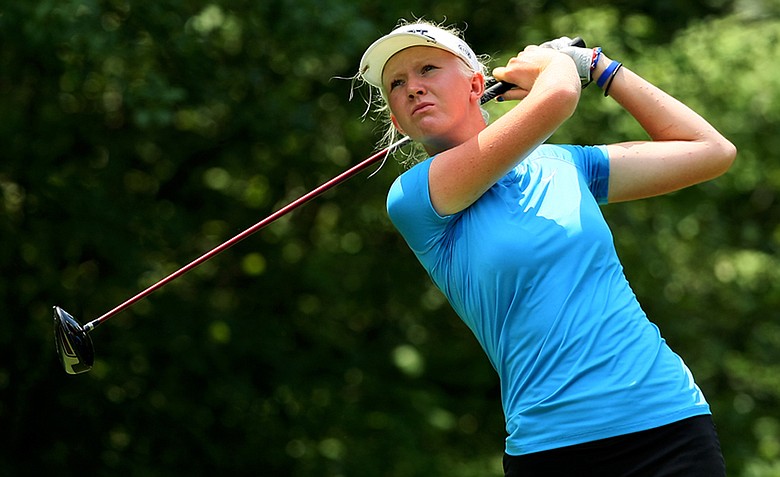 Wednesday, August 8, 2012
CLEVELAND - Jessica Vasilic doesn't look 16 years old. She doesn't speak like a girl barely old enough to drive either.
The 6-foot-3-inch blond Swede who calls herself a "Cali girl" easily could stand at the net at tonight's Olympic gold-medal match in beach volleyball and not look out of place. Volleyball happens to be her second favorite sport. Golf is the first.
---
Photo Gallery
2012 U.S. Women's Amateur: Round of 64
Check out images from the first round of match play at the U.S. Women's Amateur in Cleveland.
---
"There's nothing like playing an independent game like golf," said Vasilic, who lives in Anaheim Hills, Calif. "You win on your own and lose on your own."
Vasilic took command of her first-round match at the U.S. Women's Amateur on the 10th hole and ran away from China's Yueer Feng, taking four consecutive holes on Nos. 10-13.
"From there, it was a nice walk," said Vasilic, a 4-and-3 winner.
Vasilic moved to California from Sweden at age 4. Her grandfather, now 81, taught her the game. Because carts aren't allowed in Sweden, he now plays six-hole rounds. She admires his grit.
A rising senior at Canyon High School, Vasilic committed to the University of Arizona in large part because the school produced LPGA greats Annika Sorenstam and Lorena Ochoa. Vasilic has played in Sorenstam's AJGA event in Orlando and gave Sorenstam's daughter, Ava, one of her old Swedish children's books as a gift.
Vasilic was a finalist at last year's AJGA Polo Invitational and wishes Americans had as many match-play tournaments as the Europeans. With her dual citizenship, she technically could play on both continents.
This week, Vasilic will hit a number of 3-woods off the tee at The Country Club. She can poke a 3-wood 250 yards and her driver around 280. The strength of her game, however, is putting. She's a big fan of 6-footers.
Vasilic has worked with Don Brown during the last five years. Brown worked for years with Angela Park, who once had one of the best swings on the LPGA.
Next up for Vasilic: Auburn's Diana Fernandez. Keep an eye on the leggy blonde.
Just look up.
• • •
CHILDS PLAY: Emily Childs gets to ride in the front seat and choose the radio station after advancing to match play at the U.S. Women's Amateur. She's one semester away from graduating from Cal-Berkeley, but that means nothing when it comes to a matter as serious as music selection.
"I can't listen to 'One Direction' anymore," said Childs, 22, who has side bets with little sister, Carly.
The Childs sisters played in the same USGA event for the first time this week at the Women's Amateur. Carly, 18, came in two strokes lower than Emily at their local qualifier, sending Emily into a playoff. She survived, and they made their way to Cleveland with mom, Sandra, the one behind the wheel.
Emily takes great joy in telling the story of how her parents met. Sandra was just taking up golf and showed up at a local driving range. John Childs, a mini-tour player, offered to give her swing tips. Needless to say, Sandra spent the rest of her weekends watching golf rather than playing it. The Childs sisters seemingly were destined to play the game.
The pair are competitive but close.
"We play for ice cream, but then we both get it," Emily said.
Emily lost on the 18th hole Tuesday to Pepperdine's Jayvie Marie Agojo, who made a clutch up-and-down from left of the green. She has one more semester left at Cal to graduate and will go to LPGA Q-School in 2013.
Meanwhile, Carly will follow in Emily's footsteps to Cal this fall, playing first in Japan at the Topy Cup. They grew up about 40 minutes from the Berkeley campus, 20 minutes if mom isn't driving.
"It's, like, ideal," Carly said of their college setup.
Ice cream for everyone.
• • •
HO-LEE MO-LEE: Two first-round matches featured all-Lee pairings. Andrea Lee took down her AJGA Wyndham Cup roommate Alison Lee with a 7-foot birdie putt on the 18th hole. Alison Lee was runner-up at the U.S. Girls' Junior to Minjee Lee.
Minjee Lee squared off against UCLA's Erynne Lee in the day's penultimate match. Erynne won handily, 5 and 4.
• • •
ROUND OF 64
Hyo-Joo Kim def. Megan Khang, 7 and 6
Isabelle Lendl def. Whitney Hillier, 2 and 1
Cyna Rodriguez def. Ani Gulugian, 1 up
Nicole Zhang def. Jaclyn Jansen, 6 and 5
Natalie Gleadall def. Grace Na, 2 and 1
Jayvie Marie Agojo def. Emily Childs, 1 up
Maia Schechter def. Alina Ching, 4 and 3
Su-Hyun Oh def. Holly Clyburn, 4 and 2
Andrea Lee def. Alison Lee, 1 up
Jaye Marie Green def. Jenna Hague, 6 and 4
Lisa McCloskey def. Haley Millsap, 2 and 1
Lauren Diaz-Yi def. Jennifer Kirby, 22 holes
Madeleine Sheils def. Sierra Brooks, 3 and 1
Ashlan Ramsey def. Harin Lee, 6 and 5
Marijosse Navarro def. Kelly Shon, 3 and 2
Lee Lopez def. Casey Grice, 1 up
Lydia Ko def. Amy Beth Simanton, 4 and 3
Amy Anderson and Moriya Jutanugarn, 1 up
Celine Boutier def. Mathilda Poulsen, 4 and 3
Karen Chung def. Brooke Mackenzie Henderson, 4 and 3
Diana Fernandez def. Brogan McKinnon, 19 holes
Jessica Vasilic def. Yueer Feng, 4 and 3
Paula Reto def. McKenzie Neisen, 6 and 5
Bronte Law def. Chirapat Jao-Javanil, 3 and 2
Ariya Jutanugarn def. Jennifer Yang, 3 and 1
Bethany Wu def. Samantha Swinehart, 2 and 1
Breanna Elliott def. Casey Danielson, 3 and 2
Ashlee Dewhurst def. Alexandra Papell, 6 and 5
Sarah Beth Davis def. Emily Tubert, 3 and 2
Austin Ernst def. Dottie Ardina, 4 and 3
Erynne Lee def. Minjee Lee, 5 and 4
Elisabeth Bernabe def. Demi Frances Runas, 1 up
Golfweek.com readers: We value your input and welcome your comments, but please be respectful in this forum.
---
---
---
---
---
---
---
---
---
---
---
---
---
---
---
---
---
---
---
---
---