Women's Am: Anderson knocks off elder Jutanugarn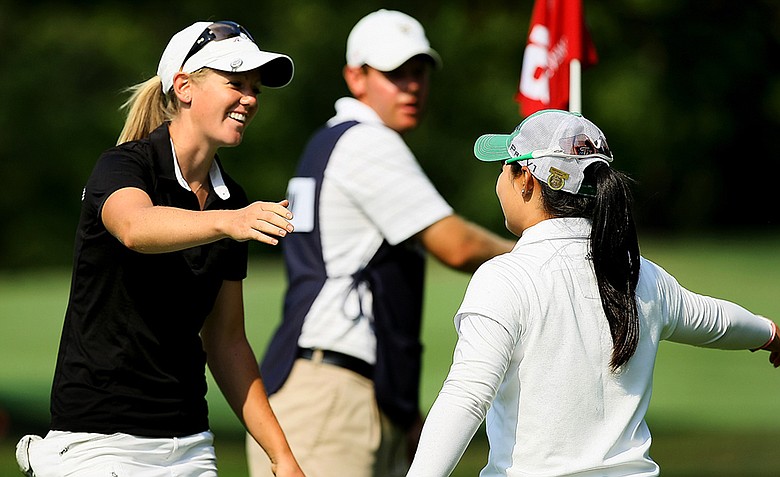 Wednesday, August 8, 2012
CLEVELAND – The night before her first-round match with Moriya Jutanugarn, Amy Anderson knew the next day would be something of a grudge match.
---
Photo Gallery
2012 U.S. Women's Amateur: Round of 64
Check out images from the first round of match play at the U.S. Women's Amateur in Cleveland.
---
Anderson had been in this position before. Jutanugarn knocked her out in a run to the final a year ago at the U.S. Women's Amateur before eventually falling to Danielle Kang. It is arguably the biggest amateur accomplishment of Jutanugarn's young career.
While it's hard to imagine that the smiling, blond Anderson or the equally affable Jutanugarn could hold a grudge against anyone – let alone each other – Wednesday's match at The Country Club was a tight one. It still ended in laughter, and soon after a tearful Jutanugarn was in Anderson's arms.
The final holes of that match were unlucky ones for Jutanugarn, and the day ended in Anderson's favor, 1 up. At no point did the match become more lop-sided than that.
"She's a phenomenal player, there's no doubt about that," Anderson said. "I knew that I had my work cut out for me, but it is good to get a win."
All square at No. 16 tee, Jutanugarn took a lead by holing out from a deep greenside bunker for birdie. From behind the green, only the top of Jutanugarn's head was visible when she got over the shot. The ball hung on the edge of the hole for a split second before dropping.
From there, Jutanugarn's drive at the 17th landed in a divot and she put her next shot in a bunker. She horse-shoed a par putt to fall back to all square. Another bunker at the 18th kept Jutanugarn from matching Anderson's birdie. And that's where her Women's Am redemption run ended.
As for Anderson, the Women's Am caps a summer that was good to her passport. Anderson compiled a 3-2 record for the U.S. team at the Curtis Cup in Nairn, Scotland, then represented the U.S. at the World University Games in the Czech Republic.
Anderson, a North Dakota State senior, loved the team environment in both events, and says her Curtis Cup experience helped her down the stretch at The Country Club. She made just two bogeys Wednesday, both set up by bad approach shots.
"When I get down, I tend to get a little bit too aggressive, too fired up," she said. "I just need to relax and hit good shots and let them win it. I can't lose it."
• • •
ROUND OF 64
Hyo-Joo Kim def. Megan Khang, 7 and 6
Isabelle Lendl def. Whitney Hillier, 2 and 1
Cyna Rodriguez def. Ani Gulugian, 1 up
Nicole Zhang def. Jaclyn Jansen, 6 and 5
Natalie Gleadall def. Grace Na, 2 and 1
Jayvie Marie Agojo def. Emily Childs, 1 up
Maia Schechter def. Alina Ching, 4 and 3
Su-Hyun Oh def. Holly Clyburn, 4 and 2
Andrea Lee def. Alison Lee, 1 up
Jaye Marie Green def. Jenna Hague, 6 and 4
Lisa McCloskey def. Haley Millsap, 2 and 1
Lauren Diaz-Yi def. Jennifer Kirby, 22 holes
Madeleine Sheils def. Sierra Brooks, 3 and 1
Ashlan Ramsey def. Harin Lee, 6 and 5
Marijosse Navarro def. Kelly Shon, 3 and 2
Lee Lopez def. Casey Grice, 1 up
Lydia Ko def. Amy Beth Simanton, 4 and 3
Amy Anderson and Moriya Jutanugarn, 1 up
Celine Boutier def. Mathilda Poulsen, 4 and 3
Karen Chung def. Brooke Mackenzie Henderson, 4 and 3
Diana Fernandez def. Brogan McKinnon, 19 holes
Jessica Vasilic def. Yueer Feng, 4 and 3
Paula Reto def. McKenzie Neisen, 6 and 5
Bronte Law def. Chirapat Jao-Javanil, 3 and 2
Ariya Jutanugarn def. Jennifer Yang, 3 and 1
Bethany Wu def. Samantha Swinehart, 2 and 1
Breanna Elliott def. Casey Danielson, 3 and 2
Ashlee Dewhurst def. Alexandra Papell, 6 and 5
Sarah Beth Davis def. Emily Tubert, 3 and 2
Austin Ernst def. Dottie Ardina, 4 and 3
Erynne Lee def. Minjee Lee, 5 and 4
Elisabeth Bernabe def. Demi Frances Runas, 1 up
Golfweek.com readers: We value your input and welcome your comments, but please be respectful in this forum.
---
---
---
---
---
---
---
---
---
---
---
---
---
---
---
---
---
---
---
---
---