Kiwi Ko downs Jutanugarn, on to Women's Am final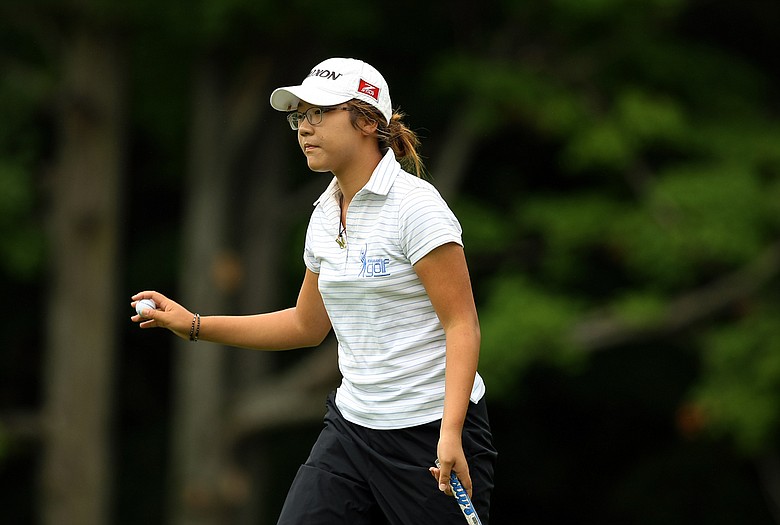 Saturday, August 11, 2012
CLEVELAND – A day's hard work behind her, Lydia Ko's plan for a rainy Saturday afternoon included little more than a nap. It's been a long few months for the 15-year-old New Zealander, now well into her second month of a U.S. amateur golf tour.
---
Photo Gallery
U.S. Women's Amateur: Semifinals
After a drizzly Saturday morning at the Country Club, only two players are left at the U.S. Women's Amateur. Lydia Ko defeated Ariya Jutanugarn while Jaye Marie Green defeated Nicole Zhang in the semifinals.
---
In a display of perhaps the best putting she owns, Ko, No. 1 in the World Amateur Rankings, took down World No. 2 Ariya Jutanugarn. Ko didn't miss a shot, and more importantly, she holed every putt she needed to hole.
On the eve of that highly anticipated match, Ko was convinced that if Jutanugarn won, she'd take over the top of the World Rankings. It's a spot Ko has held for more than a year. Turns out, there was no way to know.
Even with that thought running through her head, Ko found perspective.
"When I was going down (hole) one, I said, 'I'm going to get a medal for this,'" Ko said. All semifinalists get a medal.
Still, for all the hype involving the rankings – hype perhaps held over from the U.S. Girls' Junior three week ago, where this very match could have happened in the final – Saturday at The Country Club lacked explosiveness. Ko birdied the fourth to get to 1 up, and she held that lead for most of the morning.
It was a slow burn from there, until the 15th. Jutanugarn had a short birdie putt to square it, but Ko chipped in from the fringe. Jutanugarn sprayed her tee shot into the woods right of No. 16, three-putted for double bogey and fell to 2 down. When she found fescue left of the 17th green, the match ended in Ko's favor.
You could say Ko beat Jutanugarn at her own game. Jutanugarn can generally be counted on for a handful of birdie bombs. Saturday was the rare match in which she holed nothing.
"I've never played with Lydia Ko and I know why she is No. 1 in the ranking," Jutanugarn, 16, said after the match. "She putts so good."
Ko had mother Tina on the bag for help with clubbing. Even though Tina doesn't play golf, she's very familiar with Ko's game. Ko read her own putts. She had already gotten the scouting report on Jutanugarn from friend Lauren Diaz-Yi, who lost earlier this week in the second round of match play.
"Before I played today, I asked my friend, 'How far does (Jutanugarn) go?'" Ko said. "She said 290 yards. I go 250."
Ko's tour of the States began with a start in the U.S. Women's Open she earned courtesy of her place atop the World Rankings. She's been hanging near Cleveland since the U.S. Girls' Junior, playing and practicing at nearby courses. When she woke up to drizzly conditions this morning, she felt the day already was in her favor. Ko is used to this type of weather back home in New Zealand.
Longtime swing coach Guy Wilson also helped her arrive at that mindset. Ko and Wilson have spoken or texted every day since this tournament began. Wilson traveled to the U.S. to be with Ko during the Women's Open, but has since gone home.
Ko, who will be the second-youngest finalist in the history of this event, claims she's not an accomplished scholar, but what awaits tomorrow against Jaye Marie Green is simple math. Ko's chances are 50-50, which aren't bad in the final match of what she considers to be the best amateur event in the world. Having to face Jutanugarn lent credence to that thought.
"It just shows that we're all good players," she said. "I guess I'll see tomorrow."
• • •
SEMIFINALS
Jaye Marie Green def. Nicole Zhang, 2 up
Lydia Ko def. Ariya Jutanugarn, 3 and 1
Golfweek.com readers: We value your input and welcome your comments, but please be respectful in this forum.
---
---
---
---
---
---
---
---
---
---
---
---
---
---
---
---
---
---
---
---
---