Stroke-play medalist Wyatt seems unstoppable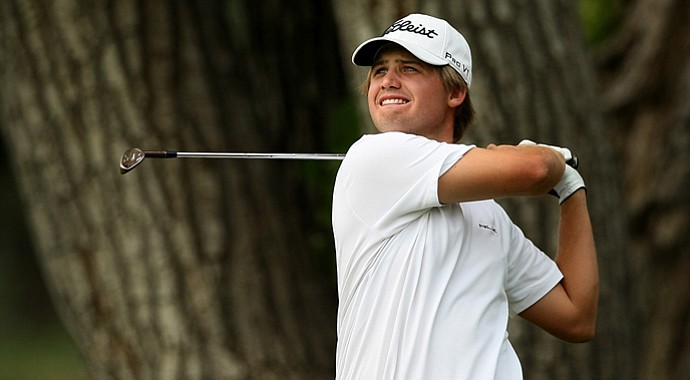 Wednesday, August 15, 2012
---
Photo Gallery
2012 U.S. Amateur: Round of 64
Images from the Round of 64 at Cherry Hills Country Club.
---
CHERRY HILLS VILLAGE, Colo. – The Wyatt Express keeps on roaring along.
After tying the U.S. Amateur medalist stroke-play record on Tuesday with a 9-under 132, Bobby Wyatt of Mobile, Ala., again kicked his engines into high gear and rolled to a 4-and-2 victory over Taylor Hancock of Clearwater, Fla., in Wednesday's opening round of match play at Cherry Hills Country Club.
"Winning the (stroke-play) medal is a great honor, but I came out here to do well in match play, and my main focus today was my first match," said Wyatt, a junior at Alabama and a third-team All-American last season.
"I didn't really play my best today, but definitely played well enough," Wyatt said. "I was confident in my game coming into the week, and even though I gave a couple of holes away today, I still had confidence in the way I'm playing."
Wyatt, the No. 1 seed, won the second hole with a birdie. Hancock, who gained the 64th and final match-play position after surviving a 17-man playoff for 14 spots earlier in the day, evened things up by winning the next hole.
Wyatt then won No. 6 with a par and No. 7 with a birdie to go 2 up. He drained a 25-footer for birdie at No. 9 to take a 3-up lead at the turn. He won the 11th with a birdie, but lost 12 with a bogey.
He got it right back by winning the 13th with a par. Hancock kept the match alive by winning No. 15 with a par, but Wyatt closed it out one hole later with a birdie.
"I tried to give myself as many birdie opportunities as possible, but I know par is a good score out here," Wyatt said. "Right now I'm not looking at the bracket and down the line. I'm just staying focused on who I play in my next match."
For Wyatt, that would be Australian Matthew Stieger, who beat Jade Scott on Wednesday, 7 and 5.
Wyatt's play this week is a continuation of his outstanding summer. After winning the Sunnehanna Amateur, Wyatt tied for fifth at the Northeast, was fourth at the Dogwood, second at the Players and second (losing in a playoff) at the Southern.
His only hiccup came at the Western Amateur and really only on his first nine holes. He was 5 over after his first seven holes and ended up shooting 4-over 76. He came back with a 69, but his 145 total left him one shot shy of finishing among the top 40 scores and ties and advancing to the match play.
"I was disappointed with my start at the Western," Wyatt said, "but I think I've rebounded well from last week."
• • •
ROUND OF 64
Bobby Wyatt def. Taylor Hancock, 4 and 2
Matthew Stieger def. Jade Scott, 7 and 5
Justin Thomas def. Barry Dyche, 3 and 1
Max Homa def. Corey Conners, 5 and 4
Devin Miertschin def. Drew Evans, 3 and 2
Bobby Leopold def. Michael Kim, 20 holes
Oliver Gross def. Michael Miller, 19 holes
Devon Purser def. Sebastian Vazquez, 4 and 3
Adam Schenk def. Oliver Schniederjans, 2 and 1
Patrick Duncan Jr. def. Nicholas Reach, 1 up
Ricardo Gouveia def. Eric Frazzetta, 4 and 3
Michael Weaver def. Zac Blair, 2 and 1
Patrick Rodgers def. Justin Spray, 3 and 2
Thomas Pieters def. Jordan Spieth, 1 up
Albin Choi def. Mackenzie Hughes, 2 and 1
Steven Fox def. Jeff Osberg, 3 and 2
Douglas Hanzel def. Andrew Biggadike, 3 and 2
Zack Munroe def. Michael Schoolcraft, 19 holes
Todd White def. Jonathan De Los Reyes, 3 and 1
Edouard Espana def. Curtis Thompson, 1 up
Justin Shin def. Brad Valois, 1 up
Chris Williams def. Peter Williamson, 3 and 2
Adam Stephenson def. Carlos Ortiz, 1 up
Cheng-Tsung Pan def. Evan Bowser, 4 and 3
Gavin Green def. Derek Ernst, 3 and 1
Talor Gooch def. T.J. Mitchell, 5 and 3
Andrew Presley def. Bryson Dechambeau, 19 holes
Brandon Hagy def. Denny McCarthy, 19 holes
Paul Misko def. Kenny Cook, 20 holes
Patrick Newcomb def. Richard Lamb, 2 and 1
Michael Hebert def. Todd Sinnott, 6 and 4
Golfweek.com readers: We value your input and welcome your comments, but please be respectful in this forum.
---
---
---
---
---
---
---
---
---
---
---
---
---
---
---
---
---
---
---
---
---