Trio of Golden Bears cruises through Round of 64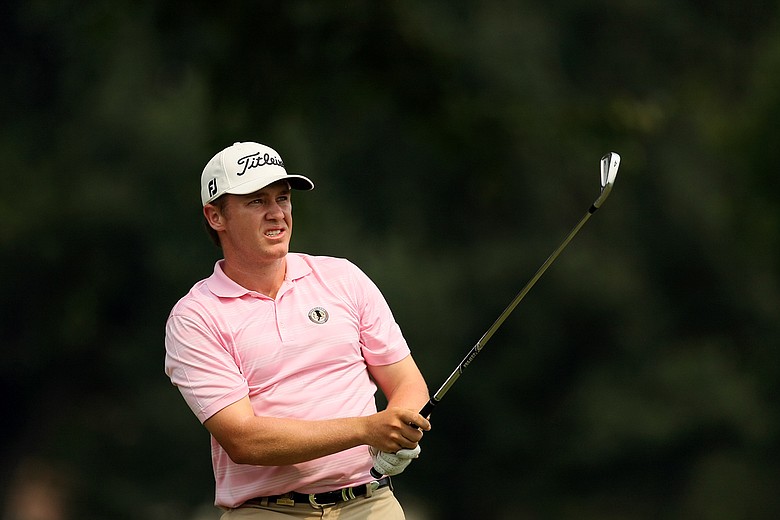 Wednesday, August 15, 2012
---
Photo Gallery
2012 U.S. Amateur: Round of 64
Images from the Round of 64 at Cherry Hills Country Club.
---
CHERRY HILLS VILLAGE, Colo. – Michael Weaver extended a fist to Cal teammate Brandon Hagy as Hagy walked to Cherry Hills' first tee, offering a bit of support for a friend looking to complete a comeback.
When Hagy made his 12-footer for birdie to win the 19th hole and the match, Weaver simply said, "That's no surprise." Hagy has a history of clutch putts, including a 20-footer on the final green of this year's Pac-12 Championship that helped Cal to its first conference title.
He's one of three Golden Bears in the U.S. Amateur's Round of 32, joining Weaver and Max Homa. A fourth Bear, Michael Kim, played in the first round, but he lost to Bobby Leopold in 20 holes.
The Cal trio's success Wednesday is an extension of Cal's successful season. The Golden Bears were No. 6 in last season's Golfweek/Sagarin College Rankings after winning the Pac-12 and NCAA West Regional titles, and advancing to the NCAA Championship's semifinals. "I don't think we have a superstar," Homa said. "We're just solid top-to-bottom. We have a decent amount of experience. We all seem to be pretty tactical. We're a bunch of thinkers."
Homa, a 2010 U.S. Amateur quarterfinalist, is a senior, while Weaver and Hagy are juniors. Weaver redshirted this past college season to gain admission to Cal's Haas School of Business, one of the nation's best; Hagy redshirted in the 2010-11 season for the same reason.
Hagy is one of college golf's longest hitters, needing just a 3-wood off the tee to hit his tee shot pin-high on the 339-yard, par-4 first hole. He chipped to 12 feet and made the putt for victory over Virginia's Denny McCarthy. This is Hagy's first time making match play at the U.S. Amateur. He was 2 down with two holes remaining, but won the par-5 17th after reaching the island green in two shots and parring Cherry Hills' finishing hole.
He said hitting the 17th green from 198 yards was the highlight of the match after McCarthy's second shot plugged in the hole's second set of bunkers. McCarthy's struggles had Hagy and father/caddie Richard debating whether to risk the shot. "I had to go for it," Hagy said. "To pull it off was awesome."
Hagy will face 23-year-old Paul Misko in the second round.
Homa won his first-round match easily, beating Kent State's Corey Conners, 5 and 4. Homa will face Alabama's Justin Thomas, the Haskins Award winner, in the second round. Homa beat him, 2 and 1, in the semifinals of this year's NCAA Championship. Homa was ninth in stroke play at this year's NCAA Championship.
Weaver beat BYU's Zac Blair, 2 and 1, Wednesday. Blair had finished fifth in stroke play here, and is the world's No. 45-ranked amateur. Weaver was 1 down at the turn, but closed out the match with a par at No. 17. Weaver will face Patrick Rodgers, a member of the 2011 Walker Cup team, in an extension of the Cal-Stanford rivalry.
"We have good team chemistry," said Weaver, who Monday qualified for this year's TPC Stonebrae Championship on the Web.com Tour. He shot 72-75 to miss the cut. "Everyone works hard and practices together. It's not five individuals. It's like a team feel."
• • •
ROUND OF 64
Bobby Wyatt def. Taylor Hancock, 4 and 2
Matthew Stieger def. Jade Scott, 7 and 5
Justin Thomas def. Barry Dyche, 3 and 1
Max Homa def. Corey Conners, 5 and 4
Devin Miertschin def. Drew Evans, 3 and 2
Bobby Leopold def. Michael Kim, 20 holes
Oliver Gross def. Michael Miller, 19 holes
Devon Purser def. Sebastian Vazquez, 4 and 3
Adam Schenk def. Oliver Schniederjans, 2 and 1
Patrick Duncan Jr. def. Nicholas Reach, 1 up
Ricardo Gouveia def. Eric Frazzetta, 4 and 3
Michael Weaver def. Zac Blair, 2 and 1
Patrick Rodgers def. Justin Spray, 3 and 2
Thomas Pieters def. Jordan Spieth, 1 up
Albin Choi def. Mackenzie Hughes, 2 and 1
Steven Fox def. Jeff Osberg, 3 and 2
Douglas Hanzel def. Andrew Biggadike, 3 and 2
Zack Munroe def. Michael Schoolcraft, 19 holes
Todd White def. Jonathan De Los Reyes, 3 and 1
Edouard Espana def. Curtis Thompson, 1 up
Justin Shin def. Brad Valois, 1 up
Chris Williams def. Peter Williamson, 3 and 2
Adam Stephenson def. Carlos Ortiz, 1 up
Cheng-Tsung Pan def. Evan Bowser, 4 and 3
Gavin Green def. Derek Ernst, 3 and 1
Talor Gooch def. T.J. Mitchell, 5 and 3
Andrew Presley def. Bryson Dechambeau, 19 holes
Brandon Hagy def. Denny McCarthy, 19 holes
Paul Misko def. Kenny Cook, 20 holes
Patrick Newcomb def. Richard Lamb, 2 and 1
Michael Hebert def. Todd Sinnott, 6 and 4
Golfweek.com readers: We value your input and welcome your comments, but please be respectful in this forum.
---
---
---
---
---
---
---
---
---
---
---
---
---
---
---
---
---
---
---
---
---