Two generations of Pleats make U.S. Am start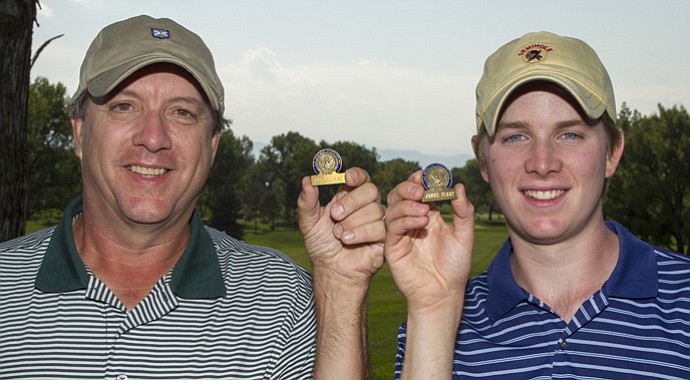 Wednesday, August 15, 2012
---
Photo Gallery
2012 U.S. Amateur: Round of 64
Images from the Round of 64 at Cherry Hills Country Club.
---
CHERRY HILLS VILLAGE, Colo. – Before each of its championships, the USGA asks participants to fill out a media information application, basically a bio sheet. Among the items requested by the USGA are a player's appearances and record in USGA Championships, top finishes in other tournaments and other golf highlights.
In that golf highlights section for this year's U.S. Amateur at Cherry Hills Country Club, Philip Pleat, a 56-year-old financial adviser with Merrill Lynch, wrote: "Caddying for my son last year (2011) in his first U.S. Amateur."
In that same section on his own bio, his son James Pleat, a 22-year-old senior at Dartmouth, wrote: "Caddying for my father last month at the 2012 U.S. Senior Open."
The two now have another little nugget to add should they be filling out such a form in the future: playing in the same U.S. Amateur as father and son.
That's what happened this week after Philip earned a spot in the starting field when he finished runner-up at the 2011 U.S. Senior Amateur, and James earned the third and final spot in a sectional qualifier at TPC River Highlands in Cromwell, Conn.
"I'm into senior golf now, but what a thrill it is for me to play here with my son (in the field) and all these fine young players in this great amateur championship," Philip said.
"When he got the exemption, I was like, 'I have to qualify' because I knew how much fun it would be," James said. "I was really feeling pressure to qualify. Dad caddied for me in the qualifier and really helped calm me down. It was great."
It also becomes part of U.S. Amateur history, marking only the fourth time a father-son duo has competed in the same amateur.
The first time was in 1958 when Dick Chapman, the 1940 U.S. Amateur champion, and Dixie Chapman, 16, competed when the championship was strictly match play (no on-site qualifying). In 1988, Brett Quigley and his son Paul competed together, and in 2001, Michael Derminio and his father David were in the field.
For the Pleats, especially Philip, playing at Cherry Hills made the occasion even more special.
It was here that, in 1990, Philip played in his first of six U.S. Amateurs. He was 34 that year, and though he didn't qualify for match play, it was a memorable week. Phil Mickelson won the title.
"When I was here for my first U.S. Amateur, my wife was unable to attend because she was expecting our second child within two weeks and the doctor didn't want her to travel," Philip said. "While I didn't make match play, I did make it home before the birth of my son, James. And now the two of us are here. How special is that?"
Philip was the oldest player in this year's U.S. Amateur starting field, and even though he's never made match play at this championship, he does have an impressive tournament record, in particular in New Hampshire. A 1978 graduate of the University of New Hampshire, he has won 14 state golf association championships and in 1978 made it to the Round of 16 at the U.S. Amateur Public Links.
James, who will captain this season's Dartmouth team, won the New Hampshire Junior in 2006 and the state high school title in 2008. In his first U.S. Amateur last year with dad on his bag – played at Erin Hills just outside of Milwaukee – he missed match play by one shot.
The success of Philip and James should come as little surprise as golf runs deep in the Pleat family. James' grandfather, Thomas J. Leonard Jr. – his mother's father, who died before James was born – was one of the great amateurs around New England. He won numerous New Hampshire Amateur titles and played in the U.S. Amateur. James' older sister Jennie, 25, played on her high school's boys team.
"Then with all the things my dad has done in golf, it really is kind of special," James said. "That's one of the reasons I was so glad to have made it this year, to try to carry on the family golf legacy."
Neither Pleat advanced to the 64-player match-play field. Philip opened with an 11-over 82 at Cherry Hills and was unable to finish his second round, at CommonGround. He withdrew during the back nine due to illness. James shot 2-over 72 to start at CommonGround, but a 3-over 74 at Cherry Hills left him at 5-over 146, three shots shy of making a playoff for the final spots.
Both left the Denver area a bit disappointed. But they also left knowing they have a family memory that will last a lifetime.
• • •
ROUND OF 64
Bobby Wyatt def. Taylor Hancock, 4 and 2
Matthew Stieger def. Jade Scott, 7 and 5
Justin Thomas def. Barry Dyche, 3 and 1
Max Homa def. Corey Conners, 5 and 4
Devin Miertschin def. Drew Evans, 3 and 2
Bobby Leopold def. Michael Kim, 20 holes
Oliver Gross def. Michael Miller, 19 holes
Devon Purser def. Sebastian Vazquez, 4 and 3
Adam Schenk def. Oliver Schniederjans, 2 and 1
Patrick Duncan Jr. def. Nicholas Reach, 1 up
Ricardo Gouveia def. Eric Frazzetta, 4 and 3
Michael Weaver def. Zac Blair, 2 and 1
Patrick Rodgers def. Justin Spray, 3 and 2
Thomas Pieters def. Jordan Spieth, 1 up
Albin Choi def. Mackenzie Hughes, 2 and 1
Steven Fox def. Jeff Osberg, 3 and 2
Douglas Hanzel def. Andrew Biggadike, 3 and 2
Zack Munroe def. Michael Schoolcraft, 19 holes
Todd White def. Jonathan De Los Reyes, 3 and 1
Edouard Espana def. Curtis Thompson, 1 up
Justin Shin def. Brad Valois, 1 up
Chris Williams def. Peter Williamson, 3 and 2
Adam Stephenson def. Carlos Ortiz, 1 up
Cheng-Tsung Pan def. Evan Bowser, 4 and 3
Gavin Green def. Derek Ernst, 3 and 1
Talor Gooch def. T.J. Mitchell, 5 and 3
Andrew Presley def. Bryson Dechambeau, 19 holes
Brandon Hagy def. Denny McCarthy, 19 holes
Paul Misko def. Kenny Cook, 20 holes
Patrick Newcomb def. Richard Lamb, 2 and 1
Michael Hebert def. Todd Sinnott, 6 and 4
Golfweek.com readers: We value your input and welcome your comments, but please be respectful in this forum.
---
---
---
---
---
---
---
---
---
---
---
---
---
---
---
---
---
---
---
---
---