Fitzpatrick cruises to British Boys Amateur win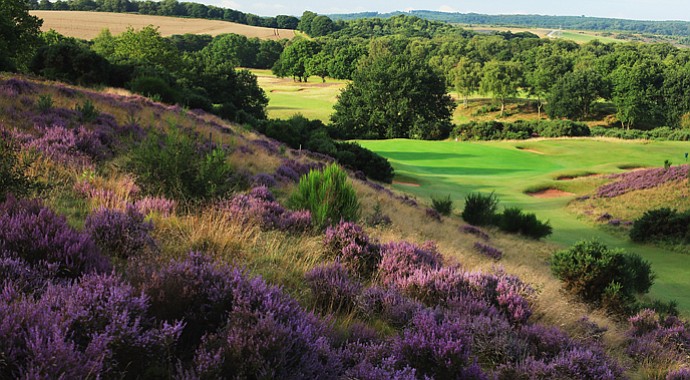 Monday, August 20, 2012
KIRKBY-IN-ASHFIELD, England – Matthew Fitzpatrick didn't even have to break sweat over the closing stages of the British Boys Amateur Championship final at Notts Golf Club. A nine-hole lead at lunchtime made sure of that.
The 17-year-old Englishman from Hallamshire Golf Club in Sheffield, England, recorded the biggest victory in the British Boys since Sandy Lyle lost 10 and 9 to TR Shannon in 1974 at Royal Liverpool. Fitzpatrick didn't quite match that score but he came close. He defeated Henry James of Wales 10 and 8 to win the title. It is fourth-highest victory since the championship began in 1921.
A 6-under 66 in the morning round allowed the affable Englishman to coast to victory after lunch. He was content to play the front nine in level par and wait to see if James made a move. The Welshman didn't, missing crucial birdie putts on the first two holes that might have made the difference.
Even a James eagle at the 547-yard, par-5 third to reduce the deficit to eight holes couldn't stop Fitzpatrick. The Englishman got the hole back at the fourth when James bogeyed and he cruised from there. The match ended when Fitzpatrick holed a 10-foot birdie putt at the 10th to put James out of his misery.
"I was a bit apprehensive this afternoon but I felt if I could just steady the ship really the first few holes and keep my lead to no worse than seven then I would be okay," Fitzpatrick said. "When I went 10 up at the sixth, I felt incredibly happy. I knew then I could just guide it in really.
"I really feel for Henry because that's the best I've played all week. He was unlucky with his putts and you could tell he was getting frustrated."
Fitzpatrick won the Selborne Salver earlier this year. He began working with Pete Cowen's assistant Mike Walker two years ago, and feels Walker helped him win against older opposition in the Selbourne.
College coaches shouldn't quite get their hopes up that Fitzpatrick will join the college ranks. There were about seven college coaches in attendance at this year's Championship. No doubt Fitzpatrick would fit into most college programs.
"I've got one more year of school left. I need to improve on a couple of grades then have a year off and see if my golf improves. If not then I might go to college."
James is the current Welsh junior champion. He might have given a better account of himself if his putter had matched his long game. "I holed nothing all day," James said. "That's what it comes down to. I should have holed out at the first, the second, the fourth and the fifth this afternoon and didn't. After that I was just not going to come back from nine down. I was just trying to make it respectable."
Fitzpatrick is the third Englishman in the last four year to win the British Boys. He will play for Great Britain & Ireland in the Jacques Leglise Trophy against Continental Europe next month as an extra reward for winning the 86th version of the British Boys.
• • •
ROUND OF 64
Romain Langasque def. Pavan Sagoo, 2 up
Alasdair McDougall def Philipp Matlari, 2 and 1
Max Greyersman def. Sean Flanagan, 3 and 2
Renato Paratore def. Dominik Pietzch, 2 and 1
Matthias Schwab def. Gianmaria Rean Trinchero, 4 and 3
Yannik Paul def. Anthony Blaney, 2 and 1
Alexander Matlari def. Thomas Perrot, 21 holes
Jack Singh-Brar def. Ryan Pope, 5 and 4
Matthew Fitzpatrick def. Kenny Subregis, 4 and 3
Luigi Botta def. Maximilian Oelfke, 2 up
Nicolas Manifacier def. Mateusz Gradecki, 3 and 2
William Whiteoak def. Max Mehles, 20 holes
Ashton Turner def. Haydn McCullen, 4 and 3
Emil Soegaard def. Matthew Pearson, 20 holes
Morten Schroetgens def. Robert Burlison, 3 and 2
Liam Taylor def. Bradley Moore, 2 and 1
Ryan Thomas def. Andrew Davidson, 3 and 2
Maximilian Boegel def. Paul McBride, 1 up
Leo Lespinasse def. Yohann Cauwenbergh, 1 up
Nick Marsh def. Alexandre Daydou, 5 and 4
Pierre Mazier def. Jacopo Guasconi, 3 and 2
Toby Tree def. Angus Carrick, 2 and 1
Oscar Granstrom-Livesey def. Greig Marchbank, 4 and 3
Nick Ward def. Patrick Kelly, 19 holes
James Rooney def. Joseph Hague, 6 and 5
Jamie Savage def. Ryan Cornfield, 1 up
Adam Chapman def. Jeppe Kristian Andersen, 2 up
Liam Cox def. Michele Cea, 1 up
Henry James def. Simon Zach, 1 up
Jordan Hood def. Marcel Ohorn, 7 and 6
Zach Galliford def. Bradley Neil, 1 up
Max Orrin def. Sean Blinkhorn, 4 and 3
ROUND OF 32
McDougall def. Langasque, 2 and 1
Paratore def. Greyersman, 1 up
Schwab def. Paul, 3 and 2
Singh-Brar def. Matlari, 2 and 1
Fitzpatrick def. Botta , 2 up
Whiteoak def. Manafacier, 3 and 2
Turner def. Soegaard, 1 up
Schroetgens def. Taylor, 4 and 3
Boegel def. Thomas, 3 and 2
Marsh def. Lespinasse, 2 up
Mazier def. Tree, 19 holes
Granstrom-Livesey def. Ward, 2 and 1
Savage def. Rooney, 2 up
Cox def. Chapman, WD
James def. Hood, 1 up
Orrin def. Galliford, 2 and 1
ROUND OF 16
McDougall def. Paratore, 1 up
Schwab def. Singh-Brar, 3 and 2
Fitzpatrick def. Whiteoak, 6 and 4
Schroetgens def. Turner, 2 and 1
Marsh def. Boegel, 5 and 4
Mazier def. Granstrom-Livesey, 6 and 4
Savage def. Cox, 3 and 2
James def. Orrin, 1 up
QUARTERFINALS
McDougall def. Schwab, 23 holes
Fitzpatrick def. Schroetgens, 5 and 4
Mazier def. Marsh, 1 up
James def. Savage, 1 up
SEMIFINALS
Fitzpatrick def. McDougall, 3 and 1
James def. Mazier, 2 and 1
FINAL
Fitzpatrick def. James, 10 and 8
Golfweek.com readers: We value your input and welcome your comments, but please be respectful in this forum.
---
---
---
---
---
---
---
---
---
---
---
---
---
---
---
---
---
---
---
---
---