College Men
Men's preview: Patriot League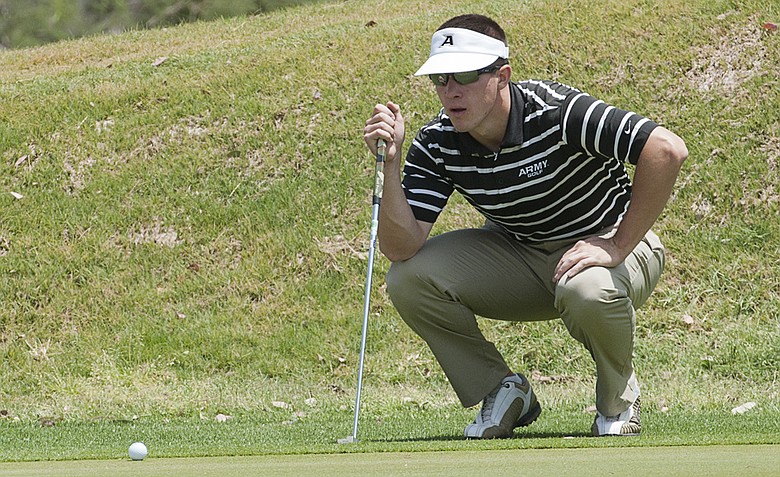 Monday, February 6, 2012
Last fall was a bit of a learning curve for Army head coach Brian Watts.
Despite leading the Black Knights to the 2011 Patriot League men's golf championship in his first season with the school, the former Oregon State coach saw his squad struggle during the first half of Year 2.
After a strong start, which included a runner-up finish at the Bucknell Fall Invitational, Army closed the fall with two last-place tournament finishes, a pair of tri-match losses and a dual-match loss to Navy.
"We got clocked," said Watts, who led Oregon State to a 16th-place finish at the NCAA Championship in his last year with the school. "We flat out didn't perform. We shot some terrible numbers and that's part of the growth that we have to go through for our program to get better."
Watts said bad scheduling was partly to blame for his team's poor performance down the stretch.

Army closed the fall with events in three consecutive weeks. The Eagles had just two practices during the final three weeks of the fall where every player was present. And sophomore Brandon Baerwaldt, who led the team with a 74.1 stroke average through the first two events, missed the final four.
"I take a lot of the blame for that," Watts said. "I believed I overscheduled. They weren't used to playing three weeks in a row. At Army, if you miss class, it takes a toll on you. I don't want to put our guys in that situation where their having to chose between going to class and going to practice.
"We won't run into that situation again."
Heading into the spring, the Black Knights have four tournaments leading up to the conference championship in late April, including a trip to Tucson, Ariz., in March for the National Invitational Tournament.
The spring slate also features a stop in Raleigh, N.C., in April for the N.C. State Wolfpack Open – a tournament that includes Navy, which beat Army twice during the fall.
"The one thing here that I've learned is that you don't really have to tell them when they lose to Navy," Watts said. "Our guys know they're good."
Watts said that despite his team's title as the defending conference champion, the Black Knights won't be the favorite when they arrive at Bucknell GC on April 28.
"I think it's a toss-up," Watts said. "If we do everything we're supposed to do, the outcome will take care of itself. But if we don't take care of the little things and do our work every day, then we can't step on the tee box and feel like we deserve to an opportunity to win a tournament."
• • •
Top of the class: Navy
Best player this fall: Carter Rufe, Lafayette
• • •
Past champions
2007: Bucknell
2008: Navy
2009: Bucknell
2010: Lafayette
2011: Army
• • •
Conference capsules
Navy (Golfweek/Sagarin Ranking: No. 228)

Rehoboth Beach Invitational title highlighted a fall season that included a runner-up finish and four more top 10s. August Jonas and David Hall played a team-high 15 rounds for Navy, which has an 18-man roster.

Army (No. 250)

Highlight of fall was a runner-up finish at the Bucknell Invitational in September. Army also notched a sixth, 14th and 15th in three other fall tournaments to go along with a pair of tri-match third-place finishes and a dual loss to Navy.

Bucknell (No. 255)

Bison recorded two top 5s and four top 10s in four fall tournaments. Bucknell carded a fall-best 3-over 291 in the final round of the Joe Agee Invitational in October.

Colgate (No. 257)

Colgate turned in two top 5s last fall, including a runner-up finish at the Lehigh Invitational in October. Brian McCormick's 75.1 stroke average led three other golfers with sub-76 averages.

Lafayette (No. 263)

Played in eight fall events and notched three top 5 tournament finishes.

Lehigh (No. 266)

Opened and closed the fall season with sixth-place finishes. Other two finishes were 15th and 11th.

Holy Cross (No. 269)

Won Assumption Shootout in October and bookended the fall with a season-opening seventh at the Blue Devil Invitational and a fourth at the NEIGA Championship.

Conference championship

April 28-29, Bucknell GC, Lewisburg, Penn.

Lance Ringler's prediction

Army. Navy is ranked as the top team in the Patriot League, but Army - who is just behind its rival in the Patriot League standings - played the toughest schedule this past fall and that will help them this spring in its quest to make it back-to-back conference championships.
• • •
Complete coverage
Wondering how your favorite conference is shaping up headed into the spring season? Who is our favorite to pick up the automatic qualifier? Check out our conference-by-conference break down with our complete coverage page here.
• • •
Going social with Golfweek
Want to follow our college gurus on Twitter? Here are some quick links:
• You can follow blogger Asher Wildman here
• You can find Lance Ringler's college Twitter feed here
• Check out Ryan Lavner's witty commentary here
• For the latest on golf in social media, as well as college and junior news, check out D.J. Piehowski on Twitter here.
• And follow all of college golf on Facebook by clicking here
Golfweek.com readers: We value your input and welcome your comments, but please be respectful in this forum.
---
---
---
---
---
---
---
---
---
---
---
---
---
---
---
---
---
---
---
---
---