College Men
Men's preview: Southern Conference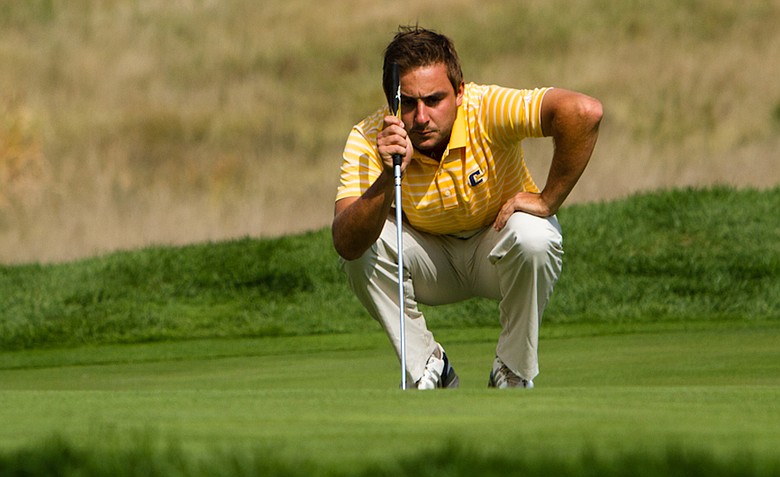 Friday, February 10, 2012
Stephan Jaeger's rise to national prominence can be attributed to a number of factors. Sure, it was a change in mind-set, a belief that if he someday wanted to be a professional, he needed to grind on the course like one. And, yeah, it probably was the natural evolution of his game, which for years was fueled by pure ballstriking. But the real reason behind Jaeger's success during his senior season at Chattanooga can be traced back to a little piece of plexiglass.
Let's explain: Jaeger always has been a standout performer for the Mocs, even since his first year on campus, in 2008, when he was named the conference's freshman of the year. He's been named player of the year in back-to-back seasons, and last year was 60th in the Golfweek/Sagarin rankings. Those are impressive accolades for a resume, of course, but as Chattanooga coach Mark Guhne says: "He's finally realized what he needed to do to take that next step."
That meant shoring up his short game.
Guhne says Jaeger sometimes will stand on the same spot on the putting green for hours -- like, four or five hours. That can kill the grass. So, instead of sacrificing the quality of the team's practice facility, Guhne will walk up to Jaeger, slide a sheet of Plexiglass under the player's feet, then attend to other team matters. Jaeger's putting, as a result, never has been better.
"It's awfully hard to outwork Stephan," Guhne said.
In mid-September, after Jaeger's disappointing finish at the Carpet Capital (T-14, his worst result of the fall), Guhne placed a call to instructor Ken Williams in Germany to report on his prized student. The message, in sum: Stephan needs to "hang in there" a little differently, or, in golf terminology, turn a 75 into a 72.
"Once he gives 100 percent of his attention to his round, when he's completely focused, then he's always been pretty doggone good," Guhne said.
When that message was relayed later to Jaeger, everything seemed to click. The next week, at the Golfweek Conference Challenge, he won in a playoff.
"That week in Iowa," Guhne said, "it sort of set in, like, I am this good."
• • •
Top of the class: Chattanooga
Best player this fall: Stephan Jaeger, Chattanooga
• • •
Past champions
2007: Chattanooga
2008: Chattanooga
2009: Chattanooga
2010: Furman
2011: Georgia Southern
• • •
Conference capsules
Chattanooga (Golfweek/Sagarin Ranking: No. 27)

No finish worse than sixth and a pair of runner-up finishes propel the Mocs to the top of the conference.

UNC-Greensboro (No. 86)

Schizophrenic fall -- T-7, 2nd, 8th, T-12 -- makes you wonder how good this team really is.

Georgia Southern (No. 87)

Eagles show promise but still unable to take that next step, finishing third (twice) in five starts.

College of Charleston (No. 91)

Encouraging finish, with a fifth and third in the Cougars' final two events of the fall.

Davidson (No. 119)

It's been a struggle against the top 100 this year: 4-26. Thus, Wildcats no better than 6th in four starts.

Samford (No. 124)

Up-and-down fall for the Bulldogs, with their runner-up finish at the season-opening Francis Marion Invite their lone highlight.

Furman (No. 131)

Paladins have been paced by senior Matt Broome, who has a win and two other top-14 finishes.

Appalachian State (No. 163)

Win at the 17-team Hummingbird Invite stands out among five middling results.

Western Carolina (No. 190)

Three finishes outside the top 12 shows plenty of room for improvement for the Catamounts.

Wofford (No. 211)

Work to do here; no finishes inside the top 10 in four starts last fall.

Elon (No. 214)

Played a full slate in the fall (six events), and the Phoenix posted back-to-back finishes to start.

Conference championship

April 15-17, Ralston Creek, Daniel Island, S.C.

Lance Ringler's prediction

Chattanooga. Led by All-American candidate Stephan Jaeger, at times the Mocs played like a top team in the country this past fall. Winning the Southern Conference is well within Chattanooga's reach. And after losing the last two after a three-peat, the motivation to get back on top of the SoCon should be there.
• • •
Complete coverage
Wondering how your favorite conference is shaping up headed into the spring season? Who is our favorite to pick up the automatic qualifier? Check out our conference-by-conference break down with our complete coverage page here.
• • •
Going social with Golfweek
Want to follow our college gurus on Twitter? Here are some quick links:
• You can follow blogger Asher Wildman here
• You can find Lance Ringler's college Twitter feed here
• Check out Ryan Lavner's witty commentary here
• For the latest on golf in social media, as well as college and junior news, check out D.J. Piehowski on Twitter here.
• And follow all of college golf on Facebook by clicking here
Golfweek.com readers: We value your input and welcome your comments, but please be respectful in this forum.
---
---
---
---
---
---
---
---
---
---
---
---
---
---
---
---
---
---
---
---