Women's preview: Southern Conference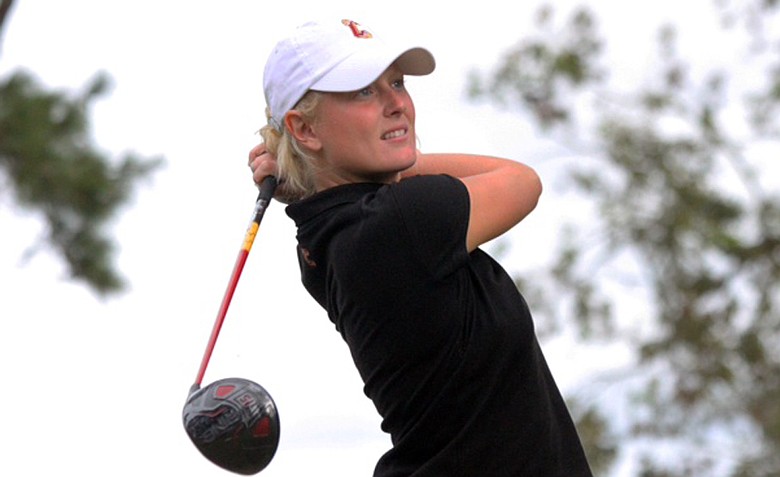 Friday, February 10, 2012
College of Charleston simply is not deep enough to overcome serious bouts of illness, injury and fatigue. It was the story of the fall for the Cougars.
Head coach Jamie Futrell watched his already short roster shrink with the loss of Anna Martin, first to a wrist injury and then to an appendectomy. About the same time, senior standout Leigh Whittaker traveled to Austria to play the UNIQA Ladies Golf Open on the Ladies European Tour (she gained an exemption by winning the Austrian Amateur during the summer). Upon return, jetlag and classroom catch-up left a fatigued Whittaker short of where she had been in the spring.
"That's kind of how the fall went. We just never could get all the pieces together," Futrell said. "I think we're better than what our ranking is and everybody knock on all the wood that I can find that everyone stays healthy. If so, we could have a good spring."
As the second half of the season draws near, Futrell notes that every indication from early practice sessions is that the Cougars' roster will be intact. It might even lead to a changing of the Southern guard, so to speak.
Chattanooga typically has dominated in the Southern Conference, earning the NCAA automatic qualifying spot out of the league for the past two years. The Mocs graduated the top two players in the conference last spring, and it gave other Southern contenders a bit of hope.
Based on recent history, College of Charleston might be in the best position for an upset. The Cougars finished runner-up to Chattanooga each of the past two years, and Futrell returns the same lineup that went to the East Regional as freshmen (and one sophomore) in 2010.
"It's a wide-open field this year," Futrell said. "Whoever is playing the best when they get there I think will be able to win. Hopefully that's us."
• • •
Top of the class: Chattanooga
Best player in the fall: Fanny Cnops, UNC-Greensboro
• • •
Past champions
2007: Western Carolina
2008: Furman
2009: Furman
2010: Chattanooga
2011: Chattanooga
• • •
Conference capsules
Chattanooga (Golfweek/Sagarin Ranking: No. 67)

Lost its top two players to graduation last spring (they also happened to be the top two players in the conference). A heavily international roster will try to win a third consecutive SoCon title this spring.

UNC-Greensboro (No. 77)

Along with Chattanooga and College of Charleston, very capable of grabbing the SoCon AQ. A team on the rise, UNCG got a third-place finish at the Great Smokies Intercollegiate, its best team finish in two years, then built upon that with third- and fourth-place finishes to end the season.

Furman (No. 82)

Felt the loss of Stephanie Kenoyer. Someone will need to fill her shoes for Furman to have a shot at conference glory—no player was the low Paladin scorer more than once in the fall and the best team finish was a seventh-place at home.

Samford (No. 85)

Won Jacksonville State's event to start the fall then won a team scorecard playoff for the top spot at the Memphis Tiger Invite (came back from seven shots down to do it). A team that seems likely to be overlooked, but one that includes Georgia Women's Am champion Sarah Butts and WAPL qualifier Natalie Mitchell.

College of Charleston (No. 88)

Battled sickness and fatigue in the fall with a short roster, but an experienced group of juniors led by lone senior Leigh Whittaker. Futrell says SoCon Championship site fits his players' games.

Western Carolina (No. 117)

Played a fall of small events, but finished runner-up in season-opening Great Smokies Intercollegiate. Will stay in the Southeast for the fall, conference championship will be a good test.

Elon (No. 145)

Finished T-2 in the nine-team Terrier Intercollegiate but the season drifted downhill after that. Four top 5s (including a win( out of this squad last season and only lost one senior in the spring. This team has more talent than it showed in the fall.

Appalachian State (No. 168)

Back-to-back top 5s at Winthrop and Charleston Southern in the middle of the fall season. Lots of experience on this squad, and junior Lauren Smith is a solid frontwoman.

Wofford (No. 172)

A season of extreme highs and lows: Runner-up and a T-5 mixed in between 14th- and 15th-place finishes. A good mix of old and new players on the Terrier roster.

The Citadel (No. 222)

Struggled to find rhythm in the fall, but give the Bulldogs credit for going up against tough competition in the Southeast. Roster a little lacking in depth.

Conference championship

April 15-17, Moss Creek GC, Hilton Head Island, S.C.

Lance Ringler's prediction

UNCG. This one will be close and maybe one of the more competitive conference championships with as many as five teams that think they could win. I am going with UNCG, which finished the fall with a league best 61-25-1 head-to-head won-loss-tie record.
• • •
Complete coverage
Wondering how your favorite conference is shaping up headed into the spring season? Who is our favorite to pick up the automatic qualifier? Check out our conference-by-conference break down with our complete coverage page here.
• • •
Going social with Golfweek
Want to follow our college gurus on Twitter? Here are some quick links:
• You can follow blogger Asher Wildman here
• You can find Lance Ringler's college Twitter feed here
• Follow women's college golf with Julie Williams here
• And follow all of college golf on Facebook by clicking here
Golfweek.com readers: We value your input and welcome your comments, but please be respectful in this forum.
---
---