College Men
Men's preview: Southland Conference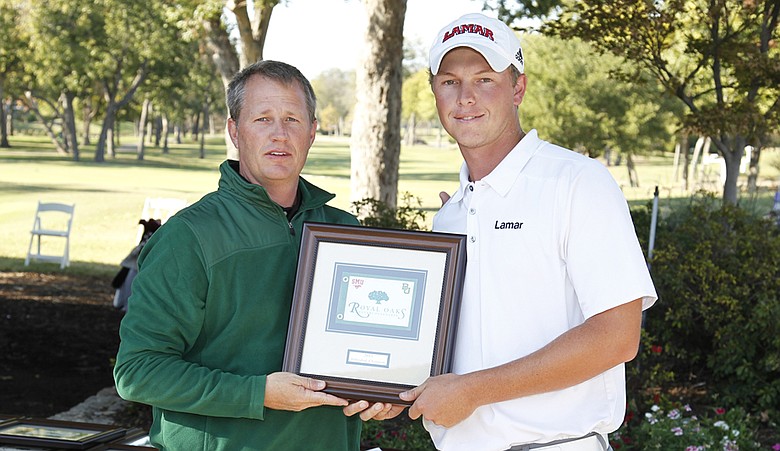 Friday, February 10, 2012
A successful spring season, which included being named the 2011 Southland Conference Player of the Year, didn't organically translate into an equally successful fall for Lamar senior M.J. Daffue. Rather, it was a wake-up call from coach Brian White that shook Daffue, originally from South Africa, out of an early season slump.
Instead of including Daffue as part of the team competition at the Royal Oaks Intercollegiate in Dallas, Texas, White thought that playing him as an individual was the right thing to do. He also thought it would have an impact on the senior's mental game, which is equally important as his physical game and needed to be tested.
Describing his positive outlook going into the tournament, Daffue said, "Rather than sit out, I decided I was going to enjoy this tournament and look at it like a it was a casual round of golf."
However, the round was anything but casual, as Daffue won the individual title and, at 11-under 201, established a 54-hole tournament record. But since his score didn't count toward the team total, Lamar came in T-7 in a field that included winner Texas A&M and Duke, the second-place team finisher.
White believes this sacrifice at Royal Oaks was a small price to pay for a greater payoff later in the season; that is, an improved mental game on Daffue's part.
"Having my score contribute to the team would have been nice, but you really can't expect to play in every tournament," Daffue explained. "You may be the No. 1 or 2 player on your team, but it's still a privilege to get to go to tournaments and compete against some of the best college players in the country."
Daffue's humble, level-headed attitude, coupled with a heightened sense of confidence – the silver lining to his bittersweet victory at Royal Oaks – will serve him well going forward in the Cardinals' spring season which includes the upcoming Callaway Farms Invitational, as well as at the Southland Conference Championship and potential vie at NCAA Regionals.
"We have a tough schedule coming up this spring. But if my seniors play like they're supposed to, we will survive and meet our goals of winning the conference and getting to regionals" White said.
• • •
Top team from the fall: Lamar
Top player from the fall: Paul McConnell, UTA
• • •
Past champions
2007: Lamar
2008: Lamar
2009: Lamar
2010: SE Louisiana
2011: Texas-Arlington
• • •
Conference capsules
Lamar (Golfweek/Sagarin Ranking: No. 63)

Kevin Hesbois has been great for the Cardinals this fall, collecting two top-five finishes, while 2011 Southland Conference champion M.J. Daffue and Xavier Feyaerts have helped round out the lineup for Lamar. The Cardinals' highlight of the fall was a second-place finish at the David Toms.

SE Louisiana (No. 73)

The Lions weren't able to breakthrough with a team victory in the fall, but they did have a second-place finish at the Santa Clara Cabo Intercollegiate and a third at the Squire Creek Invitational. Unfortunately, Southeast Louisiana finished outside the top 10 in their other two events this fall.

UT-Arlington (No. 80)

It was a solid fall for the defending conference champions, with all of their finishes coming inside the top five, except for a seventh-place finish against a good field at the Brickyard. Paul McConnell earned his second collegiate victory at the Fighting Irish Gridiron Classic.

Sam Houston (No. 92)

Scott Kelly led the Bearkats this fall with a win at Squire Creek and a runner-up at the UTA Waterchase Invitational. James Glenn also had a runner-up finish at the Harold Funston Invitational, which Sam Houston won for it's only team title of the fall.

Texas State (No. 106)

The highlight of the fall came at the Lone Star Invite, where Texas State finished fourth. Stuart Smallwood finished T-4 individually for the Bobcats. Texas State finished eighth and 11th in their other starts this fall.

Central Arkansas (No. 114)

Pep Angles shot school-record 64 to lead the Bears to a 43-shot. . . yes, 43-shot. . . victory at the UMKC Bill Ross Intercollegiate. Other than that, it was middle of the road finishes for UCA (sixth, 13th and seventh).

Texas-San Antonio (No. 137)

UTSA only took part in three events this fall, finishing ninth or worse in all three starts. Additionally, the Roadrunners weren't able to place any individuals in the top 10 this fall.

Stephen F. Austin (No. 210)

The fall was full of mediocre finishes for Stephen F. Austin. The 'Jacks finished third of eight at the HBU Husky, but after that, the best finish was 7th at Sam Houston and ninth at Squire Creek.

Nicholls State (No. 222)

Sophomore Kristjan Einarsson won Harold Funston Invitational Golf Tournament, where the team finished third. The rest of the team results were sub-par, as the Colonels finished 17th at UTA, sixth at Squire Creek and seventh at the HBU Husky Intercollegiate.

McNeese State (No. 246)

Mick Huffman had a pair of top-10 finishes this fall, taking fifth at Louisiana Tech Squire Creek and ninth at Sam Houston to lead McNeese State. The team results were not as good and there will be plenty of ground to make up this fall.

Conference championship

April 23-25, Stonebridge Ranch CC, McKinney, Texas

Lance Ringler's prediction

UT-Arlington. After a good start, UTA tailed off a bit and it's a safe bet to say we did not see the best golf UTA could play this past fall. This conference is always competitive and better than most give it credit for, but in the end I like the Mavericks to repeat as Southland Conference champions this spring.
• • •
Complete coverage
Wondering how your favorite conference is shaping up headed into the spring season? Who is our favorite to pick up the automatic qualifier? Check out our conference-by-conference break down with our complete coverage page here.
• • •
Going social with Golfweek
Want to follow our college gurus on Twitter? Here are some quick links:
• You can follow blogger Asher Wildman here
• You can find Lance Ringler's college Twitter feed here
• Check out Ryan Lavner's witty commentary here
• For the latest on golf in social media, as well as college and junior news, check out D.J. Piehowski on Twitter here.
• And follow all of college golf on Facebook by clicking here
Golfweek.com readers: We value your input and welcome your comments, but please be respectful in this forum.
---
---
---
---
---
---
---
---
---
---
---
---
---
---
---
---
---
---
---
---
---